Office 365 Outlook web mail will soon automatically add flights to your calendar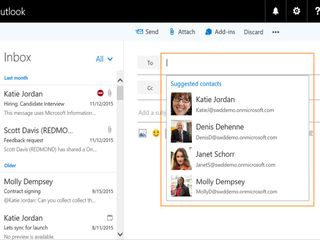 Outlook web users will soon get a few extra features and improvements if they have an Office 365 subscription commercial subscription. They include some improvements in its address book, along with a way for airline flight confirmations to be automatically added to the calendar when they show up in an email.
Microsoft says:
Outlook will also add suggestions for recipients when you are ready to send an email out:
These additions will be rolled out to all Office 365 commercial users by the end of March 2016. The new address book features will also be added to the PC, iOS and Android Outlook clients in the first half of 2016.
Source: Microsoft (opens in new tab)
What about Outlook for Windows phone?
Cortana hasn't even been tracking flights for some time and there's certainly no calendar integration.

It sucks, but you have to add the flight in by hand. She doesn't auto populate for some reason.

I was about to make the same comment. Cortana is more miss than hit with interpreting email and adding a trip manually impossible. Individual flights are possible, but a lot of work. Maybe Tripit will step up to the Cortana plate.

Cortana worked great at first, but hasn't detected any flights in several months.

When can we expect outlook.com to finally get the interface change that Office 365 has? That's been in the making since last spring.

I am an office 365 personal user and I am ****** my outlook.com experience is still the free version. At least get rid of the advertisements please!

You have to pay to get rid of Outlook.Com web interface ads. its like 15 pounds per year

Don't leave personal users in the lurch.

I'm the only one with Office 365 Home and I can see tracking info for packages in outlook online, but Cortana doesn't show them automatically?

No. Cortana has gone to crap over the past couple months. Microsoft giveth, and microsoft taketh away.

Still works for me. Try the FlySmarter app from the Store.

I use Google Calendar no matter what. It's way smarter Posted via the Windows Central App for Android

How do you turn this feature off or change it so that it does not save as a private appointment? I manage people's calendars and because they are saving as private appointments I cannot see the details or edit them.
Windows Central Newsletter
Thank you for signing up to Windows Central. You will receive a verification email shortly.
There was a problem. Please refresh the page and try again.