List of Outriders known bugs, launch issues, and how to fix them
The top issues impacting Outriders from launch, coupled with the best fixes and workarounds direct from Square Enix.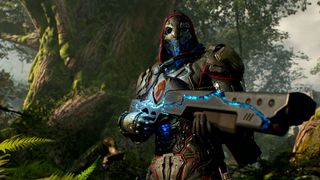 (Image credit: Square Enix)
Outriders is the latest sci-fi shooter from Square Enix and People Can Fly, a cooperative adventure best experienced with friends, laced with loot and upgrades to uncover. The game has some heavy online ties backing its war-torn world, but initial days on stores shelves highlight the early launch issues, largely stemming from connectivity and stability.
Early teething problems are expected, with its development team keen to promptly address top issues, but it leaves potential hurdles ahead. We've rounded up an extensive list of the top Outriders issues so far, coupled with the known workarounds and fixes.
Top Outriders known bugs and launch issues
Server and connectivity issues
With the Outriders launch buzz drawing an influx of new players, server instability has been a hot topic throughout the early days. Online issues have impacted many attempting to play the game throughout its launch week, with People Can Fly and Square Enix stressing ongoing work to improve online experiences. Launch day issues intermittently knocked servers offline for several hours, impacting sign-in, joining friends, and overall poor connectivity. While several instances have since followed, new fixes have been regularly discussed through official channels.
Outriders stuck at 'Signing In' page
Those opening Outriders may encounter a dreaded "Signing In" loop, recently reported among players and since acknowledged by Square Enix. The sign-in screen may hang on this page longer than expected, and while there are some workarounds to consider, we're stilling waiting on a proper fix.
Those stuck on the sign-in page are likely best waiting, with most "eventually able to get through," according to the publisher. It could include take up to 10 minutes of waiting until you can access the Outriders servers. It's also best to clear your console cache, achieved by fully power cycling and disconnecting your console's power for a few minutes before attempting to restart the game. These methods have seen mixed results but prove the most reliable workarounds.
Outriders stuck at 80% loading
Loading into Outriders may surface an ongoing 80% bug, where joining a game constantly displays the spinning Outriders logo. Square Enix has issued a workaround, recommending players don't select "Continue" when loading into the world. Instead, choose a starting point, acknowledge, and launch the game, often circumventing the known loading issues. While far from guaranteed, we've seen players report success upon following these steps.
Issues with Xbox, PlayStation, and PC cross-play
Outriders launched with full cross-platform multiplayer, proving a big hit for connecting players across different systems. It sets to link up Xbox, PlayStation, PC, and Stadia versions of the game, but issues have arisen during the early days post-launch.
Frequent disconnects occur when playing between PC and console versions, often midway through gameplay. Sessions among Xbox and PlayStation versions remain unaffected by the bug, while PC players can also play without issues. In the meantime, automatic cross-play matchmaking has also been disabled, title-wide. With no workaround available right now, we'll have to wait for a fix.
Outriders crashing issues
General crashes
General stability issues may impact Outriders, with infrequent crashes reported at random points in the game. While these issues can be hard to pinpoint, ensure you're running the latest available update for the game. Those on PC should also the latest available drivers are installed.
A Bad Day quest crash
While many variables could lead to Outriders crashes, the "A Bad Day" side quest has earned a reputation as a common cause for some players. According to the developer, this crash occurs when players receive rewards for completing the quest, but only with Hell's Rangers items in your inventory. Moving all Hell's Rangers and legendary items to your stash when collecting the rewards is the popular workaround ahead of a fix.
Onslaught quest crash
Some players may experience crashes when playing the Onslaught quest. It appears to be tied to the Sandbag transition point when using a non-English game language. Switching your language to English, and passing the area, avoids this current bug.
Mountain Outpost expedition crash
Many players have reported crashes when playing the Mountain Outpost expedition. No workaround or fix has been issued, although the crash remains somewhat uncommon.
PC crash to desktop
Square Enix has outlined one prevalent issue around its DirectX 12 (DX12) implementation on PC, which may cause performance issues or hard crashes. While acknowledged with an investigation underway, the studio recommends DirectX 11 if encountering issues.
Other common Outriders bugs and launch issues
UI/HUD disappearing
Players may find the user interface or heads-up display disappears when in-game. Ahead of a fix, Square Enix recommends players return to the game lobby and re-enter the game to correct the issue in most instances. For those on PC, enabling NVIDIA Ansel may fix the issue if currently disabled.
Inventory and accolades wiped
Square Enix has acknowledged some players may have lost their progression due to a bug impacting inventories and accolades. While resources are focused on keeping servers online, the company hopes to issue fixes in time. "We're currently discussing the best possible ways to resolve this issue," stated Square Enix representative thearcan on Reddit.
"We're still figuring out whether the best way would be a one-to-one customer support team method (which may be more accurate but would take much longer and may not be feasible if there are many cases), or whether we are able to (as previously) run a mass-one-off restoration event via our backend."
Stash Tab locked
Issues impacting the Stash Tab may leave Hell's Rangers gear inaccessible, blocking access to your stash. Square Enix recommends players return to the lobby and enter the game to unlock access if this bug occurs.
This roundup stows many of the prevalent issues players face with Outriders, making up most of the priorities tracked by Square Enix to date. While the focus currently appears to sit with server stability, improving the experience for all players, expect more patches with future updates over the days and weeks ahead. In the meantime, you can buy Outriders on console and PC, or included with Microsoft's Xbox Game Pass subscription on Xbox One and Xbox Series X|S devices.
Light 'em up
Become legendary

Become an Outrider and follow a mysterious signal across the alien planet of Enoch, and scooping up rare loot and gear along the way.
Get the Windows Central Newsletter
All the latest news, reviews, and guides for Windows and Xbox diehards.
Matt Brown was formerly a Windows Central's Senior Editor, Xbox & PC, at Future. Following over seven years of professional consumer technology and gaming coverage, he's focused on the world of Microsoft's gaming efforts. You can follow him on Twitter @mattjbrown.