Outriders for Xbox One, Xbox Series X, and PC: Release date, gameplay, and everything you need to know
The developers behind Bulletstorm are back with a new IP.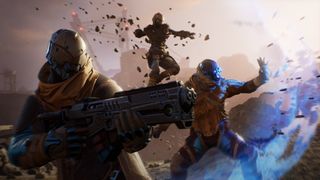 (Image credit: Square Enix)
From the publishing team of Square Enix and the studio People Can Fly comes a new game, Outriders. It's listed as a "drop-in, drop-out co-op shooter set in an original, dark and desperate sci-fi universe" that can support up to three players per team. Here's what we know so far about the upcoming game set to come to PS5 and Xbox Series X on April 1.
Looty-shooty action
(opens in new tab)
Follow the signal

Become an Outrider and follow a mysterious signal across the alien planet of Enoch, full of hellish threats waiting around every corner. Outriders features drop-in, drop-out co-op for up to three players so you can have a couple of friends at your side.
What is Outriders?
As stated by the Co-Heads of Studio, Square Enix External Studios, Jon Brooke, "Outriders is a very exciting project for us at Square Enix External Studios. We're focusing on giving players a true AAA co-op shooter with a deep feature set and strong narrative. The team at People Can Fly really know how to make gunplay feel tight and powerful and we can't wait to show you more later [in 2019]."
Brooke's counterpart, Lee Singleton added, "People Can Fly is the perfect partner for us to create a game like Outriders. They have a great history of creating high-quality shooters, plus an unmatched level of experience and expertise in the Unreal game engine, unrivaled in the gaming industry."
It's clear that these companies have big plans in the works. People Can Fly has expanded to over 200 developers working in four different international studios to bring us this title.
Outriders Gameplay and story
Outriders is described as a 1-3-player co-op experience set in a dark and desperate science-fiction universe on the fictitious planet of Enoch with drop-in, drop-out mechanics to fight ... whatever this is ...
That's only one example of the creatures you'll be encountering, though. Enoch is full of plenty of hostiles that are waiting for their prey, from creatures that have been affected by the Anomaly to human (or once-human) enemies.
Our journey begins as our character, an Outrider, which players have the ability to create and customize themselves, is following a mysterious signal transmitting from an unknown source.
Its reveal trailer gives us a better glimpse at why we're on Enoch and what we'll be doing. With the Earth dying, travelers fled to Enoch to escape the nightmare and find a new home for humanity. Unfortunately for them, it turns out Enoch was much, much worse. What they found consumed humanity instead of saving it. The Anomaly that greeted them bestowed supernatural powers on some, including you, but also others who might want to use them for nefarious purposes.
You, the Outrider, have just woken up from cryo sleep only to find human civilization on Enoch has gone to hell. Enoch appears to be in ruins as shantytowns have taken over its desolate landscape and the world is run by people with the power but without the best intentions.
You choose between four classes and get to work saving Enoch and humanity, all while trying not to succumb to the new power inside of you. You'll engage in heavy combat with enemies, utilizing both your new abilities and a huge range of guns. There is a heavy looter-shooter element here, so you'll be picking up guns and other armor pieces as you play. Grinding will help you get the best loot, which adheres to a typical common to legendary ranking system. The rarer the item, the likelier it will give you bonuses for your abilities and your guns.
Combat will feel familiar to people who have played Gears of War. There are large arenas with tons of enemies that you have to gun down to get to an objective on the other side. You're incentivized to use everything in your arsenal to knock out enemies quickly — the more you shoot and kill, the more health you'll recover and the more loot you'll earn. However, there is plenty of cover, and you can peak out and hide to rest and recover.
There are both main quests and sidequests in Outriders, and you can pick up most of them in a central hub. You can also sell and buy loot here. Some you can only find once you've unlocked an area, but there is a fast travel system in place so you can hop around quickly.
What classes can I play?
In the game, you'll have the choice between four power classes. Each focuses on a type of power set and you'll be able to customize your moves as you level up.
Pyromancer - A medium-range fighter with power over fire. Their abilities lean toward Area of Effect damage and work to cover the area in explosive and dangerous hazards.
Trickster - These are hit-and-run fighters with the ability to control space and time. They can slow down time and teleport while doing a lot of damage up close.
Devastator - This is the close-range tank of the group. They can control gravity and the earth and can use that to crush their enemies. If you like ground pounds, this is the class for you.
Technomancer - The Technomancer is a versatile class, capable of being support, crowd control, or a heavy depending on how you tweak their loadout.
What are World Tiers and how do they work?
Outriders has a unique difficulty system called World Tiers. You start out in World Tier 1, but as you play, you can rank up on the World Tier scale. Going up a rank will earn you rewards, but also tougher enemies and gameplay. Moving up to higher World Tiers happens automatically, but if you find the game is too difficult, you can always manually go back to an earlier World Tier.
How does Outriders multiplayer work?
As we previously mentioned, Outriders will be a drop-in, drop-out shooter that supports up to three players. Currently, there's only one mode announced: the story campaign. At any point, your friends can join in your run, but you can go through the campaign solo.
Whether you play through the game solo or in a group doesn't affect the story itself, but rather the difficulty and how you play. The biggest difference is how you can combine your powers with others. For example, it's super neat to watch a Trickster slow down time enough for a Devastator to issue a powerful ground pound. There's more strategy involved when playing multiplayer, which some might appreciate.
There are also sidequests that you can do with your team, and you can do them as many times as you want.
What's the Outriders demo like?
The Outriders demo, released on Feb. 25, is sizeable and a great way to figure out if you want to buy into the full game. It's around three hours long and allows you to play through the prologue and first chapter of the game, including main quests and some sidequests. You get access to all four classes and there are six character slots, so you can try out each one.
The demo is out now on Xbox One, Xbox Series X|S, PS4, PS5, and PC through Steam or streaming through NVIDIA GeForce Now. While crossplay is in beta, it's available, although not turned on by default. This will allow you to test out multiplayer with your friends regardless of platform. Cross-progression is also enabled, so you can move your save data from the demo to the full release.
Will there be microtransactions in Outriders?
One of the more intriguing aspects of Outriders is that it promises to be a complete experience at the base price.
"We are not a games as a service title. There won't be loot boxes or pay to win scenarios. Players will be getting a complete experience out of the box," a company spokesperson said in a press release.
When we asked why the company went the opposite route compared to a lot of modern co-op games, studio head Sebastian Wojciechowski said that it came down to what the studio wanted to see in the game.
"We are gamers as well and we know what we don't like. So we wanted our first game to be what we would like, what we would play ourselves." He added, "Let's give the players, for their money, everything. There are no additional drops that will somehow enable you to play more, everything will be in, including game content."
Additionally, the game's FAQ states that there won't be microtransactions in the game at all.
Does Outriders have a next-gen upgrade?
Yes, Outriders will get some enhancements on next-gen consoles. Both the Xbox Series X|S and PS5 versions will be targeting 60 FPS, while hitting only 30 FPS on current-gen machines, according to Digital Foundry. There are no other details available at the time of this writing about other features for next-gen versions.
Outriders will also support Smart Delivery on Xbox and have a free upgrade on PS4. So, if you buy a current-gen version, you should be able to upgrade to next-gen for free.
Outriders When can I play it?
Outriders, which is one of the newest multiplayer shooters set to hit consoles this spring, is set to release April 1, 2021, for PS4, PS5, Xbox One, Xbox Series X, Stadia, and PC. It'll also be available on Xbox Game Pass day one. You can pre-order it today.
Looty-shooty action
(opens in new tab)
Follow the signal

Become an Outrider and follow a mysterious signal across the alien planet of Enoch, full of hellish threats waiting around every corner. Outriders features drop-in, drop-out co-op for up to three players so you can have a couple of friends at your side.
Windows Central Newsletter
Get the best of Windows Central in your inbox, every day!
In before people complain about PS4 links.