Overkill 3 for Windows Phone will never support 512MB devices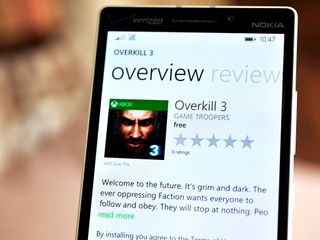 If you have a Windows Phone device with just 512MB of RAM (and that's a lot of you), you will never be able to play the third-person sci-fi shooter Overkill 3. It's publisher, GameTroopers, has confirmed that the game won't get an update that will allow support for those phones.
The publisher posted the bad new on its Twitter account today:
That's certainly bad news for a lot of current Windows Phone owners and it shows that more and more apps and games are being made without support for low-end devices.
Download Overkill 3 for Windows 8.1 (opens in new tab) (Free)
Download Overkill 3 for Windows Phone (Free)
Source: Gametroopers (Twitter)
Windows Central Newsletter
Get the best of Windows Central in your inbox, every day!
That's why I bought Lumia 640 XL :D

That's right. The cheaper, low end devices simply can't support all apps. You buy cheap you make a choice to have an even more curtailed app experience than ever. That's a real shame as it's the cheap low end that actually sells. Progress.

True +720!! But that was the only tradeoff of the whole phone.. Still the best phone (in my opinion)

Just that 720 is over two years old, so..

Same here 720++++++ this phone 2years plus with me is really a legend ;)

You're right, with MSFT's bonkers pricing strategy it wasn't cheap. Initially anyway. Still, it was cheap, out else mid range, at a stretch, comparing everything else. But then the flagship is the 1520. And people really should stop comparing ios to WP. Even when they used 512mb ram for the longest time, the os is tuned to the nth degree - something WP with its dearth of devices can't support. That is a shame as that consistent quality (across a limited range) is fantastic for what it is. Not my cup of tea but I can appreciate its no compromise stance - an ethic shared by WP no less.

I paid for my Lumia 625 (512MB RAM) about $280, thats more than the price of the Lumia 640XL today, so I'm not going to upgrade for now. With that said, my phone can play Minecraft and Beast Quest (like World of Warcraft/Final Fantasy crossover) with no issues, so I don't think its the memory, is the developer, if developers have time to optimize games for 512MB of RAM it can be done. Just as a reference, I believe the iPad Mini 1st generation and the iPod Touch 5th generation (A5 CPU) have 512MB of RAM and can play a lot of games.

Even iPhone 2 and iPad 2 have 512 MB ram and play games without issue.

Can they play Overkill 3?

Probably not, from itunes store it seems the iphone 5 and above can, they come with 1gb ram. https://itunes.apple.com/us/app/overkill-3/id874866593?mt=8

There you have it. If an iPhone 4s can't play it, what makes you think a low end WP can. If they optimized the game just so low end can play graphics can sometimes suffer. Example: Asphalt 7 background animations stopped after they optimized for 512 MB. Even a L435 with 1GB RAM costs only $50 contract free. Time to upgrade.

I have an iPod touch 5 with 512mb. And i can play this game.

Interesting. Wonder if it is due to the difference of cpu's that are in a 512 windows phone vs an ipod touch.

They don't want to spend the time essentially "reinventing the wheel". Such a shame, so many 512MB devices (so many potential sales lost)

It's not just the ram, the CPU s are also an issue

720 is highly underrated. Best price/feature compromise at the time of launch. Beautiful phone

820 still working like charm.. Waiting for a real successor to 820... 830 was nice but 820 was awesome but underrated... Lets hope 840 or 940 nails it

I am too waiting with my L820 to upgrade... L840 where are you...? ;)

Nooooooooo! :: Wipes tears with Lumia 930 ::

Lol, you are a bad person :). Wiping my tears with 1020....

I will probably wipe my tears with Android or iOS

Well hell they require like a gig to even launch
Android that is

They just explained. It's not the ram. The GPU and maybe CPUs are too slow.

I will probably wipe something else with Android or iOS.

Not a problem for my Lumia 1520

Mine too. Lumia 535 run smoothly

730. Ideal for all. Luvin it

My Lumia 635 is obsolete. What was Nokia thinking? 512MB RAM with no FFC and LED flash...

Yep. Microsoft even re-released it in the UK earlier this year, but with 1GB of RAM instead of 512MB.

Yeah their last phone and it's a terrible one.

Actually it isn't bad, and I love my Lumia 630. I don't need a ffc, but the led can't be easily replaced.

The 535 from Microsoft has 1GB of RAM but it has a Snapdragon 200, so I think you have a great phone for what you paid. Just as a reference, you can play Asphalt 8 using Miracast on a large TV. Not many Android people have that privilege since Miracast is only available on high end Android devices like the LG G3/G4, Galaxy S4,S5,S6, Nexus 5/6, Sony Xperia Z1,Z2,Z3, etc.

Can always buy LG E970. Costs around $100 these days.. S4 Pro is pretty powerful

The question is, what were you thinking buying it?

No point in bringing it to 512mb ram devices when it can't play without lags..
Better not to play than getting frustrated..

Yes, that's right. And the game will be underrated by those people.

Definitely agree. I wouldn't want to ruin the experience and further degrade the reputation of the game per se haha. Posted via the Windows Central App for iOS on my Lumia 940

My 920 saved my day. Yippee

Good thing I have my 925 1320 and 735.

Not surprised. It runs awful even on 1gb devices.

Not if they have a good chipset.

Yay glad to see changes like this. Glad I chose sgh-t899m & l929 both practically future-proof

I guess the majority of low end users is gonna take a huge blow coz they make most of the WP market

I don't think so. I doubt the majority are playing 3d games on their phone. They're more playing candy crush and the like.

Is not a problem. By one year from today there will be few 512mb WP still...

Lumia 640 xl is the best device for its price..

Totally agree. Got my dual sim LTE option fro. France next day for £193.14 all in. Love it

Agreed, picked up both 640 and 640 XL.

Buying Lumia 630 was a very bad option....
:(

fellow 630 owner. Our phone isn't that bad, I am very satisfied with it.

I know but I bought it a week before 535 was announced.
If 630 had 1gb ram it would have been a great phone.

Not really, ask Moto G users if they would like to have Miracast on their device, and I would say about 90% would, your Lumia 630 is great to watch your Netflix show, or Youtube videos using Tubecast on your large TV, you just need a Microsoft Wireless display adaptor, I got mine in BestBuy. You can also play games like Asphalt 8 on your large TV, not many smartphone users with a starter/middle range device like a Lumia 630 can have that option.

My 520 just beta testing windows mobile

All new low end Microsoft phones have 1GB ram so no need to sacrifice game quality for older devices. It's a shame but many ios apps no longer run on iphone 4s and below either.

What "many apps" don't run on iPhone 4S ? It will even support iOS9, for crying out loud.

Actually, iOS 8 nearly cripples a 4s. Apple does that so people have no choice but to upgrade. iOS 9 will be slow on an iPhone 5 when it releases this fall. And games like Modern Combat 5 can't play on a iPhone 4s.

Not really. After iOS 8.1 and 8.1.2 and the like. Everything has been smooth. So you are wrong on it crippling it. Plus iOS 9 is dedicated for improvements regarding bugs and making it a much smoother experience Posted via the Windows Central App for iOS on my Lumia 940

My experience with the 4s and ios8 is a bit different than yours. I can not honestly say that my 4s was crippled....certainly I was able to still use the device as a phone.... Pity I could not use it to run my apps for any period of time before being forced to restart the unit. Straightjacketed might be a better term. It was time for an upgrade. ​ ​ ​ ​ ​ ​ ​ ​ ​ ​ ​ ​

I think they're making too many devices in my opinion. They need to sort real issues out, such as apps for example. W10 should help a little, but I don't think it will help all that much. But that's my opinion.

Then I wish they would stop advertising it every three seconds in the games I play.

Nowadays low-end WP = 1GB RAM. If your low-end is less than that, then it's time to upgrade.

In the meantime the game runs perfectly on an ipod 4th gen with just 256mb of ram and a single core cpu... Just like nova 3... Developers don't seem to care for over 80% of wp users... Sent from my Lumia 625...

The GPU and CPU are the problem, not the ram. Can't you read ?

Try updating that iPod 4th Gen to ios 8 bet it wont work

Obviously since it doesn't support iOS 8 or iOS 7 and runs crap on iOS 6 Posted via the Windows Central App for iOS on my Lumia 940

Guess the day isn't far off when the story repeats for current 1GB RAM devices. But unfortunately such measures are to be taken take visual effects to the next level.

Sure, come on, its time to upgrade to a 1g device

Overkill said Never Say Never! :P

Now that Google announced yesterday an expensive device to bring Android games to your TV (Nvidia Shield with Android TV) I think is time for Microsoft/Lumia users to tell Android users we have this feature since last year with Project my screen app which works on devices that cost very little like the Lumia 630. You can play excelent games (even with just 512MB of RAM) on a large TV with a Miracast adaptor. (We Lumia users have many options, Microsoft Wireless display adapter, Amazon Fire Stick, NetGear P2TV 3000, etc).

I don't mind!I can still play most Gameloft games(Asphalt 8 most importantly), I have Tiny Troopers, I still am left to finish most of the Angry Birds games, I can play virtually thousands of games using VBA8 and SNES8X, I can play Beast Quest, and I own an eight month old Lumia 630.

Now that you mention Angry Brids, Angry Birds Space was updated recently and is very difficult to finish, compared to StarWars and other Angry Birds games from past years. With your Lumia 630 you can play this great game on a large display using Miracast.

Great! I just bought a 730 ditching my 625

why not?
even asphalt 8 works fine on Nokia Lumia 520.
then why not overkill?

Sad news for game lovers with 512mb ram (including me)

Ppl must know that 512 is really old... There's tons of cheap 1gb options... Im glad to know that they wont support 512

I am glad they don't. better games with more models and textures and all, requiere better hardware. I mean, if people are buying a cheap phone and expecting to run all games, especially nice looking games like this, well that doesn't make sense. new phones have 1gb+ ram, so it's only old phones that one that will not get some games and apps anyway.

lol in google play store its say support with my Galaxy S Duos which has 765mn ram and only 340mb of them is free

That's true but in Windows Land you get even less ram available to a specific game aka a game or app has limits on how much ram your application can use. Posted via the Windows Central App for iOS on my Lumia 940

i guess thats why subway surfers lag as hell on S Duos but not on Lumia 630

It's true that 512 mb devices are now a thing of the past. Even low end androids are quickly moving away from that standard. And well they should. Android never worked well with that. The Lumia 635 works pretty good with it however. But still a full gig would be better. Hooray 640!

And one more reason I wouldnt download it when I get my 535..

Older s4 just aren't enough for good graphics, but the 630 just adds to the 512 MB bandwagon led by 520. BTW I bother playing only mini games in small screens

This is the price you pay for buying a entry level phone... Most things run but, every once and a while, you run into one or 2 like this... Like they say, you get what you pay for...

This is why I got a Lumia 830. My HTC 8S was 512MB RAM only and it was horrible. But, since my Lumia 830 has 1GB RAM, it makes it A WHOLE lot better.

And now, there you have it. Just as a low -end computer runs games and high -end applications very slow, it's the same concept here for a low-range phone. It's hardware 101

Do yourself a favor and upgrade. :)

Wasn't it obvious though?

'Never' is a pretty strong word.

Is anyone surprised? In spite of what some seem to think "optimization" will only get you so far... The graphics on that game are pretty intense... Sometimes you just gotta pay to play...

I was going to post a whine comment, but then I remembered my 635 has 1GB of RAM.

I got the 635 at launch on att and still like it, but now I am impatiently waiting on att to get the 640 so i can plan the games that only support 1 gig of ram.

I'm trying to hold out till the phones are shipped with Windows 10 out of the box and spend more money on a flagship or at least midrange. Lumia 630 was my introduction to WP so I knew what I was getting with a 512mb device.