'OverVolt: crazy slot cars' comes to Windows Phone before iOS and Android – and it rocks!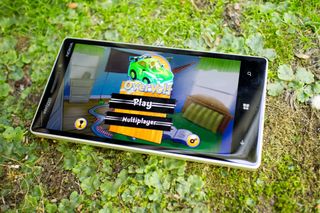 If you're into racing games, you might want to check out OverVolt: crazy slot cars. What makes it different from most racing games is that you control miniature slot cars. You spin out if you go too fast on turns, so it's good to know when to let go of the accelerator.
Check out our hands-on video and gameplay on the Nokia Lumia Icon after the break.
Features:
Control your miniature car without letting them fly out of the track
Create your own car paint with a picture of whatever you like!
Look in the store for all the power-ups you can use during the races
Choose among more than 25 cars with great styles and characteristics
Race your friends, challenge them on Facebook, and share the results
Press and hold the orange button to accelerate. There's an indicator towards the left of the button to show how fast you're going. During sharp turns, another indicator pops up above the car. If it reaches red, the car spins out. This lets you know when it's a good idea to release the button.
The top right corner displays your current position and lap. The top left corner shows the pause and camera angle buttons. There are 5 different angles to choose from.
If you win at the end of the race, you can collect up to three stars and the next level gets unlocked. When you get tired of your miniature car, you can head to the shop to get a new one. There are more than 25 cars with different styles and characteristics. You can use the coins you've earned from playing, or you can spend real money to get more coins.
One really cool feature is the ability to paint your car using your phone's camera. Move the camera around until you get the right texture. It costs 100 coins to save the custom paint if you do not have the premium version of the game.
OverVolt: crazy slot cars is free to play, which includes one world with 10 levels. The premium version costs $2.49, which adds two more worlds, unlimited multiplayer, 5,000 credits, and free saving of personalized car texture. Want to save some money? For a limited time, you can get the premium package for free if you login with your Microsoft account!
OverVolt: crazy slot cars arrives at the Windows Phone Store before iOS and Android. Go check it out and let us know what you think in the comments!
Thanks for the tip, Guy Kh.!
is this case FIRST is appropriate! I am happy to see WP get a good game first.

I love when windows phone get some thing before ios and android

Hope situations when we get apps at the same time or even faster than iOS and Android will become just a standard.

Buying this! Unless its free. Then I'm just downloading it...

What's the catch with logging in with my MS account...? Why would I get the premium game for free if I did that?
*Edit- By logging in you agree to give it access to your personal information, including your birthday. All contacts, and quite a few other things. I wonder if the list is standard or if the developer can pick and choose what to have access to...

May be they will spam your inbox with ads.

I actualy like the fact I can login to microsoft and not have to choose facebook. The game itself is pretty good made, nice graphics and quite addictive!

Does it cloud save? Is that why we have to login?

i had never played this race car game for such a long time! we used to have it real, just in front of our eyes. but now.........

For some reason after you sign in with your MS account the levels get added but the coins do not.

The Live Login permits to recover account (game status) on a new device or on a fresh installation. It is needed to store car customization too (on onedrive). Facebook Login is required to match friends on multiplayer and to share car customizations. But both login are not required to play the game (single and multiplayer too). See you online!

You can't beat free and on WP first.

Ahh, memories from playing Slotz Racer on the iStuff...

yea why would the developer give away the premium package for free if I log in to my Microsoft account? they better not be trying to phish. EDIT: ah i see it's for cloud saves. coolio

That doesn't normally happen nice to see wp is thought of more

Downloading on my iPhone. Oh wait

They already have a game like this for Android and iPhone, and guess what........it looks better and it's free. Posted via Windows Phone Central App

Thanks for your informative comments, ill go out right now and buy a phone with Apple, because a car racing game is so much more beneficial to me than a quality ecosystem and an OS that is truthfully innovative.. Then I can immerse myself in the bs that's shoved down my throat by them, mindlessly believing a lightening charger and pitiful hardware advancements are not a money making tool for them and feel confident that I have the best because there are more apps in the store...
Yeah right... Fyi I'm being sarcastic.. I'd rather have 10 mini car racing games that I use 1% of my time than spend 50% of my time looking for a mini car racing game...

C'mon, he is right. It must have hit your butt real pain that there are indeed games like this already FREE on other OSes. In other words, WP is the first platform to receive such BS racing games than other platforms too based on what you mentioned?

It's called groove racer fyi Posted via Windows Phone Central App

Its a great game , I really loved it. It also has multiplayer! Great work devs. Although I guess real time multiplayer would be awesome. In this, I have to waitturns. But overall nice graphics, great gameplay, I love it!

Takes me back to the '70s

Great time killer game, and seems very polished, no complaints.

The looks remind me of Re-Volt we used to play on Windows machines about 10 years ago, including multiplayer mode. I miss these old days now and then ... What about the power-ups? You can buy them and you can move them into this box, but where do you use these?

This game is crazy COOL! So much fun and doesn't need data feed all the time GREAT! Nice job developers.

Superb game, hope all the other titles come to WP like this before Android.
Windows Central Newsletter
Get the best of Windows Central in in your inbox, every day!
Thank you for signing up to Windows Central. You will receive a verification email shortly.
There was a problem. Please refresh the page and try again.