'OverVolt: crazy slot cars' comes to Windows Phone before iOS and Android – and it rocks!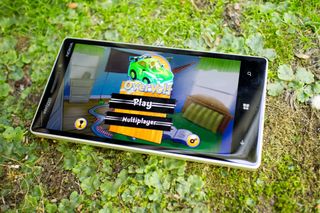 If you're into racing games, you might want to check out OverVolt: crazy slot cars. What makes it different from most racing games is that you control miniature slot cars. You spin out if you go too fast on turns, so it's good to know when to let go of the accelerator.
Check out our hands-on video and gameplay on the Nokia Lumia Icon after the break.
Features:
Control your miniature car without letting them fly out of the track
Create your own car paint with a picture of whatever you like!
Look in the store for all the power-ups you can use during the races
Choose among more than 25 cars with great styles and characteristics
Race your friends, challenge them on Facebook, and share the results
Press and hold the orange button to accelerate. There's an indicator towards the left of the button to show how fast you're going. During sharp turns, another indicator pops up above the car. If it reaches red, the car spins out. This lets you know when it's a good idea to release the button.
The top right corner displays your current position and lap. The top left corner shows the pause and camera angle buttons. There are 5 different angles to choose from.
If you win at the end of the race, you can collect up to three stars and the next level gets unlocked. When you get tired of your miniature car, you can head to the shop to get a new one. There are more than 25 cars with different styles and characteristics. You can use the coins you've earned from playing, or you can spend real money to get more coins.
One really cool feature is the ability to paint your car using your phone's camera. Move the camera around until you get the right texture. It costs 100 coins to save the custom paint if you do not have the premium version of the game.
OverVolt: crazy slot cars is free to play, which includes one world with 10 levels. The premium version costs $2.49, which adds two more worlds, unlimited multiplayer, 5,000 credits, and free saving of personalized car texture. Want to save some money? For a limited time, you can get the premium package for free if you login with your Microsoft account!
OverVolt: crazy slot cars arrives at the Windows Phone Store before iOS and Android. Go check it out and let us know what you think in the comments!
Thanks for the tip, Guy Kh.!
Get the Windows Central Newsletter
All the latest news, reviews, and guides for Windows and Xbox diehards.