P90X will get Xbox One owners ripped with new Xbox Fitness edition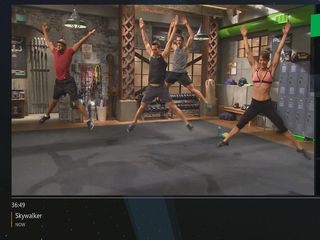 P90X, the popular DVD fitness training program from BeachBody, is now available for Xbox One console owners to, download via the Xbox Fitness feature, for $59.99.
With Tony Horton returning as the host and trainer for the Xbox One edition of P90X, users can expect a lot of sweat, a lot of abs and a lot of humor from Horton as he goes through the 30 day program. The Xbox One edition includes five exercise routines that have been created especially for the owners of Microsoft's latest console.
As with the other programs available on Xbox Fitness, owners will have to have the Kinect motion camera add-on to help track their movements and stats while using the P90X program. It will get a downloadable calendar and nutrition program for users to follow sometime in mid-August.
If you own an Xbox One with Kinect have you checked out Xbox Fitness and, if so, do you plan to purchase the new P90X program?
Source: Xbox Wire (opens in new tab)
Windows Central Newsletter
Get the best of Windows Central in in your inbox, every day!
Prefer insanity! (still on it now).

They're both different. As I've done both, P90X focuses more on body building while Insanity is all about fat burning and endurance.

Insanity and T-25 is great I am doing now with my wife.

Never tried T-25, is it worth it?

Yes it is, it works very well if you dedicate yourself, but its all about eating right.

I'm doing P90X3 now. It's also awesome. I hope this new relationship with Beachbody Fitness will prompt them to make their companion app available on Windows Phone that's been out for iOS/Android for a good bit of time. I Tweeted @beachbody and sent in a customer service request this morning via their website. I hope more P90/Insanity fans will do the same. :)

Glad to hear Horton released an X3... Would you please tell me that they updated the background music? Is it acceptable now? I did the the original P90X for 30 days and it by far improved my health and well-being more than any dieting or gym schedule for the preceding 5 years. Although, I can still remember how awful the music was, 80s synthesizer porno stuff...

Xbox fitness kicks your butt... I am glad that they are still adding content to it as it is a really cool app. Might have to look into the P90X program.

Sounds cool. I kinda wish that the One had a calendar feature built in so that the system could remind you of what workout you're supposed to do on any given day, or even remind you when you haven't worked out in a while. $60 isn't terrible if this program was tailor made for the Xbox One. I'd probably buy it for the convenience of not having to worry about maintaining the DVDs.

Good idea on the Calendar feature--although it does say this in the article: "It will get a downloadable calendar and nutrition program for users to follow sometime in mid-August". Not sure if that's what you're looking for, but it would love to see that integrated with Cortana and Xbox SmartGlass too. Yeah, $60 seems very reasonable considering if you try to buy the DVDs online it'll cost you $140 (though, I'm not sure if the content is the same) and that doesn't include motion-tracking and heart-rate monitoring that the Xbox Fitness program builds in.

Well, the DVD program is also a 90 day program, so there's a big difference there.

That sounds like a lot of work.

How about second screen reminders through Cortana? That would just be too cool.

Xbox fitness is pretty cool. I'd like to see some integration with their Bing health and fitness apps though. One stop shop for tracking nutrition and exercise.

Wow, that would be pretty awesome.

That's just crazy talk. Microsoft having their own products work together? Crazy! They have not bothered in the past so why start now?

agree bing health and fitness works with Microsoft Healvault .. pritty kewl

Literally saw this a few minutes ago and tried to download
it said the store was unavailable. Looks awesome tho

Yeah, and it's a good sign that they're adding new content like this. Suggests it must be doing at least somewhat well. I'm surprised they haven't been advertising Xbox Fitness more. Sure, an Xbox One is costly up front, but Xbox Fitness is sure cheaper than going to a gym or buying DVDs separately. Every time I show a friend or family member Xbox Fitness, they're immediately intrigued, even my wife: "You can do yoga on there!". "Yep, and for much cheaper than monthly yoga lessons". Any word on if these DLC packs like P90X come with more achievements too? I think they should (DLC in other games do), as it would be a nice way to promote fitness, exercise, and healthy living among a crowd long stereotyped as being unfit and inactive (gamers).

No additional achievements. I would be more inclined to if they did. All of the achievements for Xbox fitness are generic and can be earned in an workout, paid or free.

Need to add T25 to the list.

I wish that it will happen soon. Because one of Shaun T's training program (like Insanity) is now available in Xbox Fitness.

I've got the T25 DVD and it is great but would be better on XBOX Fitness.

I need a separate workout routine just to get me in shape to even think about something as demanding as P90X.

I recommend just starting p90. I will kick your butt, but as the more you do you'll not only be able to do more and more but also get in better shape. Picking and choosing which workouts I want to do and sticking to it even then has remarkable results.

I tried P90 to ramp up for P90X but it was so boring and repetitive... Might be better to just do half-assed on P90X.

They always have one of the on screen participants doing modifiers. You can start this with any fitness level. Just monitor yourself and HIT PAUSE if you are getting worn out.

I can tell you use the word "humor" loosely. ;)

So glad they still care about it. I can't wait to move out of my current address to an apartment or home with a larger living room to do this. So excited.

Xbox Fitness is probably the most used app at our house. Adding more content is awesome!

That's pretty sick. And I also agree with Jeremynelson1987 that a calendar to make reminders would be very nice.

Sweetness!! More and more reasons why I want an Xbox One.

Will it be downloadable? Will it work in a horrible conection like mine from Brasil? ( Actually Gillian's package I've purchased doesn't work because it runs only if I'm online).

It is only available via download. Once downloaded, I assumed it wouldn't really matter how good your connection is as this game is offline, but you say that Gillian's package requres online, so I guess I don't know.

This is false info, ALL the workouts are streamed whether you own them or not so they require an internet connection to play. It definitely should work how you say and be downloadable but they aren't yet.

Please go Here and vote for the feature. Maybe with enough votes MS will allow some of the fitness content to be downloaded rather than streamed. Surely it is also in their best interest to have content downloaded rather than streamed to make more bandwidth available for more important things like system updates? A once off download beats a constant stream in my opinion.
They could still force you to be online though to use the content but offer a smoother overall experience by having the content live locally. Ruy Ebenezer Silveira, what do you define as a "horrible connection"? I have a 4mbps ADSL and that is the mamimum that my line/telecoms service provider can offer in my area. Just two roads over however they have VDSL which offers speeds 10 times faster. Bummer for me :(

I like Xbox Fitness, but don't use it often. My space isn't suited for that. And also, the heartbeat sensor doesn't work for me. D:

Xbox One keeps getting better with Age. I just started using it and its great...even though I'm not 100 percent. Hopefully get back my abs.

This thing works. The abs video is so freaking hard to complete. Well may be shit out of shape people like me ;)

Nice I am doing Insanity and T-25

I love you name. Skywalker; classic! But I am tempted, my back is pretty messed up right now, but when I lose some weight and can do high impact exercise again I will consider this. My wife suggests all women go with Tracy Anderson's metamorphosis program. She used her after P90X and got the body she always wanted. After the new baby she is going to do the post pregnancy, and wishes it was on our Xbox, but sadly that isn't.

This is very handy info as we just had baby number two a couple of weeks ago. I'll have to look into the program. Thanks for mentioning it.

I've been going through every single workout on Xbox Fitness. Trying to do at least one new workout every day. There must be about 100 different workout videos now. The amount of variety is great to keep you from getting bored. My advice to people is start with the 10 minute videos and work your way up to the longer Insanity or Mossa videos. Once you can do a bunch of 10 minute videos in a row then take on the 30 and 40 minute videos. You can sort by video length which I find very useful. The heart rate monitor is great and makes me feel like I'm not cheating when I pause to take my pulse.

Fitness is good. Although, I do need to use it more.

I used to do the P90X ab routine...that thing worked...burned/hurt for days after that it took awhile before my body would let me do it 2-3x a week...

Finally! I've been doing P90X (on Week 10 now). I've been using the two workouts that are available on Xbox Fitness (the Plyo X routine is particularly awesome), but I have to use DVDs for the others. I'll be buying this and rolling right into it once I've finished week 13 of P90X Classic. Bring it!

I was doing the same as you (doing P90X3 now though). I would do the plyo via Xbox Fitness and it was killer... It kept bugging me about doing the workouts all wrong, and I had to keep passing pausing to catch my breath. I knew I was improving when Xbox Fitness rarely had to correct my form and I stopped needing to pause for breaks. Having plyo on Xbox Fitness kept me honest... I couldn't just stop because I didn't want to lose my progress, and I pushed to beat my own records and averages. Haha, was fun and extra motivating to stay ahead of the average for my age range. Take THAT everyone in my age group. "I'm fitter than you" ;)

Haha, I just did plyo this morning - I was bummed out that I missed out on beating my highest score by a few FP. Killer workout though! The only time I hit pause was to check my heart rate (173). In the beginning I was pausing after every round of exercises. I'm pretty stoked that my average is well above my age group - and I'm pretty much as old as I can be and still be in that group. Keep bringing it, P90X bro!

Looked at it and I would love to get it, but I know that I'll rarely use it since I'm a really lazy person when I'm at home, so for the moment its a no buy.

P90x is a 90 day program, not 30. That's why the 90 in the program name.

They're quoting the source, which could be wrong, but everyone seems to be reporting it as 30. Maybe it's abbreviated as it is cheaper than the DVD version?

" Maybe it's abbreviated as it is cheaper than the DVD version?" Pretty sure it's condensed. The Xbox edition would appear to be 5 workouts for 30 days. I imagine there's a much higher emphasis on full body aerobics with the Xbox exercises due to maximizing the Kinect tie-in. How much did they compromise in terms of strength gain? If you think about that question, any answer is pretty stupid. A program for your health should never be compromised to justify some quasi-symbiosis with an electronic device. I'll wait for the review but am leaning towards just doing the P90X3 program. 90 days, 16 workouts @ 30 minutes each

Can we use the controller as dumbbells?

Use Lumia...according to every iFan reviewer they are just sooooo heavy. :)

Perhaps a silly question, but Xbox Fitness is free with XBL Gold through December 2014. If we bought this item, I assume we won't have to pay more come January when XBL Fitness is no longer free? I've always looked at the "free" being for the sample programs and not simply the Fitness service. I'd like to assume Fitness will remain free beyond December but beside that I'd also like to assume buying a $60 game/app wouldn't require any additional fees.

Wish there was something low impact or easier for beginners. Everything in Xbox Fitness is for hardcore fitness fans.

Just do the first half until you work up to it. That's what I'm doing.

I agree there really is nothing for overweight people or seniors this stuff is really way to hard.

1st week: OMG, way too tough 2nd week: OMG, intensely difficult 3rd week: OMG, that is intense 4th week: OMG, I look pretty damn good Like anything worthwhile, getting in shape takes effort, requires dedication, and is merciless; but it is possible. All exercises also have low impact variations that Tony Horton covers spanning three different body types. He sometimes brings in amputees that are abe to do the workouts. So if you're missing a limb, have joint pain, or arthritis in a certain area, then go light there. Otherwise stay motivated because it is doable if you want it.

Crazy timing. I started using the Xbox one fitness app about two weeks ago because doing workouts in the South Florida heat was getting to me. There is a free version that is really good. I'm not sure it is worth $60 to upgrade, but I will look into it. For those who haven't worked out with a Kinect, it's a better workout. Well done Microsoft.

Good to hear. Currently on P90X3. Gotta love the X1.

My workout routine is provided by IPA's and ales. Untappd is my app of choice.
Windows Central Newsletter
Thank you for signing up to Windows Central. You will receive a verification email shortly.
There was a problem. Please refresh the page and try again.