Palringo Adds Location Info to New Version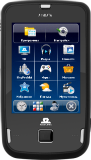 Palringo is one of our favorite instant messaging systems out there despite the odd requirement that you create a Palringo-specific account to use it. That new login is looking less burdensome, however, now that Palringo will be bringing live location information to the latest version. They plan to help your friends and family know where you are when you are messaging them, making it easier for meet ups or friend locating. Now when you instant message your boss about being late, you better make sure it
Windows Central Newsletter
Get the best of Windows Central in your inbox, every day!
just to clarify, one does not need GPS to use Palringo Local. It is one of the very few applications that DOES NOT require your device to have GPS.
If you have GPS enabled on a device, we wil use the coordinates to refine the accuracy of the location--but otherwise, no GPS is needed.
Palringo uses all of the radio signals (celluar, wifi, gps, bluetooth etc) to determine and refine your location. But, that is all. Nothing more is required to take advantage of Palringo Local.
regards
Kerry
Kerry Ritz
CEO
Palringo

any idea how to use this new feature?

I stopped using Palringo long ago because it lets unsolicted spam IMs through.

Palringo doesn't alert me of messages when in stand by on my HTC Mogul, other than that flaw making it completely worthless, I liked it very much.