Panasonic introduces Toughpad FZ-R1 mobile point of sale tablet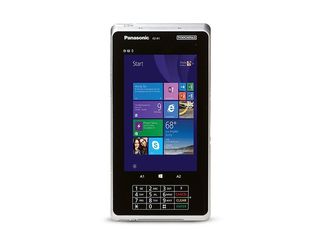 Panasonic has introduced a new, all-in-one mobile point of sale tablet, the Toughpad FZ-R1. It's a 7-inch Windows tablet. It features an integrated PIN pad, a magnetic stripe reader, and support for EMV and NFC payment methods.
In addition to Windows 8.1, there will also be a version of the Toughpad running Windows 8.1 Pro. The device is powered by an Intel Celeron processor, with 2-4GB of RAM, and 64GB of storage, expandable to an extra 64GB with a microSD card. The Toughpad FZ-R1 will be available in late Spring 2015, and will start at $1,799 for the base model.
Press release:
Panasonic Announces First All-in-One Mobile POS Tablet with Integrated EMV Payment Technology for Retail Running Windows 8.1
The 7-inch Toughpad FZ-R1 empowers retailers with a true omni-channel mobile platform for today's evolving shopping experience
NEWARK, NJ, January 11, 2015 – Panasonic, an industry leader in reliable and innovative mobile computers for retail, today announced at the 104th annual National Retail Federation (NRF) Big Show the launch of the Toughpad® FZ-R1 the industry's first*1 7-inch all-in-one mobile POS tablet running Windows 8.1 for retail environments and to meet the changing omni-channel customer expectations while providing secure transaction capabilities.
With its integrated EMV reader with PIN pad, mag stripe reader and NFC compatibility, the Intel®-based Toughpad FZ-R1 can handle all forms of electronic payment, giving retailers and their customers confidence that financial data is secure.
"The retail world is changing dramatically. Fraud liability is shifting from credit card companies to retailers in the U.S. this fall if they don't adopt EMV, and the widespread adoption of smartphones has upended brick and mortar retail strategies," said Dan Diliberti, senior product development manager – tablet and payment systems, Panasonic System Communications Company of North America. "The Toughpad FZ-R1 addresses these dramatic changes in the retail landscape with its integrated EMV payment technology and equips a retailer's salesforce with a powerful platform to help turn browsing shoppers into buyers and close sales right from the sales floor."
With the Toughpad FZ-R1 and the retailer's own store applications, salespeople can assist customers with product comparisons, check inventory or change an item's style color or size right from the sales floor in real time. By enabling checkout anywhere on the sales floor, the salesforce can emerge from behind the register and instead focus on the customer. They can easily pull up customer information including purchase history and other preferences, enabling associates to create cross sell opportunities and deliver that unique in-store, omni-channel experience customers now expect.
Additionally, the tablet is ideal for other customer engagement applications in retail, table service restaurants and hospitality including line busting, order taking, kiosk usage and inventory management.
Powered by an Intel® Celeron® processor and running Windows 8.1 Pro, the Toughpad FZ-R1 offers exclusive, enterprise-grade security features such as Trusted Platform Module (TPM). Other features not available on consumer-grade tablets include: a fast-charging, user-replaceable full-shift battery with optional bridge battery and high-capacity battery, ten-point capacitive multi-touch screen, integrated EMV reader with PIN pad, encrypted magnetic stripe reader, optional POS cradle, and a wide range of configuration options to allow retailers to build the ideal Toughpad FZ-R1 for their specific needs on the sales floor.
"Intel® Celeron® processors enable the media and graphics performance needed for the Toughpad FZ-R1 to drive customer interest, increase customer loyalty and turn showrooming into sales," said Joe Jensen, general manager, Retail Solutions Division, Intel. "The staff is empowered with an omni-channel mobile platform and, with a few taps or swipes, customers can adjust the design, size, color of an item and more." "Retailers today can use the point of sale to understand their customers better and provide more customized service from anywhere in the store," said Brendan O'Meara, managing director, Worldwide Retail and Consumer Goods at Microsoft Corp. "Panasonic's Toughpad® FZ-R1 mobile POS solution running Windows 8.1 will give retailers the expanded capabilities they need on a familiar platform for their employees, with an innovative, fully-integrated EMV card reader implementation in a mobile POS tablet."
Designed for the retail environment, the thin and lightweight rugged Toughpad FZ-R1 features a pre-installed replaceable screen film for LCD protection. Panasonic's entire range of enterprise-grade mobile computers are designed for reliable performance and long deployments, delivering a low total cost of ownership.
Panasonic offers a comprehensive POS system including the Toughpad FZ-R1 as part of its retail technology solutions engineered to increase management capabilities, operational efficiencies and productivity while improving the customer experience and boosting sales.
Toughpad FZ-R1: Key Specifications
· Durable: Semi-rugged, water resistant, fanless design
· Portability: 1.43 lbs., 10.12" x 5.12" x 1.08" (without protruding parts)
· Display: 10 Finger touch (Capacitive), 7" WXGA(1280x800), Aspect ratio 16:10, Anti-Reflection, includes capacitive stylus pen
· Payment: Integrated EMV reader with PIN pad, mag stripe reader
· Processor: Intel® Celeron® processor N2807 (1MB Cache, 1.58 GHz up to 2.16 GHz)
· Operating System: Windows 8.1 Models available*2
· Storage and Memory: 2-4GB SDRAM and 64GB eMMC storage, up to 64GB additional with optional micro SDXC card
· Battery: Approx. 8.0 hours (Tablet Only)3 and approx. 7.0 hours with payment4 Optional bridge battery, enabling users to switch out batteries without powering down the device.
· Charging Time: Power On (approx. 4 hours), Power Off (approx. 2.5 hours) *5
· Camera: optional 5MP, 2048 x 1536 dots, 15fps(Video) / 2592 x 1944 dots(Still), with Camera light
· Connectivity: Intel® Dual Band Wireless-AC7260 Wi-Fi 802.11 a/b/g/n/ac, Bluetooth® v4.0 (Class 1), USB 3.0, micro SDHC card slot, headset jack and docking connector. The Toughpad FZ-R1 offers optional 4G LTE wireless broadband with satellite GPS
· Available Configuration Options: Barcode reader
Accessories The Toughpad FZ-R1 is compatible with a variety of accessories, including hand and shoulder straps, holsters, countertop POS cradle, cases, charging solutions and mobile printers.
Pricing, Availability and Warranty The Toughpad FZ-R1 will be available through authorized and select resellers and distributors in late Spring 2015. The Toughpad FZ-R1 Base model including Windows 8.1 and a standard MSR starts at $1,799. Limited development equipment is available now for lab testing and pilot tests. Please contact your Panasonic representative for more information.
Like all Toughpad devices, the Toughpad FZ-R1 comes backed by the industry's most comprehensive 3-year warranty and includes U.S.-based customer support.
For general sales inquiries, email or call Panasonic at sales.psc@us.panasonic.com or 877-803-8492.
Windows Central Newsletter
Get the best of Windows Central in in your inbox, every day!
Good... Looking forward to it....

POS with email and Skype.
I guess the teller needs those apps between purchases.

7 inch? After much use, 8 inch seems like the useful minimum. There's a reason that the 7 inch units are typically in the sub $100 category. At $1700, seriously specialized software is definitely needed to ensure sufficient productivity for all users. If that's the intention, the price seems a bit high, even for a highly secure POS device.

I wonder if it only being 7" (versus 8) has to do with OS being free on 7" or less devices? Wouldn't think so with a $1700 price tag but sure sounds like it

Windows is free for devices below 9"

Well, people sure loved the size of the Nexus 7 when it first launched. Heck, some people even like it better over the Nexus 9!

That's Android. This is Windows 8.1. Apples and oranges comparison.

Yeah, I know that. I'm just talking about the form factor.

I agree. Has $1500 of value really been added to this device? That's really thinking mighty high of yourself when all Macy's and Bloomingdale's are moving to iPod touch and iPads, and that is nothing to say of all the other mom and pop outlets that use iPad and Square... Are there lots of construction workers needing POS terminals O.o?

Seems like a pos device would be better running RT or WP. With 8.1 they'll need AV software etc.

Pos devices are £1000 generally! The fact its £1200 roughly equivalent is not a bad thing! Great to see use in a tablet sized form for all those waiters and waitresses,menu on screen, including shopping cart and billing!

Not necessarily. These devices can still be locked down to only run apps the company wants them to run. I remember there being a big deal for 8.1 on how much control companies had over corporate devices, on tablets and phones.

We've seen how well retailers lock down their systems lately...

Is introducing it as a "POS Tablet" in the press release really a good idea?

Pretty much everyone in the target market knows exactly what POS means.

Missing: Poddie's sense of humour. If anybody has any information on its whereabouts, please contact the Humour Police on 08it'sajoke

Found: One rude user, goes by the name SammyD97. Somebody please take him to a different site.

Ok the guy really can't take a joke.

This is great, gets rid of those big LRT or LTR laser guns. Now you can ring up a customer away from the cash registers and email or text their receipt.

Point of Sale...
Not Piece of Sh*t

Lol, well lots of people will think otherwise haha Posted via the Windows Central App for Android

Well Pos devices are £1000 generally! The fact its £1200 roughly equivalent is not a bad thing! Great to see use in a tablet sized form for all those waiters and waitresses,menu on screen, including shopping cart and billing!

Nice but not sure of the demand for it. I have already seen plenty of small business using a reg smart phone with the square plugged in.

This seems to be a full point of sale, not just a payment device.

He doesn't know what that means, real companies use this...that plugin crap on smartphones are for amateurs.

We use that "plug in crap" at OfficeMax and we can do almost anything on that device that we can do on our traditional POS. They're more powerful than you may think.

At 2.75% transaction fee, using the Panasonic and a cheaper merchant can pay for itself pretty quickly, depending on vendor volume ($)...

Panasonic products always look unfinished and odd to me..They don't know how to make one..!!

Maybe not always but this one definitely!

Ever used a toughbook or toughpad? They are far from "unfinished". Very well thought out hardware and software integration. You get what you pay for

Guess exceptions are always there..

Looks like updated windows phone xD

Yeah I thought I can make a phone call with it

Finally a decent replacement for some of the old xp machines!

Tablet for payment.. haha..

What kind of thing is that???

Do you really need a pictures hub on this device?

Would be higher in 6 inch!

1,800 for that nope not in my time

Is it me or the image looks like an enlarged n8

Can only assume it has been qualified for Azure and FreedomPay P2PE.

That price is simply crazy. It's a sure way to put off retailers investing in this technology..

Lots of retailers are already paying more than this for less capable hardware/software. Mostly Windows CE based devices used for similar purposes.

Windows Embedded would have been more suited for this application though.

There is an embedded variant of Windows Phone. This device is almost definitely running that.

I can't read an article so long it could have been short

Apple just uses a hulked up iPhone in thier stores.

Sure, that works for Apple. It doesn't work for anyone else though since they have no way of customizing an iPhone.

Agreed, I just think MS would be better served by doing the same thing to a Lumia for their Retail locations. I welcome other retailers to use this, but MS should use an in-house device for POS transactions at MS stores.

I think they do. At least at my MS Store (Orlando) they were using modified Lumia 900's a couple of years ago. The had a protective case with a laser barcode scanner embedded in it and special apps for inventory other store related workflow. The employee entered my pre-release reservation for a Surface Pro on one. I'm not sure if they are still using them, upgraded them, or what though.

Excellent! I hope that this will be the case in the Dallas store that opens this year. It's currently not the case with our specialty store, i.e. the fancy ass kiosk we have in one mall.

The Las Vegas store uses the modified 900s, too.

Awesome option... Waaaaaaaaaaaaay too expensive...

(someone who uses POS, still too expensive)

What's the difference between this and a smartphone with that Square dongle thing plugged into it?

EMC +NFC and pin keys. Also, full WIN8 not IOS. Edit: More durable stuff too, etc.

Yeah...this is the whole package... And theoretically software upgradeable and USB addable... So it will have the potential to last... Would be great for a coffee shop or for plumbers or other trades... Can take any kind of payment... But still way too expensive...

It's basically the difference between a business with one employee and a business with hundreds or thousands of employees. It's the same reason that medium and large companies have dedicated mechant credit card accounts instead of using PayPal like a little mom 'n pop shop might do. Square on a normal smartphone would not be locked down in any way to prevent the employee from screwing up the config and it would be a nightmare to keep all of the devices updated/consistent. The Square service is also not designed to be a multi-user corporate solution so there wouldn't be any practical way to stop employees from accessing the service and transfering money, refunding transactions, etc.

Shit i thought it's a surface phone :( hopefully windows mobile 10) give that feel to phones )

Very nice. Handsome looking device too.

Pos gets me to think piece of shizzle. Outrageously overpriced Posted via the Windows Central App for Android

Good for start up businesses like food carts, coffee stalls, hotdog kiosks, etc..

Does Panasonic not have an interest in a consumer device (laptop or tablet?). Because I think there's plenty of people who'd be interested in such a product. Well, I would be anyway; they make incredible cameras...

Can I make a phone call with this thing?

I see a highly ruggedized windows 10 phone in their future.....

Is got a built in calculator... Sweet! :D

What the heck Panasonic! You've made #Windows worse (no offense to MS). It's far more better if you've only made it a smartphone. But still looking forward to see this.
Windows Central Newsletter
Thank you for signing up to Windows Central. You will receive a verification email shortly.
There was a problem. Please refresh the page and try again.