Pandora planning a day pass feature for ad-free listening without a subscription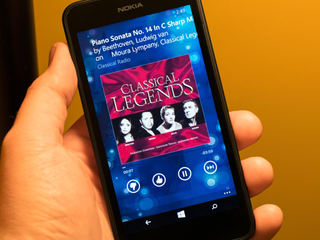 Pandora is preparing to implement a day pass service that will allow customers to buy short-term access to ad-free music streaming. The day pass will take the form of a limited, non-recurring subscription to Pandora One. The plan currently involves a 24-hour pass for 99 cents, though Pandora will be testing that price, and could even implement a multi-day pass.
The company confirmed plans to offer day passes in a statement to Gigaom:
There is currently no timeline for the rollout of the day pass feature. In addition to ad-free listening, Pandora One also offers higher-quality music playback, as well as more skips per day than the ad-supported service.
Source: Gigaom
Windows Central Newsletter
Get the best of Windows Central in your inbox, every day!
Hummm... Even though I have an Xbox Music Pass I find myself interested in this.

I'm not. I can't see myself paying for a day pass. Xbox Music has more to offer IMO

Still love Nokia MixRadio
Or maybe Line MixRadio
Ir MixRadio Seriously I'm confused about this

I remember the good Ole days when Pandora was ad free on Windows phone. Posted via the Windows Phone Central App for Android

Yea perfect for cook outs and events.

We need a Windows 8.1 app like the Phone app. I love the Phone app

I love the phone app as well!!!

The phone app rules. A lot less ads than the iOS and Android versions. I think you can skip more too

Bad. Bad. Bad. Badbadbadbadbad

Xbox Music. Haven't used Pandora in years granted their radio service is better I would rather select my own songs. Recommendations in Xbox Music are good so I discover new music without radio.

I still prefer Xbox music. Pandora might be on to something but I'm definitely not the person they are marketing for.

I'm to picky when it comes to music, I can't let something or someone else pick out music for me, that's why I was really never into Pandora, anyway my point is, paying for Pandora is silly mainly because you can't even play whatever you want, if you're gonna pay for a music service, I'd suggest Xbox Music, Spotify, Rhapsody, basically the ones where you can choose you're own songs

Seriously lol
I rather play my Pandora over your Pandora playlist!

I dont get any ads on the windows phone app as of now.

I do, but they are few and very fast between. Nothing like on a computer.

Yeah my girl uses her iPod for Pandora. Ads run rampant on that! Lol But on WP I can't remember the last time I heard an ad.

And we will probably be the last to see the update.

That's pretty cool. I wish other services did stud like this.

I rarely hear ads. On Android or ios there seems to be more ads

¬_¬Just use Metro Radio (doesn't have commercials)

99 cents are worth 3 months of spotify

So, $31/month? (I know, just an example)

As great this services are, I will stick with my HDD and SD full of music until the end of my days

I'd rather have the one survey for 4 hours ad free music. Out of there mind for 99 cents for only one day imo.

That's actually a pretty cool idea. Say u don't mind the ads for normal use, but then ur goin' on a toad trip, or a party. Might not want the ads then. I like it.

I don't even know if I would even care if they came back to Canada. They've been out of the game for too long.

Even though I strictly use Spotify this seems like a good idea

Whoever owns the phone in the article's screenshot has very good taste in music. I approve! :P