Path prototype for Windows Phone 8 revealed in detail in Clarity Consulting video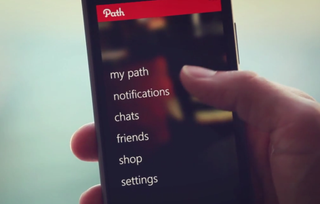 Clarity Consulting has been around Windows Phone since day one as development partner. They were involved with the original Facebook app, Nokia Music for Windows 8 and have had various concept apps floating around. We also know that a Path app for Windows Phone 8 is in the works, as revealed during the Lumia 1020 announcement back in June and recently teased by Nokia.
In a video that was posted last month to Vimeo by Erik Klimczak, Creative Director at Clarity Consulting (opens in new tab), we can see what looks to be a fully-functional prototype of Path for Windows Phone. The video shows lockscreen support for images, a double wide Live Tile, notifications, friends and chats all in action on a Nokia Lumia 925.
The app though is very different from what Nokia has revealed back in June. While the bottom bar is the same design (plain except for the "+" new post button), the color has changed from red to grey. In addition, a permanent title bar with "Path" is now located at the top of the display and the pivots for the various categories have been removed for a single pivot with categories (similar to the new Facebook app).
Basically, we don't know if this is an updated version of Path with a re-worked UI or if Clarity was merely offering a design concept of the service. Considering how polished this app looks though, we'd be surprised if this isn't the near-final release for Windows Phone 8. We have to admit, it does look quite good.
Path (www.path.com) is a private social network, meant to be used amongst your friends and family versus an open one, where anyone can follow you. It's built around messaging and photos with a 150-user limit. It launched in 2010 and has quickly become one of the more popular services on the iPhone. The app is expected to come in two versions, one for non-Lumia phones and one for Nokia devices with 50 customized filters for photos and other perks like the Nokia imaging SDK.
Hopefully we'll find out more in the coming weeks if this is indeed the real Path app for Windows Phone.
Source: Vimeo (opens in new tab); Thanks, IceCrush, for the tip and rikipy for the YouTube rip
Windows Central Newsletter
Get the best of Windows Central in your inbox, every day!
Daniel Rubino is the Editor-in-chief of Windows Central, head reviewer, podcast co-host, and analyst. He has been covering Microsoft since 2007 when this site was called WMExperts (and later Windows Phone Central). His interests include Windows, laptops, next-gen computing, and for some reason, watches. Before all this tech stuff, he worked on a Ph.D. in linguistics, watched people sleep (for medical purposes!), and ran the projectors at movie theaters because it was fun.
Cool, never used this social network yet but the app looks nicely done. What exactly is Path about?

Please read the article again.

Mentioned in this article! :-P

People seriously need to pay attention in school... =[

-.- okay I get it, don't need to be mean about it. I was just browsing through, was gonna read it later

dont give them too much attention pro I also wath the video only so what big deal ha?

No release date yet? Not even an estimation? I can't wait..

Looks like the design is damn good! Really, I wanna see the beta reached out at the Store!

I like Path. Used it on my iPhone but no one would bother with it. Maybe the WP community will give it life!

More than just that, I'm sure that WP community will eagerly share this news to anyone, to make people see that WP is now solidifying more further.

What's with those wavy buttons. Metro is evolving into Android.

Wavy buttons? You mean the semi radial menu at the bottom when hitting +? Reminds me of the radial menu in Onenote RT actually...

Yeah that. Why can't all apps feel the same. Thought that's what Joe kept talking about in 2010! That radial bit is such a waste of space, cramming the screen space.

It takes up space when you're using it and then displays information in that same space once you click through. I don't see a problem.

What's better than the Rooms feature built into Windows Phone, other than the fact that no one uses it apparently...? =/

I use Rooms in Windows Phone, but I admit that it lacks socialization of how to use it. Also, it lacks notification and confusing because it uses the person's email, not the unique ID of the phone itself -- I mean some people will be unlikely read emails frequently, so I suggest that the usage of the unique ID of the phone is the better option.

Path, a 10m user social network that only pundits on twitter care about. Any official app is a good thing, but hopefully we'll get apps that have more meat than Path.

Fap fap fap look at that UI!

Cluttered in menu and less content more faf?

Rooms isn't supported on WP7.X

Rooms doesn't support Android. Why MS can't tie Rooms into the Android Messenger App is beyond me.
Signing up for Rooms on an iOS device requires a Hotmail/Outlook account, and trying to convince iOS users that don't use Hotmail/OL is a PITA.
No voice messaging. As in WhatsApp or Voxer.... or Skype, (just not on WP, go figure)
I've got a Room set up for the local WP8 users, but setting one up for my family, and my Hockey Team was a total bust.

Time to convert all of my friends to Path & GroupMe! BYE FACEBOOK & WHATSAPP!

GroupMe is so unreliable outside of the US and they apparently have messages in a format that is easily readable by their team! Got an email confirming the same.

fell free to embed the video from youtube http://www.youtube.com/watch?v=wMkF9c-4ilo&feature=youtu.be

Thanks! I've just posted it on my brazilian website (FaixaMobi) http://faixamobi.com/2013/09/01/video-mostra-o-aplicativo-path-ainda-nao...

That's exactly how apps should be like, from live tile, to in app menus.
I actually sent alot of designs to Facebook suggestions site with no replays at all, much of them share similar designs with this one.
Lets hope guys .. Just hope that future apps and updates take the platform more seriously and make more apps like this one.

Did you just say this app design is coming from the same team that made the original Facebook app that was so passionately hated? I see the trend in wasting on screen space now ;)

Yeah, Clarity aren't actually that good ...

Marker Metro are probably the best third party Windows and Windows Phone development company, in my opinion at least. Clean, slick and tidy apps, and they're a very passionate team. And no, I don't work for them.

I liked that! Better than the new one anyway...I don't use Facebook anymore anyway!

here in the Philippines its a very popular social app.

Then it must be the only place it's popular after the pundits of Silicon Valley

That's great I love path and have missed it immensely since moving to a single OS life. I often only had my android for path.

Its very popular too in Indonesia

When is going to released????????
Why took it so long!! When it released i loved more my L920. This gonna be a perfect device <with notif flawlesly fixed for sure>

Heard it for the first time.... the only criteria for social network is it should be popular.. hope Path becomes popular

I've never heard of it before but after looking at this video and trying it out on my bf's tablet, I must say that it looks and feels great. And I don't care if it's unpopular, all the better. I'm going to use it like a journal, akin to the Samsung's Mini Diary app on Windows Phone. That is the only app I miss having on my Lumia, ever since I ditched my Omnia 7. Facebook's been getting on my nerves for quite some time now, cluttering my feed with stupid ads and suggestions. Twitter is my No. 1 social network, and Path will be its backup. :)

Really cannot wait for the release date!

The highlight of that video is that someone watched GI Joe: Retaliation. God I want my $5 and two hours back:(

what's with the phil collins song?
@_@

Before the video I visited website of Clarity Consulting. "Smaller, Sharper" in white color on white background, seriously what type of message are they sending to their potential clients.....

Yeay for non-lumia phones. Cant wait.

Any news on this front? It's been awhile... :(

How could I miss this post?! Waiting!!

So, any news on this app? Was hoping to have news by now... After Nokia's event. They didn't even mention Path!

Still not out? Please hurry up developers of path... Your losing money and downloads here!

Can't wait.. I really wish they can make it very soon

from july,aug,september, october, november.... there isnt telling date... and i thought for that app same like instagram fck beta cant video rec...

And december.....still no news. :(

It's already 27 december!! Oh my!