Perfect Dictionary – A simple yet wordy Windows Phone app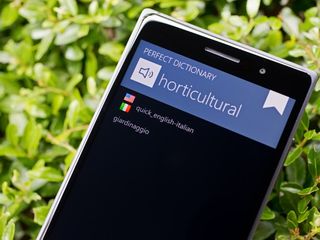 Perfect Thumb is a Windows Phone developer known for their simplistic approach to app design that doesn't sacrifice functionality. The developer's latest offering is the Windows Phone app Perfect Dictionary that follows this approach nicely.
The app offers an offline dictionary that covers over fifty languages that can be searched simultaneously. Perfect Dictionary also has support for audio pronunciations of words and the ability to mark words as favorites that can be pinned to your Start Screen.
As we have seen with other Perfect Thumb apps, Perfect Dictionary has a clean appearance, simple interface and is a healthy language dictionary for our Windows Phones.
When you first launch Perfect Dictionary your first order of business is to select a dictionary to use in your translations or searches. Just tap the download button to dive into things and pick your language. Perfect Dictionary supports over fifty languages that can be translated from or to and just a sampling of these languages include:
English, Arabic, Chinese (Simplified, China), Chinese (Traditional, Taiwan), Dutch, Nederlands, French, François, German, Deutsch, Greek, Italian, Italiano, Japanese, Korean, Portuguese, Russian , Spanish, Española, Swedish, Svenska, Turkish, Indonesian, Bahasa Indonesia, Vietnamese, Belarusian, Polish , Polski , Ukrainian, Czech, Estonian , Eesti , Bulgarian, Croatian, Finnish, Suomi , Hungarian, Magyar, Latvian, Lithuanian, Malay, Bahasa Melayu , Thai, Afrikaans, Danish, Dansk, Serbian, Srpski, Norwegian, Norsk, Kiswahili, Kiswahili, Albanian, Shqip, Basque, Euskara, Catalan, Hindi, Icelandic, Irish , Gaeilge, Central Kurdish, Occitan, Persian, Romanian, Slovenian and Guarani
Each language may have multiple dictionaries to choose from and dictionary download sizes typically are in the neighborhood of one to fifteen megabytes. In just scanning the files, I cannot remember seeing any of the dictionaries being larger than seventy-five megabytes in size.
You can download as many dictionaries as your Windows Phone storage will allow and as you search for a word, the entire downloaded dictionary database will be scanned. You also have the option to install dictionaries from your microSD card.
Once you have a dictionary database downloaded, Perfect Dictionary's interface is straightforward. At the top of the main page is a word search field to help you find the word you are looking for. As you type, automatic word suggestions appear beneath each dictionary heading and once you see the word you are looking for, tap the word for the translation. If a particular dictionary does not have a translation for the word you are trying to find, it will not be displayed.
The translation screen will display the written, translated word along with an audio button to hear the pronunciation of the word. The banner at the top of the translation screen can be tapped to reveal a star, which adds the word to your favorites list, which is accessible by tapping the same banner from the search screen.
The ellipse menu button (the three-dot button) will give you access to Perfect Dictionary's menu options that includes managing your dictionaries, accessing the settings, viewing more Perfect Thumb apps and viewing the About Screen. Settings are minimal with options to change the theme of the app, set the language of the app, turning on/off the search history and clearing the search history. The search history is displayed on the search screen when your keyword field is empty.
Overall Impressions
There is not a lot of bells and whistles with Perfect Dictionary but what is in place works well. I like that the dictionary databases are offline and that multiple dictionaries can be searched at once.
The interface will feel a little busy when you first begin using Perfect Dictionary but after a few word searches, the flow becomes more natural and easier to zip through. I wouldn't mind having the option to go online or add a larger dictionary into the mix to see the meanings of the words as well as the translations. Plus the settings could use a font size option for those of us who have aging eyes.
Even though there is some room for improvement, Perfect Dictionary joins the likes of Perfect Music, Perfect Recorder and Perfect Flashlight as a quality Windows Phone app from Perfect Thumb. If you are looking for a simple dictionary translation app, Perfect Dictionary may be just what you are searching for.
Download Perfect Dictionary for Windows Phone (Free)
George is the Reviews Editor at Windows Central, concentrating on Windows 10 PC and Mobile apps. He's been a supporter of the platform since the days of Windows CE and uses his current Windows 10 Mobile phone daily to keep up with life and enjoy a game during down time.
Aed way better this perfect dictionary is just hype

I am using AED and i do have GRE vocab installed i find both of them really useful.

'Dictionary' app is the best on windows phone store..it has a beautiful interface.

Agreed. It's one of it's kind.

Best Eng - Eng dictionary only

You mean dictionary.com app?

Another app called "Dictionary", from Flow Simulation Ltd., is fat better than this one. It even has Cortana integration and voice narration. And no extra downloads required.

Does Dictionary have Ger, ....

What is Ger? If it means German, then No. It's English only. If not then,......... What is Ger?

Yup that's the best one (Y)

Can anyone tell me which is the best epub and PDF reader on the windows phone store? I use bookviser and one reader..I think they are mighty good.

I use both and I'm really glad.

I use Bookviser as well and love it. Fiction Book Reader is also pretty good. Freda is okay on the phone but so-so on tablet.

For PDF there is also xodo docs the latest update made it possible to open 3 PDFs at the same time among the long list of functionalities (highlighting...)
You can use also foxitreader it is the fastest one in the store and it is the only that don't occupies extra space for each document opened also it search function is the fastest ever
Also.. One reader it is quick and enables you to pin PDF docs to the start screen .
For epub I suggest tucan reader it has vocal function and can open PDF files too. Recap:
-hard-core=xodo
-light user and big PDFs=foxit
-all in one for free= tucan

Wow man! You were of great help really:D I hadn't heard of xodo and tucan..will try them out..thanks a ton again! You are simply brilliant:)

Freda+ for ebook and foxit for pdf.

Argentina flag for arabic ?

Not working, unresponsive after downloading oxford talking dictionary.....ppl at windowscentral should at least install an app before recommending it.

MALAYSIA (B.Melayu)-unavailable

Indonesian is the same as Bahasa Indonesia....

Yep. Also malay and melayu is the same also

Okay, tried downloading and using plenty of dictionaries WITHIN the app. I still feel like AED is better for searching stuff. It conveys the meaning better to me.

Urdu and Hindi is missing, so sorry no download

You didnt see it thoroughly?? Hindi was there but yeah Urdu wasn't :/

No hindi and urdu support

Bring Bengali language translation support. Othrwise it's no good to me.

Hey George Ponder!, you do not know the Perfect TimeKit App? http://www.windowsphone.com/s?appid=7ce9e142-da02-47ed-b0c7-b3bcf9249bbc

For English to English I think AED is the best
But for French and trans languish use with offline capabilities there was only Silverdict ( but it is ad supported) now there is also perfect dictionary, the 2 uses the same online database of rare open sourced dictionaries I wish that perfect dictionary remains ad free and adds more dictionaries

For English to English AED is best..
I'll also try this one tho.

Does anyone know if there's an app that gives me phonetic transcriptions in both English and Spanish?, where I can check single sounds

I was looking for a perfect Recording app, the Perfect Thumb threw the Perfect Recorder right in time.
Then I was looking for the Translation dictionary for German -> English, And thanks again!

I was searching for an offline dictionary for a very long time.

These guys (Perfect Dict developers) ARE THIEVES! The are shamelessly reflected (disassembled) my "SilverDict" app (the very first stardict-compatible dictionary on the platform, written from the scratch) and use MY CODE without any permission! They are also hijacking protocol "silverdict" invented by ME for the e-reader developers! I do have a 100% avidence (just reported to the Microsoft officials). Shame on you, damn thieves!

Hmm. It is remarkably similar to SilverDict, it must be said. Even has the same typos (e.g. Roget's Thesaurus 3th edition). I have asked Microsoft Support to refund my purchase of Perfect Dictionary and referred them to sensboston's post. They were understanding, but it will have to be down to the Silverdict developer to prove his/her case I suppose. I'll keep an eye on this thread and hopefully sensboston will post back if the issue is resolved.
Windows Central Newsletter
Thank you for signing up to Windows Central. You will receive a verification email shortly.
There was a problem. Please refresh the page and try again.