Perfect (Windows) 10 Part I – Microsoft's Mastermind CEO Satya Nadella; The Nokia write-down was on the wall
Every leader must have a vision. Particularly the CEO of a multi-billion dollar global corporation. Microsoft's bold and ambitious CEO, Satya Nadella, by virtue of his position, must, therefore, have a vision.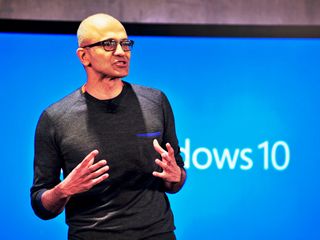 (Image credit: Windows Central)
He must plan his company's strategies in view of the next 5, 10, 15 even 20 years. Literally. Consequently the short-term annual shifts we see occurring at the end/beginning of fiscal years are more often than not, the scheduled execution of predetermined objectives of the larger goal. Rather than the drastic untimely upheavals they may appear to be.
Mastermind
I believe that Satya Nadella is a mastermind. Not the villainous recluse that sits in a lair conjuring far reaching nefarious plans. No, not the devious antagonist who strategically orchestrates events toward the fulfillment of those evil plans. Nadella's nothing like Samuel L Jackson's unassuming, but malevolent character, Mr. Glass, the nemesis to Bruce Willis's character in the film Unbreakable.
I don't believe that Nadella is a villain. Nor do I believe that he is a recluse. He likely has an office rather than a lair. I'm being coy. I'm sure that he has an office rather than a lair. I do believe that he sits in that office and conceives far reaching ambitious plans. I also believe that he strategically orchestrates events toward the fulfillment of those plans.
Yes, I sincerely believe that Nadella is a mastermind. Again not the villainous variety. But the Meyers-Briggs personality type type (That's not a typo). Here's how the Meyers-Briggs Type Indicator describes a Mastermind (INTJ–Introvert, Intuitive, Thinking, Judging):
That sounds like Satya Nadella to me.
In the beginning; bold ambitions
I believe that during Nadella's initial days as CEO, likely sooner, he formulated multiple strategies that he fancied would help position Microsoft to reap the full benefits of the unified Windows 10 platform. A perfect 10.
I also believe that his mobile strategy has been well thought out, subtlely communicated and efficiently executed since he took the helm in 2014. Today his mobile strategy is exactly where he planned it would be.
Yes, I know that many perceive the Nokia write-down as Nadella's reactive move to a failure to salvage a standalone mobile phone business. I believe, however, that like Mr. Glass orchestrated tragedies to achieve his vision, the write-down was part of Nadella's larger vision for mobile. Yes, I believe as we review what Nadella shared as his vision for Redmond by way of his July 10, 2014 "Bold Ambition and Our Core" memo, we may see that "the write-down was on the wall."
Memory Lane
On 7/10/14, the first month of the first quarter of Microsoft's 2015 fiscal year, Nadella addressed all Microsoft employees in his vision setting "Bold Ambition and Our Core" memo.
That email set the tone for his first year as CEO of Microsoft and laid out in broad strokes his long-term vision for the company. It also contained strong language that telegraphed, in my view, the structural shake-ups and the Nokia write-down that were, in my estimation, always a part of Nadella's long-term vision.
In that memo Nadella was clear that nothing was off the table, the company's priorities would be adjusted and he also stressed high expectations regarding contributions from employees and teams.
Bold Ambition and Our Core - 7/10/14
Less than one year later on 6/25/15, five days before the end of the fourth quarter of FY15, Satya shared in an email titled:
Aligning Our Strategy and Structure – 6/25/15
Both emails acknowledge:
A dynamic culture ("shifting" - 2014/"not static"- 2015).
The importance of the contributions of individuals.
The commitment to what could be perceived as drastic actions ("nothing is off the table"- 2014/ "make some tough choices"- 2015).
Wait, I heard that before
Allow me to be candid. Elements of Nadella's 6/25/15 email clearly echo what he stated a year earlier in the communication of his long-term vision.
Consider. If he made the same statements on 7/10/14 before the events of the then coming fiscal year, could the 6/25/15 statements be a response to said events? Of course not. Every decision communicated in June/July 2015 was already made, by July 10, 2014,, in anticipation of the coming year. Mastermind.
Consider further that not long before the latter email, Stephen Elop, former Executive Vice President to the Devices and Services division, left the company. Nadella shared that both he and Elop agreed that this was the right time for his departure. The remaining leadership was realigned to improve further engineering and simplify processes.
In his June 25, 2015, memo, I believe Nadella was executing on predetermined short term goals that were aligned with his long-term vision.
Again, what is notable is that Nadella telegraphed in his 2014 memo what would be executed at the end of FY15. The "realignment" addressed in June 2015 was not a reactive move to the year's performance, but the execution of a short-term objective timed for the end of FY15 as part of a long-term vision.
Nothing is off the table
In an email themed – Sharpening Business Focus – Nadella aligned our focus with his as he brought the strategic objectives executed at the end of FY15 into view. On 7/8/15, less than one year after his 7/10/14 email and "Nothing is off the table statement", Nadella made abundantly clear his previous allusions.
In what was apparently an FY15 one-year objective, Nadella executed his plan; exercising an option that was obviously on the table. The tough choice of writing down the $7.6 billion Nokia purchase.
A recent filing to the SEC reveals Microsoft's apparent acknowledgment that phone hardware did not meet "volume and revenue goals during the second half of FY15." The filing further acknowledges changes in the competitive marketplace which together with the first assertion and a claim of units sold having lower margins than planned, are stated as the reasons for the Nokia write down. During Windows Weekly episode 426 (50:36 mark in the video below), Paul Thurrott touched on the dubious notion that Microsoft was unaware they were selling phones for less than expected.
Nadella knew.
Now, as mentioned above, a CEO must have a vision that encompasses the next 20 years. The six short months from Nadella's July 2014 email to the January 2015 beginning of FY15's second half (when it is noted that phone hardware sales began to fail to meet goal), fell well within the time span of his long-term vision.
I believe that Nadella, in July 2014, clearly perceived the peril Microsoft's mobile phone unit was in. We all did.
Let's be real, the writing was on wall
Let's step back to July 2014, the point at which Nadella would have been communicating his vision for the company moving forward. Windows Phone had a 3% market share. Rivals Google, Samsung and Apple were showing no signs of yielding ground. As a matter of fact, leaks of a larger iPhone by this time had abounded. Nadella, like any astute industry watcher, knew that there was pent-up demand for a larger iPhone. This thing would sell.
Coupled with Apple solidifying its relationship with the massive Chinese market, Nadella was keenly aware. At the start of FY15, Microsoft's struggling mobile phone unit would likely lose market share and revenue against the new iPhone and Samsung flagship releasing for the 2014 holiday season. A season that aligned with the second quarter of FY15 (Oct-Dec) and directly preceded FY15's second half (Jan-June). Remember FY15's second half is the period Windows Phone would supposedly miss their expected mark, which would subsequently reportedly require a shift in operational strategy.
He knew of Windows Phones failure to gain meaningful market share at the point of his 2014 address. From this point he was looking forward toward a holiday season, that he knew would be a boon for Apple and cater to Samsung. The fallout, he knew, would continue into FY15's second half bolstered by Apple's newly inked deal with China.
I believe these anticipated events moved Nadella to foreshadow subtly, through his "Nothings off the table" statement, the shifts he had planned as part of his long-term vision. Shifts we have recently seen manifest at the beginning of FY16. The Nokia write-down and an adjustment to priorities in mobile.
I believe Nadella's a mastermind. Again not the villainous variety, but the Meyers-Briggs personality type type.
The Nokia write-down was just the first step in Nadella's vision toward an efficient Windows 10 mobile strategy. His strategy for Microsoft's value, flagship and business phones and Microsoft's ecosystem is the next. And like the write-down, the highs and lows of this strategy have long been in the works.
Windows Central Newsletter
Get the best of Windows Central in in your inbox, every day!
Jason L Ward is a columnist at Windows Central. He provides unique big picture analysis of the complex world of Microsoft. Jason takes the small clues and gives you an insightful big picture perspective through storytelling that you won't find *anywhere* else. Seriously, this dude thinks outside the box. Follow him on Twitter at @JLTechWord. He's doing the "write" thing!
We still believe in Ballmer..

Ballmer had to go. He just wasn't the visionary necessary for today. Personally I think Nadella is making the right moves. MS has to be on all platforms if they are to stay relevant outside the enterprise space. Ballmer simply did not move fast enough.

Well Balmer saw the value in Xbox long before most people did. Didn't even flinch on the Billion dollar write off of Xbox 360. Started the Surface group AND Hololens. So i do believe he was a visionary. I don't think Satya is a visonary though. He is the corporate type that doesn't want to miss any boats. Ballmer did miss the mobile boat.

Exactly. People forget that all of the stuff coming out now was started under Ballmer: HoloLens, Kinect, Surface, etc. Satya has dropped the ball big time with Windows Phone. Two years ago, Windows Phone wa son the upside. Then it stagnated and started contracting because Satya hesitated. That said, Satya has made some brilliant moves (buying Mojang, most notably) and Ballmer really dropped the ball in other areas (not realizing that the iPod and iPhone would take off and be so hugely important).

Xbox succeeded despite Balmer... same with the Surface. Balmer was really good at getting the last drop out of a market, but he didn't join or create any.

Microsoft needed someone like Steve Jobs or Larry Page to survive in the consumer market. Nadella is just a manager hired to kill the money-losing businesses and keep the operation going. Nadella has a poor track record, he hasn't done anything remarkable in his career. A dull engineer without imagination and bold aspirations won't save Microsoft from irrelevance.

Satya has people believing, especially tech pundits, that Microsoft has a big future ahead. Regardless of the platform, millions of mobile users are enjoying Microsoft services, and they even come stock on Samsung devices now. Your post is short sighted to say the least.

Most of what Nadella is doing now is all about perception. I don't care about perception, but that's just me. I really don't care. As long as it helps Microsoft be successful in the future I'm all for it. If he makes major changes that really end up being revolutionary, or if he does a lot of smoke and mirrors like Apple, it doesn't matter to me as long as they continue to put out good products and secure the company's future I'm fine. But I think a lot of people have both selective memory and clouded visions of the present. I'm sure over the next year, he'll make some decisions that will form both his legacy and Microsoft's

Didn't Satya run the cloud business that is now on of their fastest growing divisions? If the guy had a poor track record, there is no way he would have been considered for the CEO position. They would have gone with an outside choice. Obviously, he had a really good track record within the company. Whether he has the vision to see market trends before the mainstream see them or to recognize breakthroughs in their research division and invest heavily in them to build new markets, we can only wait and see.

Server and Tools/Azure were big ones. And those have been really good. I am very happy to see MS moving towards a platform agnostic world. If I can pick whatever device I'd like and still have all my stuff then how is that bad for consumers? Or Microsoft?

Ballmer did make some huge mistakes, he was laughing at iphone for one year saying its just a fad. The result being that the first truly modern and somewhat usable mobile OS came from Microsoft in 2013 (WP 8.1). And it's still incomplete to these days. And will stay so. Because MS has embraced a paradigm they saw at Apple. Apple has it's OSes and ecosystems traditionally closed down and MS is going the same direction. The only difference is MS is NOT Apple. Their business models are completely different and this copying will only lead to disaster IMHO.

No one thought the iPhone or iPad was going to take off. Why are we all acting like it was just Balmer. No one really saw the smart phone becoming a major consumer product. Bill Gates spoke on it, but no one thought it would blow up like that, and honestly during that first year you're talking about, iPhone wasn't the product it is today. And are you really trying to say Micrsoft should go even more open-source?

I think it's easy to forget just how bad the first iPhone really was. It did almost nothing, didn't utilize 3G networks, didn't have an App store, didn't have Exchange email support. It was an iPod that could make phone calls and do text messaging. At the time, everyone thought a virtual keyboard would be terrible. Apple was right and everyone else was wrong. I know it's hard to admit, rather than just blame Balmer for not seeing it, but that's the honest truth.

I don't know about "no one", I know for sure back in 2007 iphone just blew my mind. I wanted it immediately. Unfortunately it came at a price hard to accept for me on off-contract (close to 1000$ in Romania). Microsoft has some very serious problems. One of them is their corporate culture. I played with a Blackberry 10.0 when it came out. It was more polished and versatile than WP 8.1 is now. The present BB 10.3 runs circles around WP10. How come a company like MS who is supposedly so good at software cannot come with a OS as complete, capable and versatile as iOS or Android or even BB OS? How come BB came with a better OS in half the time and on much less resources than MS?? Regarding closeness of an OS. An open source OS doesn't necessarily means it is open. When I say open I mean open as in 'freedom'. Freedom of use. WP doesn't even have a file system for you to play with. After 4 (four) years they finally decided to offer a few idiotic locations like photos, videos etc but no file system. Don't even think about rooting your phone or having even some simple administrator privileges on your own phone. No. Period. Well... we seem to live in times of revolt, of people demanding freedom, so... no go for WP again. I could write about many other aspects but I am tired and nobody cares anyway. Not even MS, so why should I?

These moves aren't really Nadella's moves though. All this was rolling when they were trying to decide who the next CEO was going to be. No one would have moved fast enough back then. Nadella likely would have made similar mistakes had he been CEO 10 years earlier. It's easy to come in and look like you're moving fast when you have the hindsight of the mistakes and pluses of the last guy.

I trust Gates more than Ballmer

Unfortunately, Ballmer had some execs that worked independently and ruin Microsoft's image in the process. I thought Ballmer was a very good exec and despite inappropriatness of decision making by some execs Ballmer was able to keep Microsoft in the black through all the embarrassments like releasing Vista shortly after Chrismas the biggest purchasing season and without OEMs readiness.

Good then trust Nadella. Gates has the position of tech advisor to him.

Who is this "we" you speak of?

Me clearly not you. I liked ballmers plans. Remember office on ipad was started by mr b.

I think Nadella is a better CEO than Ballmer. The company is running more efficient and focused. Not to troll, but what if in an alternate reality Nadella was CEO of Apple instead of Tim Cook. I think he would do a much better job than Cook and bring out better and innovative products like Jobs did rather than incremental upgrades like it is now. And if instead Tim Cook was the CEO of MS instead, it would just be rehashes of similiar products with slightly better specs

History is the best judge and we don't have enough, but I do agree with you. I think Nadella is better for leading MS than Balmer would be today. Regardless of things being started by Balmer, the Windows 10 development process, build cadence, Insider program, reacting to customer feedback during development were things that an engineer would want. And Windows 10 has clearly benefited from it.

Ballmer was getting into his dinosaur years. But he was cool

As good as w10 may be it still inherits some of the problems 8.1 brought. Like for example whatever they did to ndis when 8.1 came out it seems like no oem seems to know how code decent Wi-Fi client adapter drivers without it crashing.

;-) https://www.youtube.com/watch?v=7xxgRUyzgs0

Is this spam as it is so OT?

Not spam, just an attempt at humour (I guess failed one, despite the wink :) ). But I am just a little worried some foks may start building a cult of personality around Nadella - akin to the one built around Jobbs. :)

Good point. I for one will hold off on my assessment of Nadella as a CEO. People proclaiming him a mastermind do seem to be joining in that "Cult" of personality.

The Jobs "cult of personality" to which you refer was more substance than fancy. Tim Cook's (and Apple's) performance has been lackluster at best.

Is this the same Cult of Personality that Living Color did?:P

Lol. I had that same thought when I was reading this article. xD Posted via the Windows Central App for Android

A lot of words to say very little.

True. But you gotta admit all those people who criticized both Nadella's annual addresses missed the point. Nadella knows what he's doing.

The jury is still out with respect to Nadella's effectiveness. He may (or may not) be a mastermind, but this piece is nothing but a cheerleader article.

@Long Syntax Thanks for your input. :-) Actually no this isn't a cheerleader article. It's actually an analysis of what Nadella said over a year ago compared to his recent statements and trying to offer context to many who have perceived that they was a shift in Microsofts direction.
I remarked to my colleagues on July 8th after that memo was made known that the strategy that Nadella was then communicating was the strategy that been executed all along.
I was inspired to write this after seeing the reactions so many had after Nadella's apparent shift in strategy. Many in the industry reacted to the June 25, 2015 memo, his July 8th 2015 memo, his dialogue on the July 22, 2015 earnings call and his July 14,2015 interview with Mary Jo Foley as if there was a big shift.
Most people, writers, analysts and enthusiasts alike have looked at those pieces in blurbs. And not in a larger context. When you take what he said in those instances and compare it to his broad vision statement given on July 10, 2014 you see that recent events line up with what he stated as his overarching vision.
This is certainly not a cheerleader piece, its just a series designed to place much of what people feel is a "new direction" in a volatile space within a larger context.
The personality type of the leader and orchestrator of these strategies place a large role in how these strategies are formed, communicated and executed. Thanks again for you input.

It would've been good to include this tidbit in the article to begin with. I was scratching my head about why the article happened, but I now understand why you put it out based on this comment.

My problem with the article is that you keep calling him a mastermind and overexplaining the concept. You wasted at least a hundred words repeating yourself about how smart Nadella is. There's just not much analysis beyond "The Nokia write down was planned and always part of Nadella's mobile strategy."

@buttsmalone thanks for the feedback.:-)

Cheerleading article on Windows Central? That can't be right.

Yeah. Typical Windows Central. But I only read Daniel's articles, to be completely honest.

Outside of Azure, he's only managing items Ballmer implemented: Office 365, Office for iOS & Andriod along with the garage apps, hybrids, windows phone, Surface line, windows phone, halolens, and more. actually, Nadella was employed by Ballmer who had to approve even the fatest growing cloud strategy Nadella is getting credit for today. As I stated I do think he's the right person for the job, but the next year is critical to see how successful he will be.

"Nadella knows what he's doing." Really? Doesn't seem to me.

WPCentral really makes sick with this kind stupidity. I am tired to explain long time ago.

First off all its not WPCentral its Windows Central. Then I don't find anything stupid rather than a good read. I find Nadella has visions. Ballmer could be CEO lets say like 10 years before. But things evolve. New competitors, new innovations, new startups with excellent alternatives. We have to move along with the wind. I always felt Ballmer was slow in execution.

I think you a word there.

And yet you're still here making a clown of yourself

This is great... But I hope he also has a solid time frame in his master plan... About when one can except quantifiable results...

Great article. We need more big-picture viewpoints around here.

@pepperdotnet Thanks so much. I appreciate that.:-)

I believe the acquisition was both good and bad. Y bad bcoz Microsoft tried branding Lumia as Microsoft than nokia killing the brand name nokia which is still ppl love it whether they use it or not. Good bcoz Microsoft had got some very good employees and patents from nokia which if they implement very well on their flagship phones can help them have good sales in smartphones.

MS does not own Nokia brand nor Nokia patents. It has licenses for both and lisence of Nokia brand for smartphones has more or less expired already.

Its has patents of its camera technology which is imp.

They ACQUIRED 8500 patents related to phones like the physical design and camera.
They are LICENSING 30.000 other patents. http://www.zdnet.com/article/microsoft-and-nokia-weave-an-entangled-pate...

Not 'like camera'. They bought design patents, nothing to do with camera. Those are just copyrights for look of inherited phone portfolio. So if someone makes phone that looks like Lumia 800 or any other old phone then MS can sue.

They bought all patents important for phone design, didn't buy the camera patents (much further reaching than just phones hence why MS has no use for them) and finally the bulk of the other 30k patents is relating to networking which almost every phone producer has to license.

This is Part 1. Call it a prologue. It does show that Nadella is being consistent.

The first half was constant repetition lol :) still, nice story and I completely agree

I think this author is on 'shrooms. What a lot of nonsense!

Under Nadella's leadership MS is making slow but steady and strong progress....

So who is Kobayashi? I too think he is better for MS than Ballmer would be at this point where tech culture feeds off of CEO persona's and their ultimate vision. Strategy though is pretty easy for a company that can effectively write-off billions... MS will continue to be successful as they have a foot in many markets. Nadella's Cloud-first strategy is what makes you realize he has vision, not his other decisions. The success that they have seen in the cloud is the surprise. I think his vision of making money on the apps (known to most people) and the services, like cloud (unknown to most) is his strategy going forward. The OS is the tie that binds... If you make it free, people will end up spending that money on your apps or other services...

Ridiculous article (Ward and Nadella need to get a room). EVERYONE knew that Windows Phone was dead back in 2014. By early 2013, a year before the "mastermind" took over, it was obvious that the entire WinRT80 effort was a disaster. Win8 was widely hated, WP80 wasn't gaining ground in the market, Microsoft was already looking to purchase Nokia's phone business in a final attempt to save Windows Phone, etc. By the time Nadella took over they knew that the Nokia purchase had failed and WP was dead. The rest of the Nadella memo is just typical corporate speak from a CEO. Sheesh...

You and Sabre need to get a room too.

@MikeGibson Thanks for your input. The position of this piece is to offer comparison and contrast to what Nadella shared in his overarching long term vision statement on July 10, 2014 and his recent statements in June and July. Statements that have been interpreted by many as shifts in direction and strategy. Just look at the deluge of "Windows phone is dead", "Changes in Strategy articles", that permeated the web and the enduring belief even now that Nadella has shifted strategies. This article (and series) is an analysis of what Nadella shared as his vision a year ago at the beginning of FY15 and his words which he shared at the end of FY15(June/July 2015) which have been interpreted by many, without looking, back as a shift or modification to a strategy; an improvement to a failed strategy. When in truth it is indeed the same strategy he has been executing all along.
Everything we see happening now in his mobile strategy he telegraphed over a year ago.
What I found interesting is that Nadella hasn't changed his language nor his plan, but after his "clarifying" statements in his July 8th memo and July 22 earnings call(we'll get into these in parts 2 and 3) where he actually repeated his vision given in July 2014, enthusiasts, analysts and investors and the internet was suddenly calmed.
Careful analysis however will show that he's not saying anything different now than what he said in his 2014 memo. The fact that everyone thinks he is offering a sudden beneficial shift in direction from what he set out doing last year is a statement of his ability to see broadly a larger vision while the masses are looking at only the most recent moves. He's looking at the whole board years out, while the masses are distracted by "sound bytes and quotes" and seeing only what's being said "at the moment"- in the latest interview or latest memo.
The Meyers Briggs personality type-INTJ,-Mastermind - is the type of personality that can see the long term and connect the dots. Nadella seems to be that personality type. He's moving along with an unchanged strategy while the internet has hailed, quite positively mind you, a shift in Microsofts mobile strategy. They are looking at manifestations of short term objectives. Nadella is just executing his long term vision. If you want to hang around for parts 2 and 3 we will dive into that a bit. Thanks again for you input.:-)

I don't know why.. But I had goosebumps on reading this.. As a long time Microsoft, Windows and Nokia fan, I really hope this is true.. I really want Microsoft's phone business to grow on par with Android and iOS, if not bigger...

I really don't care if it ever surpasses iOS or Android. I just want them to have enough so i can get used to seeing the Windows Store logo when a new mobile game or app is announced.

Now this was a good read. Thank you.

@the silent majority Thanks so much. Much appreciated!:-)

Core OS apps and features like Mail and Calendar, Groove, Movies&TV, Photos, Store, MSN News/Weather, Battery saver, Data usage have gotten better in some areas and worse in others. The most obvious setbacks are obviously in UX of Microsoft design language 2.0 where pivots are replaced by hamburgers. Nothing against hamburgers but like requested in feedback app, pivots in concurrence with hamburger might have been a good idea. Groove still can't index properly. Still no way of editing meta data. Movies&TV app failed to play a video that my XBox Video app in WP8.1 can play. Need support of large no. of formats for these two apps. Battery saver although has been better mostly but I misses the option of live tile and where it told you time since last recharge. Data usage has been totally ripped off of its potential. Have seen a lot of complaints regarding mail and calendar apps regarding more features and functionality.
It's great the work Microsoft is doing on developing its universal windows applications development platform, after all, lack of apps has been Microsoft's undoing.
But, it is obvious that Microsoft is still not intent on spending too much resources on core OS apps and features unless they gain some significant market share.

I think people forgot that Nadella made the Surface Line profitable, and had to kill off RT as it was unnecessary. The unified ecosystem is already putting him on top.

Hard decision there to kill off RT.

And Samsung just announced last week the Note 5 which is the 5th iteration of a productivity monster with a Pen, they announced it before Marshmallow launch, so probably when Note 5 is launched it will come with Marshmallow. On the other side, Microsoft hasn't announced official news about Cityman and Talkman, all is just speculation and rumours. IMO Cityman and Talkman should be announced officially and being put on the front page of Microsoft's website, just like Samsung does with the S6 Edge + and Note 5. Just my 2 cents.

I would honestly be shocked if Samsung launched the Galaxy Note 5 with Marshmallow. In the past the Note line has always released with the same OS iteration as the Galazy S line. Also, there is no official word regarding when Marshmallow will be released (in the pa Google has typically launched the latest version in the fall around October). Outside of the Nexus line, new devices usually aren't running the next iteration of Android until the following year. Granted, this is all speculation and could change. Regarding Talkman & Cityman, they will be announced, and once they are will be plastered all over the place (I'm pretty darn certain of this). However, Microsoft would be very foolish to announce it more than a few weeks (month, max) in advance, and instead should wait until WIndows 10 Mobile and the hardware (Cityman & Talkman) are actually ready to be released. Two reasons for this: 1) gives the competition time to come up with counter-selling points so that potential customers would go for their hardware, rather than Microsofts. 2) as has happened with other devices in the past, ifit's announced too far in advance of the actual release date, people forget about because other devices come along in the mean time. If Cityman was announced this week, but not available until say late October or November, but the iPhone 6s and Nexus 2015 line were actually released in September, it really wouldn't look good for Microsoft. It would e better if Microsoft could capitalize on the hype by announcing and releasing the devices at the same time (or very close together), rather than waiting.

The Note 5 is already shipping. It is NOT shipping with Android 6.0 Marshmallow as the OS has not yet been released. The first phones expected to come with it are the Huawei and LG Nexus devices sometime in September/October (judging by past calendars.) Also the Note 5 the "5th iteration of a productivity monster with a Pen"...yeah, no. Not this time around. Samsung messed up really badly with the Note 5 by taking away everything that made the Note a "productivity monster". The Note 5 is nothing more than a blown up S6 with a pen. And since you can install the Note 5 ROM on the S6 and get an S pen without getting the phone, Samsung just basically destroyed the Note line-up the moment they took out the microSD expansion (and the 128GB model) and the removable battery. If there's a year where Microsoft can try to introduce a productivity phablet, it's this year, that the Note 5 is worthless.

If Nadella is a mastermind for windows mobile, he would hit the right timing to launch Lumias with Latest OS, latest processors, all new quality universal apps, best build quality and design, with best advertising and within right time frame.

I dont think you want to release the products with flaws and outstanding bug/tweaks that needs to be made on the product.I think they should just release when they are comfortable with the product and that people will use it.

All I want from him at this stage is to patch up with Verizon and make L950/L950XL available at all US carriers. Whoever wants one can get one. Then we'll go from there.

Early to say for Nadela, but Microsoft made a lot of money in Balmers time

No marketing. No flagships. Release everything first to competing platforms and later if ever for your own. Who would have thought that it can affect sales.

Thanks for the Unbreakable spoiler :/

Dude, the movie was released 15 years ago… BTW: Darth Vader is Luke Skywalkers father…

Lol... If there's one film that deserves to have it's ending spoilt it's Life Of Pi! If you've never experienced fiction before, Life Of Pi will tell you how!

I'm struggling to find the point of this article. It seems like Jason is saying that Nadella has a plan and is executing it. ...and also that he is a non-evil mastermind.

Forget all that. Just bring the best flagship phones now! WP is different and better - Excited to experience the MS ecosystem with Win10 Mobile.

This was written on the wall the moment Ballmer announced he would be out, Microsoft picked Nadella and Microsoft Mobile was created as a separate company instead of the D&S division integrated into Microsoft itself. I wrote it back then, no one believed me, blind as they were with the illusion of Ballmer's promises. Nadella, like Gates, understood that it wasn't Windows Phone per se that was moving the units that were being sold, it was Nokia. He understood that, as a third OS, Windows Phone failed. And he understood that Microsoft - a software company - had no business with a mobile manufacturing unit. He understood that, for Microsoft, it was already a bit hard to justify the existence of the Xbox hardware division let alone another devices division. So yeah, he's refocusing Microsoft and rightly so. Taking it away from the path that buffoon Ballmer had placed it and that led to a dead end because, as much as people still fail to accept it, Microsoft is NOT Apple. I don't think it's really a "mastermind" play here. Just a very logical one that Microsoft should have taken long before they attacked Nokia's D&S division. I'm pretty sure it would have gone better for everyone involved.

Do you think MS still has a chance? (on hardware that is)

Not really, no. They may sell a few flagships and if the Surface Phone happens it may resonate with die-hard Surface fans but the main problem on hardware is that people just don't want Windows Phones. The mobile OS war, much like the desktop war, is over. Android won. It reigns supreme on mobile much like Windows reigns on desktop. Apple has its own niche but both in phones as in computers, they hold their niche tight and normally once a person goes into their ecosystem, they get locked in because they spent too much on a specific piece of hardware and that doesn't work with anything else...so they go and spend more on other expensive pieces of hardware and once they realise it, it's already too late and to leave it will cost a lot. Windows Phone failed and Windows 10 Mobile (ie Windows Phone 10) will change nothing. Universal apps are all nice and dandy but there's the major flaw in the plan and that is: the apps that make mobile OSs popular are not designed with PCs, tablets or the Xbox in mind. They're meant as mobile experiences. Then you have the others that, on a PC, you can access them through a browser (banking for example). And finally you have the complete lack of brand-loyalty towards Microsoft. That's a weakness many companies have and it's not something you can create in a couple of years. Few companies managed to do it. Apple did it, Sony did it and Nokia did it. To a certain extent, Samsung did it but it's more of a case of "it's everywhere" than anything else. Just like everyone else (LG, Motorola, all those Chinese brands, etc), it just sees flutuation of loyatly. People like that device but they don't feel particularly loyal to that brand.

So I guess you are implying that they are going towards the Nexus route. The only difference is they (Microsoft) are the only one having their software and no OEMs will step up and make another phone for them.

Yeah I think that will be the path. Microsoft will do with the phones as they did with the Surface in hopes that OEMs then join in. Unfortunately for them, I don't believe they'll manage to convince OEMs to join in. I don't believe Windows Phone (or Windows 10 Mobile, whatever you want to call it) has much of a future. I believe that Microsoft will end up putting an end to the OS and simply focus on their software services for Android and iOS when it comes to phones.

I'll take that into consideration. But unlike others, I'd still see if there is a chance for them later this year. If not, then I'll just grab a G4, as what you have recommended me in the forums.

Please stop with the Balmer hate. He was the one that started all the highly innovative projects at MS that we are seeing now, furthermore the Nokia buyout was necessary, MS needs a mobile presence, it doesn't need to be popular it just needs to be there. What Nadella has done really well is follow along with the restructuring started under balmer that was started to prevent miscommunication happening again (think vista launch timing) and improving synergy. He's also pushed the open community side of MS that listens more and has given MS a new personality. But game-changing or better than Balmer Nadella is not, he's just part of a "rebranding" of sorts.

Cheesy article. More on pleasing Microsoft than anything else. It's like a pledge of allegiance.

What terrible writing. That was getting hard to read after the 4th or so paragraph about not believing he's a villain using various metaphors.

This is simply flawed, how can you have a mobile strategy with Windows mobile and not have Nokia with you? Who do you think will make windows 10 mobile devices for you? Google :-). The best bet would have been to leave Nokia alone and transition them to windows mobile devices only.
I don't think windows 10 mobile will ever take off with so many changes in direction. I need to move to a different platform soon. It's simply greed and mis-management that had got both companies into this mess. Lets wait and see what happens to the new Nokia mobile platforms

you mean the new "designed by Nokia, made and supported by someone else" Nokia devices that are expected? Yeah, people are going to buy in expected the classic Nokia look, feel and support and wonder why they have to deal with Foxconn or whoever will be making their devices and stamping the Nokia name on them.

Foxconn makes Apple devices and stamps Apple name on them. I suppose Nokia designed N1 has been quite well received, any issues with quality and support? If Foxconn just would sell the device..

Yes, while Gates and Ballmer were great assets to Microsoft, something seems to have happened once Nadella took over. The Microsoft "attitude" seems to have changed. Now while may of the current projects and ideas began before Nadella's tenure as CEO, the way things have been unveiled and information flow reminds me of Google 10 years ago. Microsoft seems more open and approachable than ever before. Now if more companies were this open (AT&T, looking at you)

Thank you, finally some sense. Nadella has truely been great at getting MS to be more "open community". No need for open source and just ignoring your users (cough google). Nadella has the benefit of a massive restructuring being completed right as he got full control and doesn't have to deal with massive miscommunication issues that plagued Balmer's age.

My Grandfather smoked his whole life. I was about 10 years old when my mother said to him, 'If you ever want to see your grandchildren graduate, you have to stop immediately.'. Tears welled up in his eyes when he realized what exactly was at stake. He gave it up immediately. Three years later he died of lung cancer. It was really sad and destroyed me. My mother said to me- 'Don't ever smoke. Please don't put your family through what your Grandfather put us through." I agreed. At 28, I have never touched a cigarette. I must say, I feel a very slight sense of regret for never having done it, because this article gave me cancer anyway.

I enjoyed reading your post more than the article.

"Nadella's nothing like Samuel L Jackson's unassuming, but malevolent character, Mr. Glass, the nemesis to Bruce Willis's character in the film Unbreakable." Spoilers!!!! :-P

Not only that, it was an amazingly brilliant move strategically. A) Prevent Nokia from making Android Phones, losing Nokia fan base B) Observe one of the worlds greatest phone companies operations, find the game changer employees and bring them to the team. C) Let it die by not servicing the market because the Cloud and Windows 10 vision weren't ready. D) Have a massive write off, saving almost 3 billion dollars in taxes and closing global manufacturing that was not neccessary, leaving funds overseas for massive investment into foreign markets.

So a loss incurred by the Nokia purchase, a sum of many billions, is of no consequence? Well I ask you!!! Only Microsoft could make a BLUNDER of such gigantic magnitude with the subsequent catastrophic loss of employment, and call it due provenance, and visionary!!!! Lets face it, IF the WP operating system had been in the hands of someone like APPLE, it would be a phenomenal success today. Nadella is all about pushing the Windows platform for enterprise and has no interest in phone hardware of any sort in the long term. Microsoft doesn't even need any phone hardware, unlike Google because of it's fragmented ANDROID operating system.

Many people seem to assume Nokia would be better off had they gone with Android, I would wager they'd be worse off. See prime example HTC or Sony/Erricson, former heavyweights of mobile phones that are now worth next to nothing. Or even better Motorola that got so screwed by Android they had to be saved by the creator of Google and are now just another brand in the powerhouse called Lenovo.

I will believe he had a commitment when I see the successor to the 1020. It's been MIA for way too long, and so far Win10Mob phones are looking to be a huge step backwards in tender of photography.

And it will continue to be MIA unless by some miracle Windows Phone 10 suddenly takes off like crazy and gets over 10% marketshare worldwide (here's a hint: that ain't gonna happen). Daniel already addressed this in of the the AskDan videos ;)

Microsoft Camera needs lots of work before it makes sense to release a camera flagship, or any flagship. Or Nandela could un-kill Lumia Camera and rebrand it as Microsoft Camera but that would make just too much sense.

All depends if they come out with high end WP10 devices that are exclusive to one carrier then its game over. Lest for me.

A mastermind no,a visionary, yes. We all can be visionaries to some extent, but unless you can control every aspect, even the best laid plans can fail. Real life isn't a Hollywood movie. Satya's contingency plan is to have all of Microsoft's services on it's mobile-phones compitition's platforms so the plug can be pulled easily,and the write down won't be as bad. Personally I believe that he is trying to kill off the phone division and has been the goal all along. His vision for cloud first is the tell. You don't need a mobile phone division if you have the customers of all your compitition's phones using your services. WP is not profitable and trying to gain from the bottom was doomed to fail. Most people understood this long ago. WP as a entity ...even as good as it is, isn't part of Satya's vision. It can be if some miracle happens, but as it stands right now it is hemorrhaging money for the companies bottom line, and make no mistake Satya is a very good axe man and will cut it loose in a second if he thinks it is necessary and the timing is right. Trimming the workforce is always a nessasary evil for company growth when things have become stagnant. He knows this and has done this, and was always part of the equation. As much as I want to see the phones succeed, in my heart I have serious doubts that he truly does. Everything that has been done and said to date is the tell,and from a purely business approach this isn't a bad thing because it is a win-win situation but a WP fan's perspective, it is the absolute worst. To become another Apple you have to limit the number of phones you build your phones specific software for, and to propagate and fracture like Google you allow hundreds of handsets to run your software. Microsoft can do both as a software company without building phones and be extremely profitable. From a business perspective the writing has been on the wall for a long time. Posted via the Windows Central App for Android

Nadella is an idiot. He took over in Feb 2014. He's come up with a so called "value, flagship and business phone" strategy. And yet, almost in the same breath, he says the value part of the strategy "didn't meet revenue goals", because since he's been running things, they've only shipped ​value phones. Their last Flagship phone, the Icon, came out the very month he took over, and since then, he's cancelled every later flagship they had in the pipeline. And as for business phone, wtf distinguishes a business phone from any other category of phone? Decent battery (and replaceable), lots of RAM, and a middling speed processor, maybe? Nothing like that has shown up since the Lumia 820! Idiot.

They weren't shipping Value phones, Nokia was and most products you see are from the Time line inherited from Nokia's D & S division's acquisition. It takes a long while for a product to be designed, re-iterated, tested and then shipped (process overly-simplified).

Of course, but then Nadella doesn't deserve any praise either yet. That's what I personally really detest about the news right now, Nadella hasn't done jack at MS that we've heard of until now (apart from the Cloud segment which he controlled before, obviously). The one thing I attribute to him is the openness of their development teams with their feedback systems though that could also very well be changes in the individual leadership of said products.

I want a true Zune replacement, My last 120GB HDD went belly up and the parts are now hard to come by.

These type of articles are the ones that I think really set this website apart. I aplaud the High Brow Journalism that has been professed thru great writing and good research. Cant wait for the next one. Keep up the Great Work!!!

@XeeoJC2000 Thanks. I appreciate the support. Glad you enjoyed this piece.:-)

Loved this article. Nice.

@Whodaboss Thanks for the support. Much appreciated!:-)

If you think that outsourcing customer support service is a "mastermind" decision think again. He may be mastermind in other aspects, but clearly MS has one of the worst customer support service ever. And here I mean online support: chat, call, not physical store support. I call MS UK for some issues, and a guy from India in answering me having absolutely no clue about what I was asking. Tried more than 15 minutes to explain over and over again the same problem, asking the same question different ways without any success. :| I would rather pay for a premium support over phone or chat but to talk with some skilled professional not some **** who has no **** idea about anything and only reads some steps from a piece of paper.

Please Provide password restrictions to uninstall an application in Windows 10 Mobile

This whole article is a shameful propaganda. It makes me sick. When WP will have at least 10% in worldwide share maybe, just maybe, we'll revisit this point. Until then, calling him a 'mastermind' is just plain stupid.

No, not stupid at all just extremely premature in my opinion lol.

"Not the villainous recluse that sits in a lair conjuring far reaching nefarious plans. No, not the devious antagonist who strategically orchestrates events toward the fulfillment of those evil plans. " - lol, so perfectly describes the last two US administrations.... :)

The verdict is still out. I'll reserve judgement until this time next year.

1 Minute of silance for those who didn't watch "Unbreakable" Nice Article by the way :)

I agree with a lot of the article. I think Satya is brilliant and visionary, but I do think many of the paths we see being executed publically clearly started under Ballmers reign. Ballmer had a lot of fire and was loud, but he had a vision of his own. Let's not forget WP came under his watch. This One vision I don't think is any of these senior executive's personal visions, I think this was laid out long long ago and only now being properly articulated and fleshed out because the Web now enables it all to come to fruition and manifest as something people can understand. I think Satya is doing a great job of executing more quickly that vision and making and doing the tough calls. Ballmer went wide now they are bringing it in. I like what I see going on... let's just hope it continues. 2015 is surely a year to remember for Microsoft!

This is clearly the transitional phase, he is aligning the companie in which he believes is the best way forward. It will be a fair while (a few years) before the results of such decisions are clearly evident - Cause & Effect.

Another article for apologists.

Personally I feel these are early days yet; never the less Satya Nadella is also getting credit from projects started by Steve Ballmer. Simply because products just simply come into being without going through creation + design process lol... I would say have a look back after 5 years or so and then tally up this should more less give a clear projection where Microsoft may be in 10 - 20 years time. I wouldn't class anyone as a mastermind after just over a year as CEO lol.

I like the energy Satya and team have put into the consumer space. They are making Microsoft relevent again and they are being very vocal about it. If they can keep up the excitement that exisits right now, they will be in a very good place in a short time. Hopefully, Satya can keep them from falling back into old habits once (if?) his vision pans out.

@Jason It's hard to find good journalism on the web. Thank you for providing some relief. This article has given me new information to reflect on.

@Dueydoodah Thanks I'm glad you enjoyed it and gained some insight to reflect on. Thanks for the support. :-)

So, Satya Nadella = non-evil Mastermind? Thanks, Jason. I don't think I picked it up the first time; I finally got it around the Fifteenth or Sixteenth time you repeated it.

@Johnny Tremaine Thanks for the feedback, though sarcastic it may be:-) Hopefully you, in addition to Nadella not being evil, also got the point that though there was a whole lot of hoopla around the Nokia write-down it was something Nadella told us he was planning on doing, though subtly, in his July 10th 2014 Bold Ambition and Our Core memo. The point of this series will be to show there were several things Nadella stated a year ago, but when he repeated or acted on what he said this year, writers, bloggers, enthusiasts, analysts etc all responded as if it were new information. As we saw in this piece and will see in the coming pieces Nadella laid out his vision last year and has kept on course since. Thanks again. I think.:-D

Sure thing. My criticism wasn't about the content (Nadella, Microsoft's strategy et all), but about writing composition. I'd suggest a copy of Strunk & White's The Elements of Style.

I'm still looking forward to JaySeeDoubleYou's comment. It's always so enlightening to reads that guys point of views :)

Off topic: I really don't like that photo of Satya in the 4th image - mouth contorted, awkward hand to hip position and just bad color balancing. If you guys are going to continue to use this image (and the 5th photo), at least let me fix the color balance. ~Photographer's Jimmies Rustled

@Mani Thanks a lot. Really appreciate that. Part two should be out soon. Hope you enjoy that one as well.:-)
Windows Central Newsletter
Thank you for signing up to Windows Central. You will receive a verification email shortly.
There was a problem. Please refresh the page and try again.