Perfect (Windows) 10 Part I – Microsoft's Mastermind CEO Satya Nadella; The Nokia write-down was on the wall
Every leader must have a vision. Particularly the CEO of a multi-billion dollar global corporation. Microsoft's bold and ambitious CEO, Satya Nadella, by virtue of his position, must, therefore, have a vision.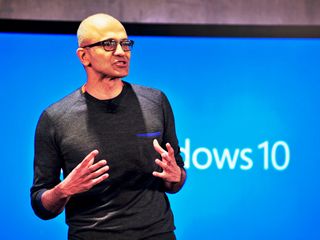 (Image credit: Windows Central)
He must plan his company's strategies in view of the next 5, 10, 15 even 20 years. Literally. Consequently the short-term annual shifts we see occurring at the end/beginning of fiscal years are more often than not, the scheduled execution of predetermined objectives of the larger goal. Rather than the drastic untimely upheavals they may appear to be.
Mastermind
I believe that Satya Nadella is a mastermind. Not the villainous recluse that sits in a lair conjuring far reaching nefarious plans. No, not the devious antagonist who strategically orchestrates events toward the fulfillment of those evil plans. Nadella's nothing like Samuel L Jackson's unassuming, but malevolent character, Mr. Glass, the nemesis to Bruce Willis's character in the film Unbreakable.
I don't believe that Nadella is a villain. Nor do I believe that he is a recluse. He likely has an office rather than a lair. I'm being coy. I'm sure that he has an office rather than a lair. I do believe that he sits in that office and conceives far reaching ambitious plans. I also believe that he strategically orchestrates events toward the fulfillment of those plans.
Yes, I sincerely believe that Nadella is a mastermind. Again not the villainous variety. But the Meyers-Briggs personality type type (That's not a typo). Here's how the Meyers-Briggs Type Indicator describes a Mastermind (INTJ–Introvert, Intuitive, Thinking, Judging):
That sounds like Satya Nadella to me.
In the beginning; bold ambitions
I believe that during Nadella's initial days as CEO, likely sooner, he formulated multiple strategies that he fancied would help position Microsoft to reap the full benefits of the unified Windows 10 platform. A perfect 10.
I also believe that his mobile strategy has been well thought out, subtlely communicated and efficiently executed since he took the helm in 2014. Today his mobile strategy is exactly where he planned it would be.
Yes, I know that many perceive the Nokia write-down as Nadella's reactive move to a failure to salvage a standalone mobile phone business. I believe, however, that like Mr. Glass orchestrated tragedies to achieve his vision, the write-down was part of Nadella's larger vision for mobile. Yes, I believe as we review what Nadella shared as his vision for Redmond by way of his July 10, 2014 "Bold Ambition and Our Core" memo, we may see that "the write-down was on the wall."
Memory Lane
On 7/10/14, the first month of the first quarter of Microsoft's 2015 fiscal year, Nadella addressed all Microsoft employees in his vision setting "Bold Ambition and Our Core" memo.
That email set the tone for his first year as CEO of Microsoft and laid out in broad strokes his long-term vision for the company. It also contained strong language that telegraphed, in my view, the structural shake-ups and the Nokia write-down that were, in my estimation, always a part of Nadella's long-term vision.
In that memo Nadella was clear that nothing was off the table, the company's priorities would be adjusted and he also stressed high expectations regarding contributions from employees and teams.
Bold Ambition and Our Core - 7/10/14
Less than one year later on 6/25/15, five days before the end of the fourth quarter of FY15, Satya shared in an email titled:
Aligning Our Strategy and Structure – 6/25/15
Both emails acknowledge:
A dynamic culture ("shifting" - 2014/"not static"- 2015).
The importance of the contributions of individuals.
The commitment to what could be perceived as drastic actions ("nothing is off the table"- 2014/ "make some tough choices"- 2015).
Wait, I heard that before
Allow me to be candid. Elements of Nadella's 6/25/15 email clearly echo what he stated a year earlier in the communication of his long-term vision.
Consider. If he made the same statements on 7/10/14 before the events of the then coming fiscal year, could the 6/25/15 statements be a response to said events? Of course not. Every decision communicated in June/July 2015 was already made, by July 10, 2014,, in anticipation of the coming year. Mastermind.
Consider further that not long before the latter email, Stephen Elop, former Executive Vice President to the Devices and Services division, left the company. Nadella shared that both he and Elop agreed that this was the right time for his departure. The remaining leadership was realigned to improve further engineering and simplify processes.
In his June 25, 2015, memo, I believe Nadella was executing on predetermined short term goals that were aligned with his long-term vision.
Again, what is notable is that Nadella telegraphed in his 2014 memo what would be executed at the end of FY15. The "realignment" addressed in June 2015 was not a reactive move to the year's performance, but the execution of a short-term objective timed for the end of FY15 as part of a long-term vision.
Nothing is off the table
In an email themed – Sharpening Business Focus – Nadella aligned our focus with his as he brought the strategic objectives executed at the end of FY15 into view. On 7/8/15, less than one year after his 7/10/14 email and "Nothing is off the table statement", Nadella made abundantly clear his previous allusions.
In what was apparently an FY15 one-year objective, Nadella executed his plan; exercising an option that was obviously on the table. The tough choice of writing down the $7.6 billion Nokia purchase.
A recent filing to the SEC reveals Microsoft's apparent acknowledgment that phone hardware did not meet "volume and revenue goals during the second half of FY15." The filing further acknowledges changes in the competitive marketplace which together with the first assertion and a claim of units sold having lower margins than planned, are stated as the reasons for the Nokia write down. During Windows Weekly episode 426 (50:36 mark in the video below), Paul Thurrott touched on the dubious notion that Microsoft was unaware they were selling phones for less than expected.
Nadella knew.
Now, as mentioned above, a CEO must have a vision that encompasses the next 20 years. The six short months from Nadella's July 2014 email to the January 2015 beginning of FY15's second half (when it is noted that phone hardware sales began to fail to meet goal), fell well within the time span of his long-term vision.
I believe that Nadella, in July 2014, clearly perceived the peril Microsoft's mobile phone unit was in. We all did.
Let's be real, the writing was on wall
Let's step back to July 2014, the point at which Nadella would have been communicating his vision for the company moving forward. Windows Phone had a 3% market share. Rivals Google, Samsung and Apple were showing no signs of yielding ground. As a matter of fact, leaks of a larger iPhone by this time had abounded. Nadella, like any astute industry watcher, knew that there was pent-up demand for a larger iPhone. This thing would sell.
Coupled with Apple solidifying its relationship with the massive Chinese market, Nadella was keenly aware. At the start of FY15, Microsoft's struggling mobile phone unit would likely lose market share and revenue against the new iPhone and Samsung flagship releasing for the 2014 holiday season. A season that aligned with the second quarter of FY15 (Oct-Dec) and directly preceded FY15's second half (Jan-June). Remember FY15's second half is the period Windows Phone would supposedly miss their expected mark, which would subsequently reportedly require a shift in operational strategy.
He knew of Windows Phones failure to gain meaningful market share at the point of his 2014 address. From this point he was looking forward toward a holiday season, that he knew would be a boon for Apple and cater to Samsung. The fallout, he knew, would continue into FY15's second half bolstered by Apple's newly inked deal with China.
I believe these anticipated events moved Nadella to foreshadow subtly, through his "Nothings off the table" statement, the shifts he had planned as part of his long-term vision. Shifts we have recently seen manifest at the beginning of FY16. The Nokia write-down and an adjustment to priorities in mobile.
I believe Nadella's a mastermind. Again not the villainous variety, but the Meyers-Briggs personality type type.
The Nokia write-down was just the first step in Nadella's vision toward an efficient Windows 10 mobile strategy. His strategy for Microsoft's value, flagship and business phones and Microsoft's ecosystem is the next. And like the write-down, the highs and lows of this strategy have long been in the works.
Jason L Ward is a columnist at Windows Central. He provides unique big picture analysis of the complex world of Microsoft. Jason takes the small clues and gives you an insightful big picture perspective through storytelling that you won't find *anywhere* else. Seriously, this dude thinks outside the box. Follow him on Twitter at @JLTechWord. He's doing the "write" thing!
We still believe in Ballmer..

Ballmer had to go. He just wasn't the visionary necessary for today. Personally I think Nadella is making the right moves. MS has to be on all platforms if they are to stay relevant outside the enterprise space. Ballmer simply did not move fast enough.

Well Balmer saw the value in Xbox long before most people did. Didn't even flinch on the Billion dollar write off of Xbox 360. Started the Surface group AND Hololens. So i do believe he was a visionary. I don't think Satya is a visonary though. He is the corporate type that doesn't want to miss any boats. Ballmer did miss the mobile boat.

Exactly. People forget that all of the stuff coming out now was started under Ballmer: HoloLens, Kinect, Surface, etc. Satya has dropped the ball big time with Windows Phone. Two years ago, Windows Phone wa son the upside. Then it stagnated and started contracting because Satya hesitated. That said, Satya has made some brilliant moves (buying Mojang, most notably) and Ballmer really dropped the ball in other areas (not realizing that the iPod and iPhone would take off and be so hugely important).

Xbox succeeded despite Balmer... same with the Surface. Balmer was really good at getting the last drop out of a market, but he didn't join or create any.

Microsoft needed someone like Steve Jobs or Larry Page to survive in the consumer market. Nadella is just a manager hired to kill the money-losing businesses and keep the operation going. Nadella has a poor track record, he hasn't done anything remarkable in his career. A dull engineer without imagination and bold aspirations won't save Microsoft from irrelevance.

Satya has people believing, especially tech pundits, that Microsoft has a big future ahead. Regardless of the platform, millions of mobile users are enjoying Microsoft services, and they even come stock on Samsung devices now. Your post is short sighted to say the least.

Most of what Nadella is doing now is all about perception. I don't care about perception, but that's just me. I really don't care. As long as it helps Microsoft be successful in the future I'm all for it. If he makes major changes that really end up being revolutionary, or if he does a lot of smoke and mirrors like Apple, it doesn't matter to me as long as they continue to put out good products and secure the company's future I'm fine. But I think a lot of people have both selective memory and clouded visions of the present. I'm sure over the next year, he'll make some decisions that will form both his legacy and Microsoft's

Didn't Satya run the cloud business that is now on of their fastest growing divisions? If the guy had a poor track record, there is no way he would have been considered for the CEO position. They would have gone with an outside choice. Obviously, he had a really good track record within the company. Whether he has the vision to see market trends before the mainstream see them or to recognize breakthroughs in their research division and invest heavily in them to build new markets, we can only wait and see.

Server and Tools/Azure were big ones. And those have been really good. I am very happy to see MS moving towards a platform agnostic world. If I can pick whatever device I'd like and still have all my stuff then how is that bad for consumers? Or Microsoft?

Ballmer did make some huge mistakes, he was laughing at iphone for one year saying its just a fad. The result being that the first truly modern and somewhat usable mobile OS came from Microsoft in 2013 (WP 8.1). And it's still incomplete to these days. And will stay so. Because MS has embraced a paradigm they saw at Apple. Apple has it's OSes and ecosystems traditionally closed down and MS is going the same direction. The only difference is MS is NOT Apple. Their business models are completely different and this copying will only lead to disaster IMHO.

No one thought the iPhone or iPad was going to take off. Why are we all acting like it was just Balmer. No one really saw the smart phone becoming a major consumer product. Bill Gates spoke on it, but no one thought it would blow up like that, and honestly during that first year you're talking about, iPhone wasn't the product it is today. And are you really trying to say Micrsoft should go even more open-source?

I think it's easy to forget just how bad the first iPhone really was. It did almost nothing, didn't utilize 3G networks, didn't have an App store, didn't have Exchange email support. It was an iPod that could make phone calls and do text messaging. At the time, everyone thought a virtual keyboard would be terrible. Apple was right and everyone else was wrong. I know it's hard to admit, rather than just blame Balmer for not seeing it, but that's the honest truth.

I don't know about "no one", I know for sure back in 2007 iphone just blew my mind. I wanted it immediately. Unfortunately it came at a price hard to accept for me on off-contract (close to 1000$ in Romania). Microsoft has some very serious problems. One of them is their corporate culture. I played with a Blackberry 10.0 when it came out. It was more polished and versatile than WP 8.1 is now. The present BB 10.3 runs circles around WP10. How come a company like MS who is supposedly so good at software cannot come with a OS as complete, capable and versatile as iOS or Android or even BB OS? How come BB came with a better OS in half the time and on much less resources than MS?? Regarding closeness of an OS. An open source OS doesn't necessarily means it is open. When I say open I mean open as in 'freedom'. Freedom of use. WP doesn't even have a file system for you to play with. After 4 (four) years they finally decided to offer a few idiotic locations like photos, videos etc but no file system. Don't even think about rooting your phone or having even some simple administrator privileges on your own phone. No. Period. Well... we seem to live in times of revolt, of people demanding freedom, so... no go for WP again. I could write about many other aspects but I am tired and nobody cares anyway. Not even MS, so why should I?

These moves aren't really Nadella's moves though. All this was rolling when they were trying to decide who the next CEO was going to be. No one would have moved fast enough back then. Nadella likely would have made similar mistakes had he been CEO 10 years earlier. It's easy to come in and look like you're moving fast when you have the hindsight of the mistakes and pluses of the last guy.

I trust Gates more than Ballmer

Unfortunately, Ballmer had some execs that worked independently and ruin Microsoft's image in the process. I thought Ballmer was a very good exec and despite inappropriatness of decision making by some execs Ballmer was able to keep Microsoft in the black through all the embarrassments like releasing Vista shortly after Chrismas the biggest purchasing season and without OEMs readiness.

Good then trust Nadella. Gates has the position of tech advisor to him.

Who is this "we" you speak of?

Me clearly not you. I liked ballmers plans. Remember office on ipad was started by mr b.

I think Nadella is a better CEO than Ballmer. The company is running more efficient and focused. Not to troll, but what if in an alternate reality Nadella was CEO of Apple instead of Tim Cook. I think he would do a much better job than Cook and bring out better and innovative products like Jobs did rather than incremental upgrades like it is now. And if instead Tim Cook was the CEO of MS instead, it would just be rehashes of similiar products with slightly better specs

History is the best judge and we don't have enough, but I do agree with you. I think Nadella is better for leading MS than Balmer would be today. Regardless of things being started by Balmer, the Windows 10 development process, build cadence, Insider program, reacting to customer feedback during development were things that an engineer would want. And Windows 10 has clearly benefited from it.

Ballmer was getting into his dinosaur years. But he was cool

As good as w10 may be it still inherits some of the problems 8.1 brought. Like for example whatever they did to ndis when 8.1 came out it seems like no oem seems to know how code decent Wi-Fi client adapter drivers without it crashing.

;-) https://www.youtube.com/watch?v=7xxgRUyzgs0

Is this spam as it is so OT?

Not spam, just an attempt at humour (I guess failed one, despite the wink :) ). But I am just a little worried some foks may start building a cult of personality around Nadella - akin to the one built around Jobbs. :)

Good point. I for one will hold off on my assessment of Nadella as a CEO. People proclaiming him a mastermind do seem to be joining in that "Cult" of personality.

The Jobs "cult of personality" to which you refer was more substance than fancy. Tim Cook's (and Apple's) performance has been lackluster at best.

Is this the same Cult of Personality that Living Color did?:P

Lol. I had that same thought when I was reading this article. xD Posted via the Windows Central App for Android

A lot of words to say very little.

True. But you gotta admit all those people who criticized both Nadella's annual addresses missed the point. Nadella knows what he's doing.

The jury is still out with respect to Nadella's effectiveness. He may (or may not) be a mastermind, but this piece is nothing but a cheerleader article.

@Long Syntax Thanks for your input. :-) Actually no this isn't a cheerleader article. It's actually an analysis of what Nadella said over a year ago compared to his recent statements and trying to offer context to many who have perceived that they was a shift in Microsofts direction.
I remarked to my colleagues on July 8th after that memo was made known that the strategy that Nadella was then communicating was the strategy that been executed all along.
I was inspired to write this after seeing the reactions so many had after Nadella's apparent shift in strategy. Many in the industry reacted to the June 25, 2015 memo, his July 8th 2015 memo, his dialogue on the July 22, 2015 earnings call and his July 14,2015 interview with Mary Jo Foley as if there was a big shift.
Most people, writers, analysts and enthusiasts alike have looked at those pieces in blurbs. And not in a larger context. When you take what he said in those instances and compare it to his broad vision statement given on July 10, 2014 you see that recent events line up with what he stated as his overarching vision.
This is certainly not a cheerleader piece, its just a series designed to place much of what people feel is a "new direction" in a volatile space within a larger context.
The personality type of the leader and orchestrator of these strategies place a large role in how these strategies are formed, communicated and executed. Thanks again for you input.

It would've been good to include this tidbit in the article to begin with. I was scratching my head about why the article happened, but I now understand why you put it out based on this comment.

My problem with the article is that you keep calling him a mastermind and overexplaining the concept. You wasted at least a hundred words repeating yourself about how smart Nadella is. There's just not much analysis beyond "The Nokia write down was planned and always part of Nadella's mobile strategy."

@buttsmalone thanks for the feedback.:-)

Cheerleading article on Windows Central? That can't be right.

Yeah. Typical Windows Central. But I only read Daniel's articles, to be completely honest.

Outside of Azure, he's only managing items Ballmer implemented: Office 365, Office for iOS & Andriod along with the garage apps, hybrids, windows phone, Surface line, windows phone, halolens, and more. actually, Nadella was employed by Ballmer who had to approve even the fatest growing cloud strategy Nadella is getting credit for today. As I stated I do think he's the right person for the job, but the next year is critical to see how successful he will be.

"Nadella knows what he's doing." Really? Doesn't seem to me.

WPCentral really makes sick with this kind stupidity. I am tired to explain long time ago.

First off all its not WPCentral its Windows Central. Then I don't find anything stupid rather than a good read. I find Nadella has visions. Ballmer could be CEO lets say like 10 years before. But things evolve. New competitors, new innovations, new startups with excellent alternatives. We have to move along with the wind. I always felt Ballmer was slow in execution.

I think you a word there.

And yet you're still here making a clown of yourself

This is great... But I hope he also has a solid time frame in his master plan... About when one can except quantifiable results...

Great article. We need more big-picture viewpoints around here.

@pepperdotnet Thanks so much. I appreciate that.:-)

I believe the acquisition was both good and bad. Y bad bcoz Microsoft tried branding Lumia as Microsoft than nokia killing the brand name nokia which is still ppl love it whether they use it or not. Good bcoz Microsoft had got some very good employees and patents from nokia which if they implement very well on their flagship phones can help them have good sales in smartphones.

MS does not own Nokia brand nor Nokia patents. It has licenses for both and lisence of Nokia brand for smartphones has more or less expired already.

Its has patents of its camera technology which is imp.

They ACQUIRED 8500 patents related to phones like the physical design and camera.
They are LICENSING 30.000 other patents. http://www.zdnet.com/article/microsoft-and-nokia-weave-an-entangled-pate...

Not 'like camera'. They bought design patents, nothing to do with camera. Those are just copyrights for look of inherited phone portfolio. So if someone makes phone that looks like Lumia 800 or any other old phone then MS can sue.

They bought all patents important for phone design, didn't buy the camera patents (much further reaching than just phones hence why MS has no use for them) and finally the bulk of the other 30k patents is relating to networking which almost every phone producer has to license.

This is Part 1. Call it a prologue. It does show that Nadella is being consistent.

The first half was constant repetition lol :) still, nice story and I completely agree

I think this author is on 'shrooms. What a lot of nonsense!

Under Nadella's leadership MS is making slow but steady and strong progress....

So who is Kobayashi? I too think he is better for MS than Ballmer would be at this point where tech culture feeds off of CEO persona's and their ultimate vision. Strategy though is pretty easy for a company that can effectively write-off billions... MS will continue to be successful as they have a foot in many markets. Nadella's Cloud-first strategy is what makes you realize he has vision, not his other decisions. The success that they have seen in the cloud is the surprise. I think his vision of making money on the apps (known to most people) and the services, like cloud (unknown to most) is his strategy going forward. The OS is the tie that binds... If you make it free, people will end up spending that money on your apps or other services...

Ridiculous article (Ward and Nadella need to get a room). EVERYONE knew that Windows Phone was dead back in 2014. By early 2013, a year before the "mastermind" took over, it was obvious that the entire WinRT80 effort was a dis