Persona 5 Strikers: Everything you need to know
Fight and cook your way across Japan while helping people in need.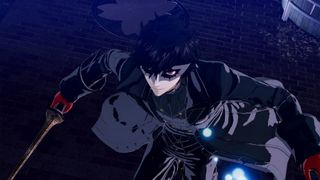 (Image credit: ATLUS)
Persona 5 is one of the best RPGs for PS4, and in December, developer and publisher Atlus announced it would be getting a spinoff, Persona 5 Strikers. With a new story, gameplay, and characters, the hack-and-slash RPG should provide plenty of fun for fans of the Phantom Thieves. Here's everything you need to know about the game.
What is Persona 5 Strikers?
Persona 5 Strikers is a hack-and-slash RPG featuring all of the characters and many of the mechanics from Persona 5 and Persona 5 Royal. The spinoff is being developed by Atlus and P-Studio and published by Atlus and Sega.
The Persona 5 Strikers trailer
The first trailer for Persona 5 Strikers was released on December 8 ahead of The Game Awards 2020. You can watch it below.
Persona 5 Strikers Story, gameplay, and features
Persona 5 Strikers follows the Phantom Thieves, the protagonists from Persona 5, as they take a summer road trip to visit six cities across Japan. However, their plans are interrupted by Zenkichi Hasegawa, an investigator in Tokyo's Public Security branch, who threatens to arrest Joker, the leader of the Phantom Thieves, if they don't help solve a series of strange cases happening around the country.
Like in Persona 5, the gameplay is divided between the real world and the Metaverse, where the Phantom Thieves must fight monstrous shadows to save innocent people. The heroes will need to explore dungeons and battle bosses to save prisoners who have been forced to surrender their hearts' desires.
While Persona 5 is a turn-based RPG, Persona 5 Strikers uses a hybrid battle system featuring action combat and pause-and-plan sequences where you can consider your next moves. You'll still want to try to ambush your enemies and capitalize on their elemental weaknesses to allow you to knock them down and engage in an all-out attack.
All of the playable characters in Persona 5 are also playable in Persona 5 Strikers, and each one has their own combat style, skills, and spells. Just like in the main game, you'll also need to fuse Personas to gain power and new abilities. While Persona 5 takes about 100 hours to complete, Persona 5 Strikers can be beaten in about 30 hours.
What platforms is Persona 5 Strikers coming to?
Persona 5 Strikers will release on Steam, PS4, and Nintendo Switch. There are no plans to release it on PS5, though it will be playable on the backward compatible console.
Do you need to play Persona 5 first?
While it would be a good idea to play Persona 5 first because it's an excellent game, and you'll appreciate the characters more if you've spent extra time with them, Persona 5 Strikers has an entirely new story, so you don't need to have any previous knowledge going in.
Persona 5 Strikers release date and price
Persona 5 Strikers releases on February 23. The standard edition costs $60 on all consoles and preordering it will get you a soundtrack with more than 40 songs, a digital artbook, and access to a behind-the-scenes video.
A digital deluxe edition available for $70 via Steam, the PlayStation Store, and the Nintendo eShop, includes all of those bonuses plus access to the game on February 19, background music from past Persona games, and an all-out attack pack that provides boosts to armor and skills.
If you're looking for a physical copy, the versions sold at GameStop will include a Joker pin, while Best Buy is offering an exclusive SteelBook case for the Switch and PS4 versions.
Change of heart
Road trip adventure

Travel across Japan helping people, cooking regional recipes, and fighting Shadows in this hack-and-slash spinoff of Persona 5.
Get the Windows Central Newsletter
All the latest news, reviews, and guides for Windows and Xbox diehards.