Natural language personal assistant, Maluuba, now available for Windows Phone 8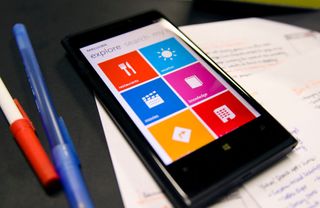 Maluuba is a personal assistant app that takes advantage of voice commands to help you make it through the day. It's a popular app over on the Android format and today, the company has announced the app is headed to Windows Phone 8 devices.
Maluuba uses your Windows Phone's speech recognition for input and then uses it's proprietary, patent-pending language engine that ensures great accuracy in interpreting your requests. Maluuba uses a statistical approach to achieve a higher accuracy than many other assistant apps that may use rules or other methods for understanding that don't always handle natural sentences.
Maluuba for Windows Phone 8 will offer a large feature set designed to help users manage daily life and search for things in a simple, straight forward fashion. Features of Maluuba include:
Searches for restaurants, movies, events and businesses
Scheduling of alarms, reminders, and meetings
Voice dialing, texting and emailing
Search for directions and weather
Online shopping
Search the web
Integration with your Outlook calendar.
It is our understanding that additional features are in the works and will become available in the coming months.
Much like Siri over on iOS, Maluuba will further our hands free experience with our Windows Phones. We've already seen Diablo announce for Windows Phone 8 and it will be interesting to see how these personal assistants compare. Based on the demo video below with Maluuba running on an Android device, the Windows Phone version should be interesting.
We'll take Maluuba out for a test drive over the next few days and see how well it can pick up on a Southern accent. In the meantime, if you'd like to give Maluuba a try yourself it is a free app that you can find here (opens in new tab) in the Windows Phone Store.
Windows Central Newsletter
Get the best of Windows Central in in your inbox, every day!
George is the Reviews Editor at Windows Central, concentrating on Windows 10 PC and Mobile apps. He's been a supporter of the platform since the days of Windows CE and uses his current Windows 10 Mobile phone daily to keep up with life and enjoy a game during down time.
Just tried this with with "Wake me up tomorrow at 7 am", happened instantly, awesome

I like the app. It's just not all the way there yet. If you ask it to play a song or group on amazing music, it'll launch whatever is on your music files. I asked it if it can find where life of pi is playing, it tells me what movies are available then launches a search on the web to find more info. And that is great. I can't wait to see how many other things will be added in the future. This is really a great app. But like I said, it needs a bit more.

Ouch, sad.. Doesn't seem to be available here in Norway.

Hi,
Please goto the settings and in that change your Language+Region as USA and restart your mobile, now you will able to download the app.

I bet it won't let him speak his native language tho, so what would the point be?

Or in America for that matter lol.

Nice, lovin these new apps.

I wish you could activate, holding the start button from home.

Yeah, like saying "Maluuba Im hungry" without opening the app and then it opens up the app and finds restaurants nearby instead of having to go into the app. This will eliminate the two step process. The WP SDK supports that through TellMe. This is ver 1.0 so, hoping to see this integrated more :) I hope the devs are reading the feedback here.

It should be possible, BBC News Mobile uses that API (and we intend to for our version 4 update)

We are reading it :) -- We will take a look at this and see if it's possible. Thanks for the idea!

Yes launching the app with a query right from the home screen would go a long way to making it feel more native and frankly much more usable. Thanks!

We looked into this and it is actually only fixed voice commands that you can do from outside of the app, so we would not be able to actually run NLP on your query, but only have fixed rules such as "Maluuba open restaurants", and other fixed queries.
Hopefully windows phone let's us make any query from the home screen in the future.

Not available in my region, Australia :(

Take a look at note+ you can start speech and say " Note+, create new note..." it opens and say " say your message" Maybe you can set up so we say," maluuba I need something" it opens up and auto starts the response recording" that seems similar, right?


that is right. you can do 2 steps, but automated:
1. from start button, say "Maluuba restaurants"
2. Maluuba opens and TTS prompts: "sure, what do you need?"
3. say "good italian in the area?"

Good, to know.
btw, it's truly a pity that the app is not downloadable in Germany. It's in english, I know, but I'd really love to try it out.

I was just thinking about it, MS should buy it and integrate it

MS has hooks for it to be integrated already. It's on the developers to take advantage of it.
See apps like "Hey DJ" that already do this by just holding the home/Windows button.

Download app link is busted guys.
This is intriguing. I'll have to try it out.

Link is fine. Wait awhile, try again.

I keep getting an error also.... :'(

I just searched in the store...it downloaded fine...but the link wasn't working for me. And I'm already set to US region.

How about a face off of all these voice applications? They seem to be coming fast and furious!

What languages are supported?

Not able to download in indian app store

The video shows a different version of the app with more features. The one in the market place doesn't seem to have all the settings/options.

We explain that in the article...

Yah I kinda didn't read as there was a video, and I prefer some one else doing the reading for me especially when I was trying to download the app.

So it's similar to the recently covered Indigo app?

Definitely similar, not sure how they match up feature to feature quite yet. Choice is nice. =)

So far it looks pretty darn good. @george @jay @sam @daniel once Indigo comes to WP marketplace how about writing an article to compare Ask Ziggy, Maluuba and Indigo? The grass is looking greener

Just got it and briefly tried it, pretty cool. I wish, however, the devs would make it so you can use/call app universally. This one you have to open the app first and then start using voice commands. Other apps let you use voice from anywhere (i.e. "Rowi new tweet".

What Diablo app are they talking about? Did they mean Indigo?

I was wondering the same.

Any idea when the tag place & glam me nokia apps be available any of the WP Central team?

Good Commercial. Can't find the APP in the store though.

EDIT: Found it but I get Error Code: 805a0194

Same here, errors when trying to download

Seems that the link is down in app store. Keep getting Error Code. This would be nice if you could assign the search button to activate this app, and then have it work through Bing like Google Now.

Not available in your country... The Netherlands is out too. Seeing that Denmark and Norwary are out too I'm guessing Europe is in its entirety, probably the whole EMEA region actually.

I meant have Bing work through Maluuba. I'm also on the 8x. Its not showing up at all.

I use this app on android (it's funny because it's still metro layout on android) and it's by far the best in its class.

Can you say, "Read last u latest text message."?

I need an app that can do this. Does one exist? (Lumina 920)

Error when clicking download from Wp app, but I thinks it's a marketplace issue. No search results for it either

All the new titles announced today are giving various error messages. Suspect they're having a server issue in the US right now.

i am getting an error 805a0194 att Lumia 920 most current updates Took a while but finally downloaded and will be trying it out wit tomorrowswakeup alarm

I got the same error. I'm using a Lumia 920 on AT&T.

Not available in Denmark it seems, this is a U.S only app ?

This is a really great app and it works very well with nice integration. I have been growing frustrated with WP8 but some more apps like this and some of the issues will wane.
Now if I could only clear the 7.5GB of nothing stored in Other that prevents me from using a lot of features on the phone.

One question I had was: Does it simply maintain its own proprietary calendar, etc., or is it actually interfacing with the phone's calendar, email, etc.? Also, the suggestion to do a comparison between the various voice control apps would be great. In fact, what I'd love to see is a chart AND a functional comparison between Siri, WP8 default voice, Ziggy, Indigo and Maluuba.

I also want to know if you can use it from the home screen.

On Windows phone we read from the calendar you use on your phone and integrate it into the My Day tab. Windows does not allow apps to write to this calendar though, only read from it.

Not exactly true. Ask ziggy writes to my calendar. Was hoping this would too.

Not available in Germany either :-(

Are the search results with Bing it google?

It says it's not available to my phone :(

Cool app, but it keeps locating me in McLean, VA, so most of the features are worthless. My phone knows where I am when I open maps, but this thing doesn't seem to look and perhaps defaults to Virginia for some reason. Anyone else having this trouble? I'm on a Lumia 920 in Atlanta.

We are looking into this ASAP. Thanks. If there's more details you can provide please email us at support@maluuba.com

I loaded up the Nokia here app. It found my location correctly. I went back into your app, and it then "kinda found my location". I live in Suwanee, GA. It said I live in Suwanee Farms, GA. There is no such thing as far as I know. Lived here for 12 years and never heard it called that.
Rebooted my phone, did NOT go into Nokia Here (aka Nokia Maps), went into your app, pulled up the weather, now located in McLean, Virginia again. I even saw the little icon in the status bar show that it was accessing location services. Not sure what is up with that.
Loaded up Here, It tried to tell me I was in McClean, VA as well. It quickly figured out I wasn't. Went back into your app, and now it tells me I'm in Suwanee Farms, GA. Looks like Suwanee Farms is a location, but not a city. It is some place around the corner from us at the end of a road. Why your data would even pick up on that is beyond me.


Error Code: 805a0194 in Chile

Why is my location screwed up on this? The weather, shops, etc. shows that I'm in Virginia lol. I'm in SF. Weird. Any help? Thanks. Edit: just a couple post above me, looks like I'm not the only one having issues.

When you ask "What is the weather" it says you are in virginia? We can help figure out why, can you email us at support@maluuba.com?

Looks like we have an official location problem with the app. Hopefully they will get that cleared up soon. With another personal assistant on the way things won't go well for the one that is buggy for sure.

Yup. Too bad. I'm really liking the looks of this.
Also, it seems to actually screw up the HERE now map location too. After I close the App, and go to the map, my location is shown in VA. Really weird.
Hope the developer fix it soon, since it seems like a very good app.

Based on the commercial I'm not hip enough for this app. Otherwise, it looks really cool

This is absolutely fantastic!

Okay, this app really f@#$ up my phone. Even after deleting the app, my map still showing that I'm in VA. Weather Flow is also showing that I'm in Glen Echo, where that is.
Heck I was able to check in the CIA office in VA thru Foursquare.
So how do I fix this nonsense.

Try restarting your phone and also restart the location service.

Link is also not working for me at the moment... How is this app?

Any reason why this app isn't in Australia?

Perhaps they don't like the direction your toilet flushes? ;)

I still can't install it. From the link in the article, I keep getting a "This app isn't available in the US" message. So I decided to cheat and send the app to my phone from the Windows Phone store page (http://www.windowsphone.com/en-us/store/app/maluuba/7f89d869-b16a-4e2e-a...) but now it gives me another error code: c101a029
I can't install through the Application Deployment tool either--it tells me that the XAP is invalid.

mine did fin ally go through I tried about five times to dl and it would stop before install. I turned the phone completely off waited a minute or so fired it back jup and it installed Im having no issues with location but try the close the device and reatart it should clear up.

how to switch store? my phone is from china, but i only speak english and mostly use english apps anyway... any way to use the US store as default? (mine is a lumia 920T)

Same error code, got the same 4 hours ago too.

I think that error code is a memory issue code

you mean the free memory of my phone? or

Maluuba vs Indigo vs A.L.E.X vs Ziggy
THis is the ultimate smackdown, may the best Personal Assistant win. Daniel, Rich... Make it happen:)

Not working using ATT in America. Getting 805a0194

Same error last night, but just downloaded this morning, tho it fucked up my location service.

From what i can tell, the app is U.S only.

Downloaded no problem on L820 in UK. Tried it out briefly last night and was very impressed. Recognised everything I said first time with no errors and set alarms, sent texts etc.. without a fault. However, this morning it seems to have suffered a stroke or something as it will not recognise a single word I say. Odd. p.s. Seems to working again after rebooting the phone.

yep that's pretty much how this app behaves. Works fine for a few minutes on some things and then stops recognizing most of your commands. Unfortunately I saw it fail far more often than not and I had it for about a month

Had this for about a month on my android and to be honest I just couldn't justify it. I found it no faster than just opening the apps that it calls on. for example, looking up places like restaurants, stores etc was just as fast simply opening up my Google search. Taking notes, setting alarms, events, composing SMS, navigating etc were just as fast using their respective dedicated apps.

edit: I reinstalled it just to see if it improved. It hasn't. Not only did it fail to do the exact same commands as the demo video over and over again, it failed to do 80% of the voice commands I threw at it in a quiet room, with no accent any different than the demo video. I suggest you visit Google Play (on your PC obviously) and read all of the 1 star reviews for the more mature android version. They're far more accurate than the positive reviews.

Still getting error code when try to use link and app does not appear in store when I search for it (USA Lumia 920). What the #$%@

Seems like a great app, pity tellme doesn't really recognize my Scottish accent. Tried siri on the wifes iphone, it seems to have an upper hand with the voice recognition part. Perhaps I need to put on a fake American accent :)

I just hit the "ask for a restaurant" option and ask for a Sonic Drive-in since there is one nearby I wanted to test it. Instead of telling me where the drive in was it showed a picture of a Sonic the Hedgehog game. Nice! I guess it really knows that I'm not hungry but actually want to play a game.

Great app homefully as the platform develops we can use it to interact with other apps like spotify and deezer etc.

This was the first app I wanted to download after getting my WP8 phone. Alas, it is not available in India. Is this a technical glitch or is it just not going to be available here?

Just like Tejas AP and many more first app I searched in store is Maluuba , I'm told that windows has this app in store please share in India.I have tried android and siri but maluuba app is the best.cmon windows share some love.
Windows Central Newsletter
Thank you for signing up to Windows Central. You will receive a verification email shortly.
There was a problem. Please refresh the page and try again.