PhoneZune becomes Air Pick Voice and leaves us impressed at WPUG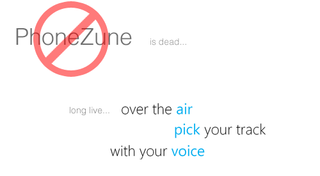 If you weren't aware of the event or you've been hiding under a rock the past few weeks, there was a Windows Phone User Group (WMPUG) meet up yesterday in London, which both myself and Jay Bennett attended. As well as having Will from Windows Phone UK making a brief appearance, we had a handful of developers (including Alan Mendelevich from AdDuplex and Lawrence Gripper) with two walking the audience through their apps.
One of the presentations was of Air Pick Voice (APV) by KeyboardP. Wait, that name rings a bell? Indeed it does as we've covered KeyboardP's project before, but under a different name - PhoneZune. APV will allow the user to control their music collection (on a PC workstation or laptop) via the WiFi, using an app on their Windows Phone. What makes this really special is that it's all voice controlled. From manipulating playback, to selecting songs, you no longer need to be in the same room as the PC to 'pump up the jam' your way.
To refresh your memory of what this project will allow you to do, check out the video below, and we'll advance on with what's new in terms of development and features for version 1 (which is just around the corner).
So what was presented at the WPUG meet up? Not just the rebranding, of course. APV is going to be huge, and wont just merely be a service that you use occasionally but it'll improve your music listening experience and enjoyment as a whole. Support for VLC, the popular open source and cross-platform media player, was announced that brings new features to the table that weren't entirely possible with Zune (though Zune is still supported should you wish to use it - and is required for VLC playback).
As well as controlling playback for music that's playing through VLC on your PC (and more than likely using PC speakers in the same room), the user will be able to stream the playlist to their handset should they be outside or in a different room and don't wish to become a public/family nuisance. This is all done over WiFi and is completely locally dependent. Note that no final UI has been presented, so we're also excited to see how the app will look and feel.
To compliment the app, we have the Voice Recognition Lab, which will be released on Windows. This suite will provide the user with necessary tools to alter the recognition values should problems arise with accents, song titles and more. For example; Sonne by Ramstein - the song isn't pronounced as in its text form so we could alter the the software to recognise "Zonne" by entering it into the "My Pronunciation" field. Check out the video below for a walkthrough of the software.
We're not finished yet. "What?! There's more?!" Of course, as stated above, APV is pretty darn feature rich. If you require more than voice control, streaming and the means to personalise the experience, then how about the ability to create playlists from your library of music while on the go? The database of your library is synchronised to your phone, not the files, so you're able to add songs here and there while you have a few minutes to spare when commuting and whatnot. When you're back at home, the playlist can either be loaded on the app or transferred to the PC for local use as well.
It gets better though; custom ringtones. Possibly the most tedious task to complete with trimming tracks, editing track data, adding to Zune/Mac Connector and then synchronising to the handset. With APV we can achieve all of the above within the app and in a matter of seconds. APV will trim the track and it'll then be added to your ringtones list with the press of an on-screen button. Should you already have a ringtone on your PC, you can simply drag that file into the Voice Recognition Lab and the APV app will then be able to grab it without any cabling. This is one of the features that left both myself and Jay really impressed at the presentation. Something that many Windows Phone users could take advantage of.
That's the gist of Air Pick Voice wrapped up in a nutshell so far and we have a feeling this could be big with the community. We'll certainly keep an eye on this project closely. Should you be interested to find out more about APV, head on over to KeyboardP's blog and follow him on Twitter.
Source: KeyboardP
Windows Central Newsletter
Get the best of Windows Central in your inbox, every day!
Rich Edmonds was formerly a Senior Editor of PC hardware at Windows Central, covering everything related to PC components and NAS. He's been involved in technology for more than a decade and knows a thing or two about the magic inside a PC chassis. You can follow him on Twitter at @RichEdmonds.
Thanks for this post, I'm glad you guys liked the presentation! There's been some talk about the name itself and I'd like to clarify that Air Pick Voice is pronounced "epic voice" when spoken :)

Haha, for those in North America, try it on with British accent :) awesome.

lol this is the perfect excuse to try the British accent at home :D

Don't forget that the American ladies love our British twang =D

OMG!!! This will be huge!!! I've waited for eternity for an app that would allow me to have access to my complete music library when I'm at home but away from my computer!! Could it be used with a wi-fi external hard drive or will it absolutely need to have a computer open? Either way, it's a big leap forward!! Do you guys know when the app will be ready?

Hi FFugue, I'm the developer of the app. There's no ETA just yet, but it shouldn't be too long. I've decided to create a free PC version to say thank you for everyone's patience and support. To answer your other question, your PC will have to be open I'm afraid. It runs the software that the app needs to communicate with your machine. Love the idea of being able to do it with the PC off, but that won't be possible just yet :)

This is just amazing :D I'm totally in love with it ;)

Is Youtube support still in the app?

Unfortunately no :( This isn't because of any technical reason. In fact, I had worked on an enhanced YouTube service which did some cool things, but there may be legal/licensing issues. I've discussed a bit about it in my post here under the 'What Happened to YouTube' section.

Hopefully you'll be able to try it out soon!

Love this! Does it work with the American accent?

Yup should do :) It uses whatever language setting your PC currently has. For me it's EN-GB (English - Great Britain) but yours is most likely set to EN-US. So it'll take that and expect that type of accent. If a particular song isn't working, you can launch the Voice Recognition Lab and fix it there.

KeyboardP, you are a genius! This is exactly what I imagined would be possible several months ago. This app deserves full native source code access from MS. I will definitely support you by purchasing the paid version. Only one request.. Can you please use the Zune look and grey, white, magenta, and mango color scheme, but with a fresh twist, for the app? A cool design would be a simulated windows phone devices where the tiles and app menu are the entire app layout. The "live tiles" would be the functions of the app, and the "app menu" would serve as settings, feedback info, ratings, and purchase options,, Kind of like a Windows Phone inside our Windows Phones.. I'm a genius to! Thanks

Thanks Rodneyej, that's what I keep telling myself, but people always insist on trying to get me commited :D
I know exactly what you mean about 'Windows Phone' inside 'Windows Phone' and I love the idea. Whilst I'll naturally be using the Metro look and feel, I vaguely remember there were some issues with directly copying the home screen. I'll have to look into that as I may be misremembering. I think the ideas of tiles itself is fine since that's what Metro is about so it's certainly something I've been thinking about. Since there are so many features in the app, the trick will be to keep the UI simple, intuitive and seamless. Thanks again!



Windows Phone User Group = WMPUG? Don't tell me the "M" stands for Mobile because if that's the case I may get an allergic reaction ;-)

You rock! Hope it can understand an Indian accent. Will it have a shuffle function?
Thank you.

Yes, I think it should understand the Indian accent. You'll be able to download the free PC version and see how it is. You can also use the Lab if it doesn't always work. Shuffle function is included for Zune and VLC :)

Awesome! Will it be able to play specific albums and specific artists, not just a certain song?

Version 1 can play specific songs, artists and playlists. I'm trying to get albums working (need to do it a bit differently). If album support isn't in version 1, it will be available very soon after.

Over the air
Pick your track
With your voice The name derivation is epic :)

Thanks! :D "epic voice" was too generic, but I liked the fact that "Air Pick Voice" is descriptive but still pronounced "epic voice".

I have two questions:
1 How much? and
2 Give it to me.

Possible discount for referencing The Simpsons! :D PC version will be free, Windows Phone version price not yet confirmed.

Can you please give the link to download the PC version please?

It's not available just yet, but I'll make an announcement with the link when it's ready.

Ok. Thank you. Looking forward for PC and windows phone.

See, I'm a bit ambivalent on this one. The suite is totally awesome for certain, but my lack of knowledge with regards to the entirety of my music collection (just under 12,000 carefully curated tracks, believe-it-or-not) gives pause. Though, taking into account how/what I listen to from my PC as opposed to my mp3 player, I'd only need album support (700+) which I noticed is coming, if not in the initial release, soon thereafter. Might even help me commit my catalog to memory…at the very least new stuff.

Cheers to the dev :-).

Yikes, 12000 songs?! Can't say I've tested that many songs but you can test the PC version when it's released and see how it works for you :D. The tool is designed to facilitate your listening experience instead of telling you how to listen. So, if you did have a song in mind suddenly, starting it would be simple. You'll also be able to scroll through your catalog on your phone or put it on shuffle, so that's another way to search through your songs.
Hopefully you find the app starts to work for you when it's released. If not, then let me know why not and hopefully I can add features to make it better! Thanks for the support :)

There's a possible name change based on feedback. I've written a blog post here and am accepting any suggestions until Tuesday 7th!