Phonly updated with ability to open YouTube links in Metrotube and more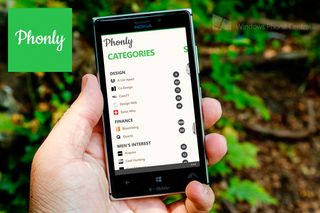 The Windows Phone community is a pretty incredible place. Third party developers have constantly stepped up to the plate when an official app doesn't exist on the platform or the current app is lackluster. Case in point, Phonly is an excellent app for users who want to get Feedly on Windows Phone. Solid performance meets a gorgeous UI in Phonly. The app also just received an update, so let's dive into what's new with it.
Phonly comes to us from Daniel Berg, a developer who has made some apps we've covered before. We first talked about Phonly when we called out for a help getting him some beta testers for the app. The community response was pretty overwhelming and together you helped Daniel create a killer app on Windows Phone that does everything you'd want with a Feedly app. But like all great apps, it gets better and better with each update. So here's what is new when you update to version 1.2.2.0 in the Windows Phone Store:
Performance improvements
Bug fixes
Better article image coverage for most feeds
Open YouTube-links with Metrotube
Turn off live tile counter
New settings in Phonly for Windows Phone
Bug fixes and performance improvements are almost a given with any update, so no surprise there. What's really cool about this particular update is the ability to open links to YouTube with Metrotube. Find a YouTube link in a story you're reading and forgo opening in Internet Explorer and instead let it open in Metrotube. Another small change is the ability to turn off the live tile counter for the app. Which is handy when you're subscribed to dozens of blogs and sites and the counter can quickly climb to a high number.
Want to get Phonly for Windows Phone? It's a free Feedly app for Windows Phone 8 users, you can remove ads with an in-app purchase for $1.99. Get it in the Windows Phone Store, use the QR code below, or swipe to the right in our app.
Windows Central Newsletter
Get the best of Windows Central in your inbox, every day!
I like this app as I use it much..

This app keeps getting better.

Finally I can turn off live tile counter! Now I don't have to stare at that "99" anymore :). Would like to see mytube support in the future too...

Yes, myTube support would be really awesome!

I've also turned off the counter to be honest. I am more a casual reader while my fiancé has a near manic obsession with reading all her blogs. I'll look into supporting MyTube as well, right now it's Metrotube only because it's a great app by the LazyWormApps-people. Thanks!
Daniel, Phonly-developer

Could you, please, also look into supporting YouTube HD? In many ways, I find that app being even better than MetroTube and is free. Thanks in advance and greetings from Chile!

I've been using the beta for quite some time now. There's a new "battery saver" theme that I'm enjoying a lot recently.

Wp8 developers are the best!!they beat the official Apps with better Apps all the time!!A BIG THANK YOU TO YOU DEVELOPERS FOR WP8 OUT THERE!!

Thank you for the support. :-)

Does Anyone know why i uploaded all my Video Files to skydrive and lost all its quality... Terrible and unbelievable. I set up to transfer full quality video but the quality was lost.. And know?
How can i upload full res videos? Is there any way to "recover" past videos quality because i've deleted them all =/
THankyou!
Lumia 1020 user


Phonly or Nextgen Reader?

WHy do I get some many preview icons that are just blank?

Hi! The lack of images is because the website that supplies the RSS-feed to Feedly isn't providing an image. There's some fuzzy-logic of figuring out what should be the article image as well. Unfortunately some feeds are simply not compliant with fetching the image, hence the preview image. My suggestion is to contact the website owner and ask them to provide a feed that is compliant with the Feedly service. That way you'll get the image, the intro and the full text directly in the app. Thanks for using the app! /Daniel

I am back to using Flux. I think it still has the best layout and is really fast and stable after the last update.