Photos companion is the fastest way to bring your Android photos to Windows 10
Microsoft Garage has created a great way to manage photos across devices.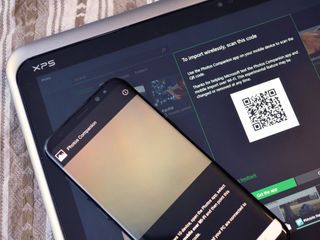 While Microsoft hasn't released a full-blown photos application on Android, the Photos Companion app has been released through the Microsoft Garage. The app allows you to sync your phone and PC over the same WiFi network and transfer photos to your PC.
The app works remarkably quickly and makes it simple to move photos from your phone to your computer. While Photos Companion is already impressive, it is listed as experimental, so this is a hands-on, rather than a review.
The app is available for free on Android and works with the built-in Photos app on Windows 10.
See in Google Play Store (opens in new tab)
Fast and easy
Setting up the app is simple. First, you have to open the Photos app on Windows 10 and click on the ellipsis menu. You then click on settings, scroll down, and toggle preview to on. After this initial process, you just click import, scan the QR code from the Photos Companion app on your phone, and select which photos to move over. This is similar to how setting up WhatsApp web works.
When I first transferred a photo over, I was surprised how quickly it worked. It was almost instantaneous. I sync my pictures through OneDrive and figured that if anyone else wanted to use Photos on Windows 10 and an Android phone, they would just use this configuration, making the Photos companion app redundant. But after seeing how quickly photos move from my phone to my PC, I can see why the app is worth it.
A few small issues
While I'm very impressed with Photos Companion, there are things that hold it back from being perfect. First, to use the app you have to have both of your devices connected to the same wireless network. This isn't a massive drawback as you're probably going to use Photos companion at home or your office where you have access to WiFi, but it would be nice to also have an option to do it over any internet connection, even if that meant it was a bit slower.
Second, you have to scan a QR code every time you want to use Photos Companion. This doesn't take that long, but I'd prefer to be able to skip this step by setting up a phone as a trusted device.
These are minor gripes that don't stop the app from being worth using. Also, these could potentially be fixed or improved in the future because Photos Companion is still in the experimental phase.
Summary
Photos Companion fills a need that I didn't know that I had. It's an incredibly fast way to transfer photos from an Android phone to a Windows 10 device that could be used separately or in conjunction with backing up photos through the cloud.
While Photos Companion is in its early days, it already feels like another success story for the Microsoft Garage which has created a number of impressive apps that enhance the experience of users on the Microsoft ecosystem.
Pros
Incredibly fast
Easy to use
Cons
Only works while on the same WiFi network
Requires scanning a QR code every time you use it
See in Google Play Store (opens in new tab)
Windows Central Newsletter
Get the best of Windows Central in your inbox, every day!
News Writer and apps editor
Sean Endicott brings nearly a decade of experience covering Microsoft and Windows news to Windows Central. He joined our team in 2017 as an app reviewer and now heads up our day-to-day news coverage. If you have a news tip or an app to review, hit him up at sean.endicott@futurenet.com (opens in new tab).
If I have OneDrive on my Android phone, and it is backing up my photos to OneDrive, why do I need this? What is the difference?

This transfers the files directly to your computer using WiFi rather than via the cloud

OneDrive sync works very reliable and fast for me so wouldn't see why I'd use the companion thing.

this for a user who may want to bypass the cloud or not a OneDrive user. it's pretty fast too

The main issue with OneDrive sync is that is you have lots of photos it takes time to sync whereas this allows you to upload the photos to a PC very quickly, especially if you shoot in RAW.

As others have stated, you don't need both if you already have Onedrive and just use that. Unless you need to directly transfer it to a pc for some reason. It's just another option.

Well, I can't use my personal One drive account with my work PC.
I usually use my work phone my pics that I use for work, but obviously photos are better on my S8 than iPhone 6s and my work iPhone is locked down anyway - no Onedrive. This will work perfect in that scenario. Also it will be nice for sharing to a friend/coworker's PC when I'm standing right there. Much easier than emailing to them. It's niche, but there are scenarios.

Future is automatic. Hopefully they get it and will update for it to do it on auto.

the qr requirement is truly baffling.

Hundreds of apps all over the world use QR code for adding friends, sharing files, etc.

because qr tags make sense in some situations. here it doesn't. client/server running on the same network are programmatically able to find each other without the need of a qr tag. they have been doing it for decades, and even if you use a qr tag as a redundant security layer to make the initial handshake, client/server should be able to remember authorization and not require the qr tag process for each transfer. qr tags would only make sense if the app were to support transfers between devices on different networks, which it specifically doesn't. what it comes down to is it's probably a workaround for some sort of limitation in the uwp. it's also an garage project, so maybe it's too experimental even within microsoft to have full access to the photos app development ressources.

The problem is because you only think about your usecases for the app. The app purpose is not to sync with pc every time and remember settings - for that we have onedrive. But what about if I want to share a photo to a friend`s or college`s computer or share the photo with my work computer and not have constant connection with it? The QR code just adds layer of security so I do not need to think if it will sync something that I do not want with someone I do not want.

i'm not saying the qr tag needs to go away completely, it should be a feature that you can use when you need it/want it. but even for your mentioned use-cases the qr tag seems more cumbersome than it's actually worth the security. even just a temporary pin would be more ergonomic. but really the one killer feature of a same-network transfer app would be the unlimited bandwidth and speed that you need for tons of hi-res images being constantly and automatically synced. so the omission of a permanent link is really odd, especially since it doesn't cost microsoft a thing (unlike onedrive bandwidth). and permanent link doesn't mean permanent connection(!) the connection would only be established if there are new images to sync, but obvisouly there also should be a manuel mode where you have a one-click way to transfer only select images. that really would be the most obvious feature. on phone app > go to image > hit "send to pc" > bam it's there.

I think that it could be used just for pairing eventually and then the device is added to a trusted list.

Yeah, like others I just use either One Drive or access photos via Google Photos. Not sure I see how this app would improve my already established work flow.

Lets say you only want one photo out of all the photos on your device, this makes sense in that scenario.

I open the photo app on my PC and save the one photo I want to my hard drive. Pretty straight forward really. Hell worse case I email the photo from my phone to myself. I could see this being useful if one could directly transfer a photo to ones PC if there is no wifi available for the PC. Honestly I think MS would be better served porting their photo app over to Android and leveraging One Drive for the backend to facilitate these types of transfers. Financially it makes more sense for them to add as many hooks to One Drive as possible.

Windows 10 and Android support Wi-Fi Direct. This app is totally redundant. There are already multiple ways to transfer large amounts of data from one device to another. This doesn't solve any problem that hasn't been solved already. What Microsoft needs is a Photos app for Android and iOS; similar to Google Photos and Apple Photos (or Flickr, or Samsung Gallery, etc.). This is completely useless. The people here who are saying "oh wow, I can now do X, Y, and Z) seem to be completely ignorant of what most Android devices have been capable of doing for the last 7-8 years, or so. The first Galaxy S devices, in 2010, were Wi-Fi Direct and DLNA certified. Windows 10 has Wi-Fi Direct. Just use that and don't waste your storage or battery life on this app.

This is kind of cool, but I'd rather see a full photos app that has OneDrive integration and doesn't have Google scanning all of the photos for machine learning. Or better yet, a Movies & TV app.

YES! Microsoft Photos, for Android please!

If Google doesn't scan them, Microsoft will. Try not to be so ignorant. It's how people get taken advantage off. "Scroogled" was hilarious, but you'd be a fool to think they weren't doing the exact same thing. Microsoft just, unfortunately, completely squandered their chance to be where Google is today.

I'd like to have import pictures via USB without pulling all images from all apps etc. Ignore or make optional all but DCIM. Basically makes pictures import useless, when phone offers just data transfer / only charge... More settings are likely available on phone, but it's more tuning than required. import via internal network, where computer has wired connection. No, I didn't test that, but the description sounds very much like PC must be in wifi for this method to work. No ethernet at Microsoft?

This sounds like a very, very, very poor man's Resilio Sync.

How long is microsoft planning to keep supporting this app? There have been other great apps by microsoft garage that haven't had a long servicing support. This app seem like something to be supported for at least the next 10 years. It's too convenient and value based app. If the app is dead in two years, theat would be of less value to start on and just use ondrive.

The point of Microsoft garage is for people to make whatever apps they want in their spare time to see how it does. If/when something popular enough they may take it back and integrate it officially into windows somehow or maybe re release it as an official stand alone app.

Rather than a cynical yawn I give just a yawn.I don't really see the point to having photos on my Windows computer because... I have many Windows computers. DropBox is my common thread between them and keeps the files I need synced synced. I must confess that I just started playing with Google's Photos and it's quite impressive. If Microsoft were to start doing that on a mobile device I'd be impressed ;)... of course, Micrisoft is half way between Google and Apple so it's not quite ready to do the cloud stuff but it does already treat their customers as advertising and data mining targets :(.

Dropbox is a good cloud client, I used to use them. But if you have many windows computers then Onedrive is better integrated into the OS

If find it easier to plug in my phone and drag the photos into my pictures folder.

It's even easier to just have Googel Photos sync them and just go to Photos.Google.com and get whatever you need from there. When WiFi or Cloud Synching is done well (see Apple Photos), it's marvelous. Microsoft just don't get this; or the people working on this are utterly clueless of how to tackle a problem that has been solved years ago (so there's almost no excuse for it). Plugging phones into PCs to transfer photos was chic 5 years ago. I can do without the wires, these days. Windows and Android both support Wi-Fi Direct, so there is no use for the wires even in teh absence of a cloud storage service, BTW.

It might be if the Photos app on any of the versions of Windows 10 I'm running had 'Import>From mobile over Wi-Fi' in the options as the instructions in the app state when it is opened and 'Send Photos' is tapped. I am running Windows 10 Home current release on my Acer Iconia W500 tablet, Windows 10 Pro current release on my HP Envy TS 17 notebook and Windows 10 Pro Insider Program Skip Ahead on my desktop PC. Not one of the versions of the 'Photos' app has that 'Import' option.