Edit your photos in style with the clever Pic2share for Windows Phone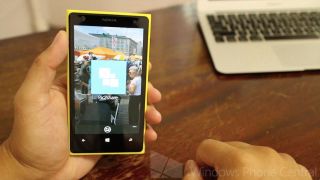 Pic2share is a very simple photo-editing app that you might want to check out. It's great for those who might be intimidated by more advanced editing apps like Fhotoroom.
It's developed by college student, Thomas Tsopanakis, and powered by the Nokia Imaging SDK. We've covered a few of Tsopanakis's apps before, including Countdown, Galleries and InstaBlender. Are we fans of his work? You betcha.
Head past the break to see our walkthrough video of this outstanding app.
When you open the application, a splash screen shows up with a slideshow of photos from your camera roll. Just click on the image button below to get started. It asks you to select a photo and then frame it in square aspect.
You start playing with the image by clicking the adjust button. You can change the brightness, contrast, exposure, and saturation by sliding the levers. The amount is displayed above. By the way, brightness and exposure seem to do the same thing.
If you want to to get things done faster, there are thirty filters available. You can select antique, Lomo, milky, grayscale, and more.
One feature that we're probably going to use more often is text. Write what you want at the bottom, select a font, color, and then drag the slider to change the size. You can also change the location by dragging the text around. When you're done, click check on the upper right corner.
You can save this image in your library, or click share for more options. If you want to do more editing, you can select another app like Fhotoroom. If you want to upload it to Instagram, select 6tag. Thanks to Windows Phone, you have a lot of options to choose from.
Pic2share is available at the Windows Phone store for 99 cents. It's great if you need simple editing or want to quickly add text to your images. Check it out and let us know what you think in the comments.
Isn't that the instapic logo...

it almost is... not quite creative this guy!

Gave it a quick try, and right now the only issue I have is that it doesn't show up in either the "edit" option, or "apps", when going directly from the photo. You have to open the app first. Integration into the OS would be nice.

I love the design of this app. It ranks up there with Fotor for my needs.

Check out also the amazing app InstaSquarer from Tsopanakis. Can't live without it, the perfect companion for instagram: http://www.windowsphone.com/en-us/store/app/instasquarer/11a1396c-559a-4...

Can't see a try option here :(

Lol. Isn't that a MacBook Air in the background?

Traitor. Why no Surface 2 or Pro?

Alright, who let the fan boy on the site?

Do you work for free? If so, I need some cleaning done. Contact me.

I'd rather have a Surface Pro 2 in the background than any Apple product .- .-

Does it let us mess around with text opacity? If it does it is exactly what I need to replace the iOS app Over (which is great, by the way, and I can't seem to find a replacement in WP)

vlribeiro; With text opacity? http://www.windowsphone.com/en-us/store/app/fogram/2966d237-c022-410e-9cf1-a7fea6a72bdb

Thanks! Guess that is what I was looking for. Will give it a try now :)

I use Countdown and InstaBlender. Thomas Tsopanakis did a good job. Countdown was free when I downloaded it. A limited time promotion.

I would like to se VSCO on WP. Their filters are the best.

"Intimidated?" Don't you mean, "Intimated?" Just ask Sammy...

welcome to wpcentral mr Mark (thenokiablog) .....i always enjoy your videos
Windows Central Newsletter
Thank you for signing up to Windows Central. You will receive a verification email shortly.
There was a problem. Please refresh the page and try again.