Pics of Microsoft's St. Louis Store grand opening; company gives away non-profit grants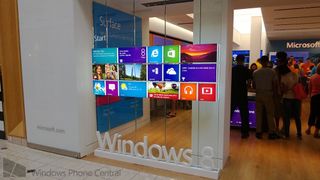 Microsoft opened up its new store in St. Louis on Friday 7th, continuing to make its presence known to the competition with a rather loud bang. Sporting a performance by artist Ne-Yo, the opening was a great day for attendees. Kevin Turner, Chief Operating Officer at Microsoft also gave away a total of $1 million in software grants to four local non-profits. It's the attack of Good Guy Microsoft again.
The permanent store at St. Louis Galleria now sits in the same location the company tested the waters with its temporary Surface stand during the holiday season. The organisations that received the grant from Microsoft included:
Boys and Girls Club of Greater St. Louis - $250,000
Fisher House - $100,000
Junior Achievement - $250,000
Life Skills- $400,000
Check out more photos of the opening below. Thanks, Kyle, for sending in the snaps!
Rich Edmonds is Senior Editor of PC hardware at Windows Central, covering everything related to PC components and NAS. He's been involved in technology for more than a decade and knows a thing or two about the magic inside a PC chassis. You can follow him over on Twitter at @RichEdmonds.
Nice to see MS expanding and making its presence more visible.

Not just anywhere, buy every major US university campus, Microsoft should open their stores no matter how small it is. A

+1. If I want to go to the nearest MSFT store, I have to take some time and drive to Detroit.

There's a MSFT store in Detroit? Where if you don't mind me asking?

Here you go: http://content.microsoftstore.com/en-us/detail/twelveoaksmall

Take that haterz , suck that haterz, lick that haterz

Now please, we need stores outside the US

What!? I live in STL, and wish I would have known they were opening a physical store. I went when they opened the temp one. I would have been there, though I would have avoided the Ne-Yo thing.

I missed the opening yesterday, but according to the web there was $100 off surface rt...in addition to free keyboard offer...at the opening.

I would have to pass on that anyway...

Wow! $1,000,000 to non-profits, solid Microsoft. I'm sure nothing will be written about this on bgr.com.

Exactly. Match that iFruit.

IFruit is the opposite, they take, not give.

Won't they get a tax break on that $1m though...just saying, lol

iFruit has money do you see them giving any even though is tax break also?

What a stupid comment. Because the tax break will equal $1M. SMH

bgr.com has no WP section... disqualified for me!

Where is the New York store...?

LOL, they used to have one in Time Square, CLOSED!


That was always a temporary store, selling surface only.

Yeah ... but I think that store was just a holiday / pop-up store. I think there's still a few other pop-up stores around with planned closings.

I'm going to Houston next weekend to see ATB and in gonna go down to the Microsoft store in the Houston galleria :)

Now please open a store in the UK. ANYWHERE I'll get to it no matter what

Believe me, I'm fighting for this.

We need one so badly! I'm missing out on the Micrsoft goodness. PC world and Currys is just not enough

Yep, they need to have them in all major world cities at the very least.

Omg we need a store like that here in Florida I'd be there favorite customer

There's one in Orlando, and more coming, I think in Miami.

It's great to have the MS Store local, but there's still a bit of a problem. Look at the above pictures and count the people in the "colorful" shirts. Now count the people that aren't wearing colorful shirts. And this is the grand opening. When I went in today, I got asked if I needed help by no less than 8 different associates. It isn't a problem because there are too many associates--it's probably about the same number as at the Apple Store that is literally across the walkway from the MS Store. The problem is that MS just isn't as popular as I would hope :( The associates were pretty knowledgeable, though, which is good.

Hence, the reason they're opening the stores. I don't get the point you're trying to make. You open stores, people come in, they see the products and try them, they fall in love and they tell their friends and family. You get the point.

The other thing is that these Microsoft stores seem to be getting smaller (or not even stores just kiosks) while Apple seems to be rebuilding a lot of there stores to be much bigger. You have to wonder how succesful this whole retail play has been for them (and yes, for a grand opening the crowd is embarrassingly small).

@sepatown (I think I forgot to hit reply) I'm not making any point other than I wish that the opening of a store would draw more of these "interested" people you describe. Yes, MS has to start somewhere, but it's not like it is an unknown brand with unknown products...and there were signs all over the place touting the opening. Heck, the zoo has been running a Lumia 920 contest here for a couple of months, which I thought was in anticipation of the opening (yeah, it's just a zoo, but the St. Louis zoo is one of the best and busiest zoos in the country). I don't know...maybe I'm asking for too much out of the gate because I love so many things about MS products already.

Can wait for the new Schaumberg, IL store to open up so I don't have to drive 1.5 hours. It's supposed to be June 22nd based on their web site:

http://content.microsoftstore.com/en-us/detail/woodfieldmall

They need to do the same process as Apple, and open many stores...

Yet, they forgot to open on another country.

It was a wonderful time. It seemed like everyone I encountered there were very happy, and excited for the opening.
Here is the write-up on the event I did: http://stltechtalk.com/2013/06/08/blog-thoughts-on-the-microsoft-store-grand-opening-at-the-saint-louis-galleria/

Microsoft,
We badly need stores outside US and particularly UK. Real shame that APPLE opened two mega stores already in London. Nothing from MS, not even a booth.

I'm in STL and went to the ceremony. Pretty awesome. Didn't go to the concert but the stage and venue set up they did was pretty huge in the parking lot by Macy's. The best customer service happened to me while I wad there. I mentioned to an associate that the felt on my Type cover was peeling off. He directed me to one of the managers, Matt. He told me to bring it in and he'd check it out. Brought it in yesterday and he swapped me out for another!! I was shocked. Now that's how you keep me coming back! Awesomeness

That's great!
From the employees I spoke with at the opening, they all seemed very nice and helpful. Mark, the store manager took the time to answer all the questions I had even though he was being pulled in all directions.
Looks like a great addition to the St. Louis area and I hope the store does well.

Sigh...i don't think Microsoft will ever open a store in Lancaster, PA. But, we're good enough for an Apple store, two wal-marts, and a target

THERE IS A STORED IN NEW YORK AT TIME WARNER BUILDING 57 ST 3 FLOOR , THAT WILL BE AT THE LINCOLN CENTER.

Windows Central Newsletter
Get the best of Windows Central in in your inbox, every day!
Thank you for signing up to Windows Central. You will receive a verification email shortly.
There was a problem. Please refresh the page and try again.