Pinball FX2 now available for free on Xbox One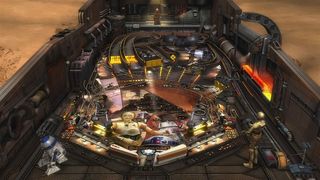 Pinball FX2 is now available for Xbox One. As you know, Pinball FX2 is one of our favorite pinball video games. It's developed and published by Zen Studios for Xbox 360, Windows desktop, Windows 8 and now Xbox One for free!
Pinball FX2 can be yours for free from the Xbox Store. You can look forward to tables from Star Wars, Marvel, Plants vs. Zombies, and more! The game is free, but you can pay to unlock more tables.
Here are some of the features you'll get with the Xbox One version:
1080p Full HD resolution at 60 frames per second
Split-screen multiplayer
Hotseat multiplayer
Compete against other players on all tables to achieve the highest Super Score
Team up with your friends to increase your Wizard Score
Table statistics
Local High Scores and Online Scoreboards
In-game challenges
Operators menu with detailed settings
Achievements for each table
Anyone going to take Pinball FX2 for a spin on their Xbox One? Let us know!
But are the Xbox 360 tables transferable yet?

Yup. Click to 'buy' them and they will be free. Then click again to download. All of my Marvel and Star Wars boards are now working. Bought Guardians for the heck of it and those 4 new Star Wars boards. Win. Pinball FX2 is my jam.

I see you're playing it right now. Lol.

Quick question. Are all of my 360 tables that I purchased available to transfer for free to the Windows version of the game?

I just beat your high score on the GotG board Daniel ;)

What's your Xbox One tag Daniel?

Darn, I was hoping that would be a little more automatic. Now I have to figure out which ones I purchased so I can go get them again, manually. First world problems, I guess.

This works great on a tablet btw Posted via Windows Phone Central App

Yup! This is my favorite game next to game dev tycoon on my Vivotab Smart :)

Awesome can't wait to get home

Does it say "Release Date 8/28/2014" for you guys too? I can still download it, just think it's funny.

That is the standard date format for North America, what is funny about it?

Probably because it's not the 28th yet

Look at the date again, now look at today's date. Notice anything off?

The official Canadian format is YYYY/MM/DD, actually. And I find little consistency to how it's done in Canada.

Would any tables transfer over from my ps3 or steam?

No. PS3>PS4, Xbox 360>Xbox One.

I'm not seeing it in the store.

Search for "pinball" and it should show up

Thanks. Couldn't find it either.

Or just st click link in the article Posted via Windows Phone Central App

Or search in xb1 smart gass beta

Love that game. Be nice on my 1520 for WP.

Can I remotely buy Xbox one games lets say from smart glass app?

Your Xbox One should turn on and download it if you use Smartglass Beta (if it is set up). Even if you aren't home.

Too bad, it's not available for WP

Especially since the devs showed it off years ago.

Well I know what ill have set to download when I get my Xbox on the 26th

I bought the star wars table but it wont let me past the tables preview screen to start a game.

I'm having trouble importing the Star Wars tables from my collection as well. I suspect because this leaked before its official release.

Just queued up the game and all my previously purchased tables. Love the SmartGlass beta.

Now, i just have to own the xbox one. If only..

I guess I can give this a shot.

This answers many questions.
https://forum.zenstudios.com/showthread.php?6659-Pinball-FX2-on-Xbox-One...

Off-Topic:
It would be nice to get some/your (WPC-Member) XB1-Gamertags to have you all on my friend list (and with it the WPC-Family on my XB1 :) ) Feel free to add me: Siang247!!! ...on top of it should the WPC-Team think about creating a WPC-App for the XBox One... I would love playing games while reading your news in snap mode... just think about it!!! ;)

I would love more XB1 friends too (think 360 is full atm but can make room) my name on all things is SlaptArze

I own 2 of the packs, but they both claim they will charge me $10 immediately. Is that what I should see if I already own them on the 360?

Can i transfer my windows 8.1 tables to Xbox one to?

Good question. I bought some tables on Win8.

Yes you should be able to.

Going to download tonight!

Just tried it, unfortunately it's lagging when using the flippers... It's just a tenth of a second, but that makes it unplayable imo :(

I'm finding the same issue... trying to train myself to hit the paddles early. Posted via the WPC App for Android!

Asking me to pay for the core collection even though I already have it on the 360. Grrrr!!!!

I was talking to Microsoft support about universal apps the other night, I purchased 'Plex' on my Windows Phone, tried to use it on Windows 8 and it asked me to rebuy it. Apparently, if you purchased something before they introduced the universal app licence you don't get it on multiple platforms. You need to be refunded and then repurchase again. Pain in the rear.
Windows Central Newsletter
Thank you for signing up to Windows Central. You will receive a verification email shortly.
There was a problem. Please refresh the page and try again.