Pinball FX2 for Xbox One delayed to enable content transfers, Guardians table arrives on Xbox 360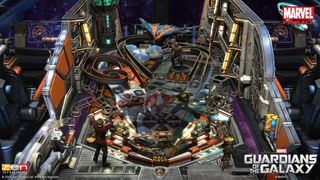 Earlier this month we reported that Pinball FX2 from Zen Studios would be coming to Xbox One at the end of July as part of the ID@Xbox program. This heralded much rejoicing from pinball fans such as your friendly neighborhood Games Editor and even head honcho Daniel Rubino. But at the same time, we all lamented the inability to transfer purchased tables from the Xbox 360 version of Pinball FX2 to the Xbox One version. Microsoft had not allowed the developers to implement such a transfer.
As Xbox Windows Phone fans well know, sometimes Microsoft listens to user feedback and sometimes it does not. The Xbox One and ID@Xbox sections certainly have been extremely responsive for the last year or so. Case in point, Zen announced this week that users will be able to transfer their Pinball FX2 tables from the 360 to Xbox One right when the Xbox One version launches! Now that's what I call a win for consumers. Xbox One players will have to wait a little longer for the game though, as the new version has been delayed until August.
Last minute delay
Pinball FX2 is less an individual game and more a pinball game platform. On Xbox 360, downloading the main game itself won't get you full access to any tables. But players can pick and choose from a huge variety of individual tables and table packs. These tables are all original creations from Zen Studios, not adaptations of real-life pinball machines. They vary in subject matter from original themes to licensed properties such as Marvel Superheroes and Star Wars.
Since Pinball FX2 launched on Xbox 360 in 2010, many players have accrued upwards of forty tables for that version of the game. As originally announced, existing players would have had to repurchase the same tables in order to access them on the Xbox One. Many would have refused to do so, limiting the potential reach and enthusiasm for the new version of the game.
By default, there are no universal apps or content purchases shared between Xbox 360 and Xbox One. Some games have allowed one way content transfers from the 360 to the One in the past though, such as Assassin's Creed IV and Call of Duty Ghosts. The same type of content/profile transfer will apply to upcoming downloadable titles Minecraft: Xbox One Edition and Happy Wars.
Even though Microsoft has no ecosystem-wide transfer policy in place (unfortunately), the big MS does at least grant exceptions now and then. The exception for Pinball FX2 came very late in the game, considering literally within two weeks of the release date announcement and the original planned release. It's no surprise that the launch had to be pushed back a bit in order to accommodate the transfer feature.
Note that transfers between the Windows 8 version of Pinball FX2 and the Xbox One version are extremely unlikely to happen. A transfer system for Windows 8-to-Xbox One versions simply does not exist yet. Maybe someday!
Pinball FX2 for Xbox One will arrive sometime in August. It will include the "Sorcerer's Lair" table for free.
Guardians of the Galaxy
In more Pinball FX2 news, Zen has just released the "Guardians of the Galaxy" table for Xbox 360. The new table is based on the Marvel Studios film of the same name that debuts in US theaters this week. I can't wait to see it!
The table features all five Guardians team members from the film: Star-Lord, Gamora, Drax the Destroyer, Rocket Raccoon, and Groot. Players will also encounter some of the film's antagonists, including Yondu and the Ravagers, Nebula, and Ronan the Accuser. The table starts out with four-ball multiball, promising a high-intensity experience just like the movie.
The "Guardians of the Galaxy" table will also be coming to Xbox One next month. This one won't be making its way to Windows 8, unfortunately.
"Guardians of the Galaxy" for Pinball FX2 – Xbox 360 – 62 MB - $2.99 – Xbox.com Store Link

(opens in new tab)
Paul Acevedo is the Games Editor at Windows Central. A lifelong gamer, he has written about videogames for over 15 years and reviewed over 350 games for our site. Follow him on Twitter @PaulRAcevedo. Don't hate. Appreciate!
Can anyone recommend good pinball games for Windows Phone?

There are no real good ones in afraid.

That's what I was afraid of. Search on the store never gave me any I liked.

is there is any pinball game in the store

Really unexpected to see Microsoft do a 180 on it's stance on transferring tables. But this is the new Microsoft... listening to customer feedback.

Can't fault them for that! :)

I'm also surprised but glad. Bought most of the tables on 360

I love these pinball games. Glad I can transfer them. Posted via Windows Phone Central App
Windows Central Newsletter
Thank you for signing up to Windows Central. You will receive a verification email shortly.
There was a problem. Please refresh the page and try again.