Editor's Choice - Pinball League - Dr. Pickaxe is rocking our world on Windows Phone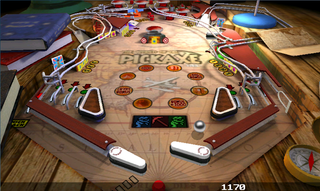 Pinball: Just one fix...
Although we're still waiting on that pesky Xbox LIVE game to go…well live, we have something else to keep you gamers happy: Pinball League's Dr. Pickaxe. If that name sounds familiar it's because there's a previous pinball game by the same company, Tainicom, called Pinball League - The Juggler. This game just hit the Windows Phone Store and we're in love.
First off, we should note that we're huge pinball fans. Pinball FX2 on Xbox 360 is our illicit drug of choice and we're dying to get it on Windows Phone (see our interview with the developer for news on that front). In the meantime, Dr. Pickaxe is fullfilling our deepest wizard desires by offering a solid sequel to their previous effort.
Check out our quick video review after the break...
The game is actually much better than the Juggler because it has "more stuff" to do in it. By that we mean the board is more complicated with more ramps, bumpers and even a mini-game within the game ala FX2. That extra part is huge in our books as it keeps the game fresh. Although the main board is the same, there are multiple mini-boards within in that you can unlock as you progress along. Anyone who's played Pinball FX2 knows how addictive those can be and they really keep us challenged.
The game features an all new physics board, solid music, global leaderboards and "stackable bonuses". Oh and did we mention the fantastic graphics? It handled well on our 1.5GHz CPU in our Titan II but we can't vouch for 1st gen devices with lower specs—in that case, try the trial first. (Tip: For the Titan II, we found it stuttered with the 'HTC enhanced sound' turned off in System Settings—which was odd. Turning it on actually made the gameplay smoother).
The many mini-boards within Dr Pickaxe
The game is priced at an introductory 99 cents for its first week. That means you'll want to try the trial before it's bumped up (probably to $1.49 or $1.99). We think it's a steal and probably one of the more well done indie games on Windows Phone, not to mention one of the only pinball ones out there.
Edit: There does seem to be a bug whereby the game asks you to purchase the game even though you already have. The developer should have a fix relatively soon.
Pick up Pinball League - Dr Pickaxe here in the Windows Phone Store.
Windows Central Newsletter
Get the best of Windows Central in in your inbox, every day!
Daniel Rubino is the Editor-in-chief of Windows Central, head reviewer, podcast co-host, and analyst. He has been covering Microsoft since 2007 when this site was called WMExperts (and later Windows Phone Central). His interests include Windows, laptops, next-gen computing, and for some reason, watches. Before all this tech stuff, he worked on a Ph.D. in linguistics, watched people sleep (for medical purposes!), and ran the projectors at movie theaters because it was fun.
Seems to be fine on my 1st Gen Focus. Nice game!

Unfortunately...after I suggested this to others in previous forums; the app is broken. Even after you purchase it, it continuously kicks you out of your game and tells you that you must purchase to continue. What crap. How does this get missed in testing? Even if they do fix it, we won't see the fix for two to three weeks with how slow the certification process is. Ugh...

If it helps, it's easy to miss in testing as the likelihood is the developer was testing the trial mode and forgot to remove the line of code needed to do so. Yeah it's a bad slip but it'd be forgivable if that is the case

Thanks for the info. Hopefully the dev knows and is on it, because it wrecks this very good game.

Actually, more than the developer, MS should have caught this in certification. It's one of their checks...

Maybe this check had started after a certain date (usually 7 days after submission date ;), thats why it passed certification. It could be not testers fault ;)

Very cool game anyway, I m sure the developer will fix it soon

Eh, average pinball, we need The Pinball Arcade on our OS!

The bug affects only the first game you play, after that it's working ok for me. It's a nice pinball game, much better than the first one.

What I really would love to spend my money on would be a WP version of the old pinball classics pinball dreams and pinball fantasies. I loved those old games and really miss them.

Those were great, and I spent many hours with them on the Amiga. Also, slightly more modern, the Pro Pinball series of the mid/late 90s. I should dig out the 4 table collection I have somewhere, but even if they install on Windows 8 I doubt they'll look good on a 22" screen... or even support newfangled things like widescreen displays. They had some great tables, so porting them to WP or at least Win8 would be great.

Hello Daniel, I am one of the developers of tainicom.
We are pleased you liked our game. We tried to make it runs on decent speed (>30fps) on 1st-gen devices. Now, the app was pulled as soon as we discovered the trial bug, but the word was allready out! We expect the update to pass certification in the next couple of days. Of course the $0.99 offer will be expanded to one week after V1.1 goes public.



I already loved The Juggler, so Dr. Pickaxe is a must have for me. The only thing really annoying me in both games is the sound FX. They don't sound like a really pinball table. Other than that these games rock.

I bought the game last night as soon as it became available, (I've not experienced bug so far, but will my version get updated or will it be new game now that it's been pulled for resubmission?)

And just after posting precious message I get the bug in game (when I had about 13,000 points without loosing life). :(

Bought the gane yesterday... After making 30.000 points with the first ball it says if I want to continue I need to buy the game... Other than that the game is quite nice

Ncast, thanks for the update. I look forward to having a fix because this is a great game, and I've already purchased it.

Did they pull this from the Marketplace? I'm not seeing it in the US (and the link from the article takes you to a broken page).

I also get that the app is not available

Yes, this game has disappeared, if it was ever in the Marketplace.

I'm still enjoying the Trial version. I hope to see in back in the marketplace soon because im waiting to buy it. Honestly, one of the most fun and simple games I've played on my phone yet.

When trying to purchase im being told game is not available in my region, whatever the hell that means

Yeah right now impossible to download, hopefully back soon, really like it!

Pickaxe is definitely a worthwhile game on Windows smartphone. One of my favorites. Hardboiled pinball is also very good. Toss-up as to which one is better. Hardboiled has better flipper control (more like a real machine) but it plays best in portrait mode so the graphics/targets are small. Pickaxe has one of the best uses of scrolling screens and its various level challenges keep the game fresh and interesting. However, both this and The Juggler have slight delay on flipper response and the filpper controls need more tweaking and refinement for them to behave identically to physical pinball tables. For $0.99 The Juggler is also with owning but is the weakest of the three. The left side and center drain on that one are killers. Can never seem to get any momentum going on that one. Shaking is a must on The Juggler for any prayer to keep the action going. Pinball fan - both sims and physical tables. Pinball really lends itself to smartphone gaming. Looking forwart to/hoping for more quality releases. For a buck or two I'll own any and all that aren't a waste of time.

The Pinball League will certainly be a big hit. It may even be a bigger hit than Plants vs Zombies. A bold prediction right? - Steven C. Wyer
Windows Central Newsletter
Thank you for signing up to Windows Central. You will receive a verification email shortly.
There was a problem. Please refresh the page and try again.