Pinpoint is a new addicting game that will test your geographical knowledge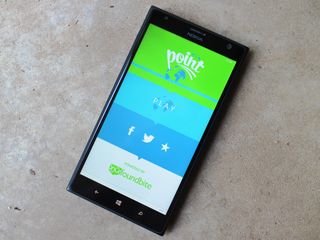 There's a new location game called Pinpoint on Windows Phone from the team behind Foundbite. As you know, or at least should know, Foundbite is an exclusive Windows Phone app that allows you to capture the atmosphere of a place, event or experience. It does this by combining images with audio to create some cool clips called Foundbites. This new game uses those Foundbites and their location data to make you guess their whereabouts.
Pinpoint by Foundbite is designed to quiz you on their geographical knowledge. Your job is to guess the location based on sights and sounds. You'll then place a pin on a map and gain points based on how close you were to guessing the correction location. Hit the question mark icon to place your pin on the map.
It's an easy game to pick up and play and tests your eyes and ears. You'll feel like Sherlock Holmes after playing a few rounds. Grab the game and take it for a spin.
Pinpoint by Foundbite is a clever game and a great way to leverage all the data created by Foundbite users. Grab the app and let us, and the developers know what you think! Be sure to hit up the developer James Mundy (@_jamesmundy) with any feedback! The game does work with 512 MB devices, so you folks out there rocking those Lumia 520's and Lumia 630's are good to go!
Windows Central Newsletter
Get the best of Windows Central in in your inbox, every day!
Very nice , i downloaded it after i got the promo email . The design is awesome . I can confirm that after 3-4 pictures you are starting to pay way more attention to the sounds and the details of the image :P although those taken inside stadiums are quite easy

2048 still the best. Still trying to get 8192 tile.

Try the "16384" tile, its two "8192"'s combined lol

I actually managed to get once the 4096, so I'm close :)

I've played maybe 2 dozen times. Once I get 4096 I'm quitting that game forever lol. I lose focus or something after while and always make a dumb mistake when I'm so close. It should've been named 4096 or 8192 since getting to 2048 absolutely no challenge at all. But it's very addictive.

Lol, back at the beginning even the 1024 was a challenge for me. But yeah, need a rename, oops rebranding.

I was playing a game called hues before I tried this game. Very similar game play. Used the same strategy and got 2048 on my second or third try. If you love 2048 I recommend trying Hues also. But you have to pay to unlock the full game. I thought it was worth it though.

That is a really well designed app, love it. Great idea for a game that ties into Foundbite.

For all the cheaters out there you can click the 'soundbite by ...' on the bottom which brings you to the other app where you can view the actual location on a map. Got one within .02 km. Not much fun this way though.

The whole windows phone seems like beta to me -_-

Unfortunately, at the moment I concur.

I like the idea. Will check it out!

Played several rounds today and its fun. Sometimes there are pretty obvious clues and subtle things to look and listen for.. I love geolocation games in general and this one is fun. Might be better with 5 vs 10 questions. For quicker play? Maybe hints for those not inclined to cheat?

33000 here. will keep playing!

Addicting is not a word. If it is, it shouldn't be!

Addicting? ADDICTIVE! ADDICTIVE!!!! almost as bad as "Legos"

You stupid illiterate journalists! Addicting is not a word! It's ADDICTIVE, for crying out loud!
Windows Central Newsletter
Thank you for signing up to Windows Central. You will receive a verification email shortly.
There was a problem. Please refresh the page and try again.