Battle things that go bump in the night in Pixel Survival for Windows 10 Mobile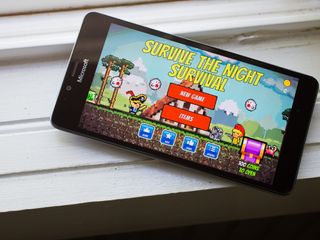 Pixel Survival is a Windows 10 Mobile game that pits you against a collection of monsters determined to turn you into a midnight snack. By day you collect resources to build traps, improve your weapons and build up your defenses. But when the sun sets it becomes a game of survival as the creatures of the night test your fortitude.
The graphics are intentionally pixelated, giving Pixel Survival a retro appearance and gameplay is a nice blend of resource management and fast-paced attacks that will keep you on your toes. The free Windows 10 Mobile game has over thirty items to discover and upgrade, plenty of customization features for your hero and is a fun time-waster of a game.
Pixel Survival's primary menu welcomes you with options to jump into gameplay, visit the gaming store, view your high scores, visit the game's settings, along with options to rate and share the game and a treasure chest to randomly buy gear with the coins you earn during gameplay. Periodically, the main menu also includes options to earn free gaming coins by watching video ads.
The gaming store has purchase opportunities for weapon, head and body styles and power-ups. Head styles range from different hair styles, hats, helmets and such. Body styles include a host of costumes ranging from a Batman outfit to a Pikachu costume. Items have skills and ability boosts and can be purchased for cash via in-app purchase or with the coins you earn during gameplay.
Speaking of which, gameplay isn't very complicated. The gaming screen with Pixel Survival has your health and resource stats listed in the upper left portion of the display and the craft/upgrade options to the right corner. Movement controls span the bottom of the screen and the day/night timers sits in the top center.
You begin gameplay during the daylight hours where you harvest the resources to build up your defenses. There are trees and rocks near your location that can be cut down or smashed to provide these items. Just position your gaming character next to these objects and he'll start to chop or hammer away at them. Collect the material you collect and tap the craft button to begin building up your defenses.
Defense options include traps, machine guns and campfires. You can also use these resources to upgrade these defenses along with your handheld weapon, ax and hammer skills, and health.
Once night falls over the game, creatures begin to emerge from the shadows to attack your hero. You can move around the screen, attacking these creatures or let your traps deal with them. Just keep in mind that traps do not last forever and can be destroyed by these monsters.
The goal of Pixel Survival is to keep your hero alive for as many nights as possible. This can be a tough nut to crack and the key to success is to upgrade things as often as possible. The game escalates in challenge quickly; from the start your hero should be strong enough to survive two, maybe three nights. After that, he easily becomes an easy midnight snack for these monsters if you become lax in the upgrade process.
The free, ad-supported game is a fun way to pass the time. The pixelated graphics offer a retro feel to things and the pace of play keeps you on your toes. Between chopping down trees, crushing rocks and battling monsters Pixel Survival requires your undivided attention.
My only nit is that the items in the store are only available through in-app purchase. Yes, you can use the gaming coins to randomly buy these items but equipping your hero that way can be a little frustrating. It would be nice to see an either or option in the store where you can use gaming coins or real cash to unlock these items.
Pixel Survival is a fun, free game for Windows 10 Mobile that nicely combines elements of a platform, role-playing and endless runner games. If you are looking for an entertaining game to spend a little down time with, Pixel Survival is worth a try.
Download Pixel Survival for Windows 10 Mobile (opens in new tab)
Windows Central Newsletter
Get the best of Windows Central in your inbox, every day!
George is the Reviews Editor at Windows Central, concentrating on Windows 10 PC and Mobile apps. He's been a supporter of the platform since the days of Windows CE and uses his current Windows 10 Mobile phone daily to keep up with life and enjoy a game during down time.
Ask Nintendo not me xD
Because of that flippin game i have to recommend a LG G Vista 2 to my gf over a Lumia 640 as her next phone.

That sounds so tragic considering how good the Lumia640 is D: :p

yes I know that it's quite sad you had to do that. :(

It could come to windows phone. At least MS engineer said they are trying to figure out a solution :P. In the meantime play monster buster: world invasion. Similar to pokemon Go.

Pokemon Go can GO straight to Hell. The fact that it's even a thing that people are enjoying makes me want to EOL myself.

Quite fun. I last to the 4th day :D

This game is similar to FIVE NIGHTS AT FREDDYS.

Hope pokémon go will land in win10m. But it is not, sad but true devs hate win10m so much.

Why develop something that hundreds of people will download when millions are dl'ing it now on the other platforms?

I hope more game will land in win10 not only on xbox but also in win10 for mobile.. And hopefully microsoft will make agreement with the devs of ragnarok mobile the most biggest mmorpg game from korea that will land on ios and droid in September
Here's the teaser: https://m.youtube.com/watch?v=mipPugOHBo4

F*** Nintendo and the hype around ;)