Hot out of the oven, Pizza Hut app update addresses nagging bugs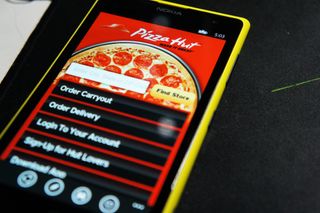 The official Pizza Hut app for Windows Phone has been in a state of decay for some time. Simply running a quick check on the store listing will reveal countless single-star reviews from consumers who have experienced problems with the experience. Thankfully, the development team have released an update that should hopefully address the serious problems hindering this pretty neat app.
Let us know if you're still experiencing issues with the Pizza Hut app once you've updated. If not, crack on with the pizza order and we'll be round with the beverages shortly. It's worth noting that the app is only available in the US.
Thanks, Trevor H., for the heads up!
Windows Central Newsletter
Get the best of Windows Central in your inbox, every day!
Rich Edmonds was formerly a Senior Editor of PC hardware at Windows Central, covering everything related to PC components and NAS. He's been involved in technology for more than a decade and knows a thing or two about the magic inside a PC chassis. You can follow him on Twitter at @RichEdmonds.
Didn't know the windows phone had a build in oven

You didn't what have you been doing all this time I cook everything from cookies to cake

Trying to get Cortana, like in Halo game, to come out of my phone's screen. Tried it with a Masterchief helmet on and everything. No luck so far. But ill give the Pez pizza with a battery taste a try.

This is 8.1 dude. Everything that wasn't on WP8, has now been added. WP is now a complete OS

Just change the region in settings, and you're good to go.

Oh come on ! Would you order a pizza from the US on a plane ? We have pizza hut in almost all major cities in India, yet the app is US only ?

Read the first comment on this thread. I was being sarcastic about the "built-in oven" being a US-only feature for WP.


Well as soon u hit the states border. Your phone gets an extra hole to get rid of all the steam and pizza making tools. *^^*

It's not going to take a UK postcode, though.

Try the Dominos app, works fine and the pizzas are yummy

Link to proper Google Maps and Google+ apps? I've used my Android device for only 2 days since I installed WP 8.1, and find those two apps are the biggest things I miss. Though I'm finding my way around alright with navigation as is.
Still miss a true Google+ app.

Ok
First of all: when it comes to apps, yes WP does have an app gap. Not enough users = not enough developers = not enough/all apps.
When it comes to the OS though, WP8.1 is in fact a complete OS. There's a difference Second: Google apps are common complaints. Problem is, Google won't make these available because of the rivalry. Even though MS has a decent amount of apps on Android's store. (Google's a b**** !) Anyways good to hear you're enjoying WP8.1 otherwise. :)

It still doesn't have the range of local deals that you get online.

It's literally a wrapper for their mobile website. Exactly the same.

Yep...even has the "download app" button. Don't remember if the last one was. It was so bad I uninstalled fairly quickly after an order I placed was sent totally screwed up to the store.

Their first app was a much nicer design made for WP. This is just wrapped crud.

That's even what I said on the review... What sucks is that it was broken for so long. Can't wait to see Windows Phone orders at work!

Why is it when I tap the WPCentral app toast or action center notifications, the app says it cannot connect to the server?

It's been doing that for a few days now. I sent in a bug report two days ago, but nothing has changed. They must have changed something in their web service on the server side, because the app wasn't updated when this started happening.

Same here. It did work just a few days ago.

Ok glad I'm not the only one seeing this. Was an issue earlier today for me but it seems to have subsided.

found same issue, thought it was mobile fault

PIZZA HUT !!!!!!!!!!!!!!!!!!!!!!!!!

I can't eat pizza hut, that's not pizza.

They can call it azzip idc, its bread sauce and cheese

They went from a native app to a mobile web wrapper...ugh

Yeah, kind of strange. You can't really call that an "upgrade." It's also sort of embarassing that since it is a web wrapper, there's a button that says "Download App" inside of the "App," which actually takes you to the "app's" entry in the Windows Store. Bizarre.

An app to download an app which points you too download the same app. Someone must have watched inception waaay too many times lol.

Just think if phones had this app in Back To The Future and Marty clicked on the download button....

Yea I'm taking to Twitter and @mention Pizza Hut to let them know how embarrassing this so called update is.

It's true it look like the website but it functions just like an app. I've never had a complaint about the app so any update is appreciated.

Cortana says she can't deliver in Tokyo.

Now a Dunkin' Donuts app would be the perfect realization of my fatty dreams

I want a Papa John's app. :-)

Well, somebody had to say it... Lol =P

You and me both. And I even work as a competitor. :p

Wish this worked in the uk

It is the mobile website inside the app. Lame

Pizza Hut does exist here in the UK you know... Hurry up and release an app here already! I wanna get my munch on!!

The app is not available in India. Come on developers.

I really don't care for this wrapper mobile site crap. Their previous app had a better interface. I have a feeling it wont keep my sign on information. Just use IE. #whatajoke