Plane Wars, mid-air battles from your Windows Phone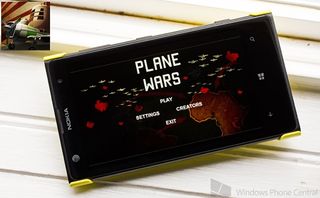 Plane Wars is a fast paced, easy to play, but difficult to master Windows Phone 8 game. The combat strategy game includes forty-eight levels of action, five different game modes and respectable graphics.
The game also includes upgrades for your aviation fleet and special abilities to help wipe out the enemy forces. Game play is challenging enough to keep things interesting and overall, Plane Wars is an entertaining gaming option for Windows Phone 8.
The Layout
Your main menu with Plane Wars has options to jump into game play, access the game's settings and view the About page. Settings cover language options, sound options and turning on/off the graphic shadows (from the airplanes).
Game play is spread across four different zones, with each zone containing multiple levels of play or missions. Missions are progressively unlocked, re-playable, and become more difficult the further you advance.
The goal of Plane Wars is to destroy your enemy planes and take control of your enemy base. Each mission starts out in the basic mode where combat is straightforward. One you complete the basic mode, you can return to the mission and replay the mission under additional gaming modes.
The additional game modes include:
Blind Mode where the number of enemy ships is hidden.
No Energy Mode where you cannot use special abilities.
Sudden Death Mode you must defeat your enemy without the loss of any of your bases. If you lose one base, the game is over.
x2 Mode where your enemy is twice as stronger.
The game modes are progressively unlocked in the above order. Once unlocked you can return to that particular mission and replay each mode. However, when you replay the missions you will not be able to earn upgrade stars (more on this in a minute).
From the mission select screen, your upgrade star count will be displayed. Upgrade stars are earned with each successful mission and can be used to upgrade various aspects of your aviation fleet. Upgrades range from more firepower, more flight speed, increase plane production, and more.
Game Play
Game play is simple. You play from an overhead view of the battlefield with a small collection of friendly bases and enemy bases. The number displayed on each base is the number of planes available at each base. These numbers represent your defensive and offensive strength.
At the top of the screen, you will find your energy meter and a special ability icon that temporarily increases your planes power. As additional abilities become available, additional icons will appear across the top of the game screen.
Control your attacks requires you to tap/hold on the base in which you want to attack from and drag your finger to the base in which you want to attack. A large portion of your fleet will then launch and attack that base. If you want to save time and launch your attack from multiple bases, just drag your finger to connect multiple friendly bases and then drag your finger to the target base. This is a nice strategy to save time and quickly send a large number of planes into combat.
You also have the ability to transfer planes between bases and there will be neutral bases that can be conquered to give you a strategic base location.
As you launch your armada of planes to destroy the enemy, construction begins to replenish your army of planes. As you would guess, while you are managing your forces and directing attacks against the enemy, the enemy is doing the same against you.
If your squadron of planes intercepts an enemy squadron en route to its enemy base target, they will battle the enemy planes in flight. Any survivors of the skirmish will continue to attack the enemy base. There is some strategy involved for being successful at Plane Wars but for the most part you simply go toe-to-toe with your opponent. All of which gives game play a bit of a quickened pace.
Overall Impression
Plane Wars is a fun combat strategy game for your Windows Phone. The key is to upgrade your plan productivity early on to help avoid being overwhelmed by the enemy.
While an entertaining game, the game controls needs a little fine-tuning. When launching your planes if the enemy base is not highlighted just right, the launch will fail. More times than not, I would have to highlight the enemy base, hold my touch there for a second then release to see my planes head in that direction. The delay may not sound long but it gives your enemy forces time to rebuild or launch against your bases.
Plane Wars has plenty of challenges, nice graphics and entertaining game play. There is a trial version available for Plane Wars to let you try things out before buying. The full version is currently running $.99 and the game is compatible with Windows Phone 8 (including low memory devices).
You can find your copy of Plane Wars here in the Windows Phone Store.
Windows Central Newsletter
Get the best of Windows Central in your inbox, every day!
George is the Reviews Editor at Windows Central, concentrating on Windows 10 PC and Mobile apps. He's been a supporter of the platform since the days of Windows CE and uses his current Windows 10 Mobile phone daily to keep up with life and enjoy a game during down time.
Lies! There are no games for windows phone!

Asphalt 5, 7, 8; Temple Run, 2, Brave, Oz; Subway surfers; FIFA 13, 14; Modern Combat 4; Six Guns; Trials Xtreme 2,3; Where's my water, 2, Perry, Mickey; N.O.V.A. 3; The Dark knight Rises; The Amazing Spider-Man; Dungeon Hunter 4; Contre jour; Angry birds, Rio, Space, Star wars, Star wars 2, Seasons, Go, etc. But I agree there are "NO GAMES FOR WINDOWS PHONE" coz I'm sure you're gave it a serious thought about it and probably know a lot more than me..

U forgot the exclusive game of wp. Halo Spartan assault

From the looks of things, everyone knows a lot more than you.

As well as no Instagram, Facebook, vine, or any other apps that "matter"..... Oh wait..

I miss Tentacles!!!!!!!!!!!!!!!!!!!!!!!!!!!!!!!!!!!!!!!!!!!!! :(