Plant Guide for Windows Phone 8, an easy reference app for identifying wild plants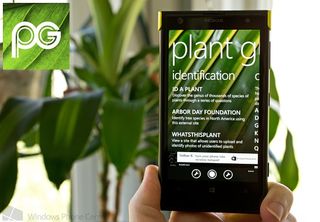 As the weather slowly begins to warm up, more time will begin to be spent outdoors. Should you have trouble identifying Poison Ivy from Scotch Cap, the Windows Phone 8 app Plant Guide might come in handy.
Plant Guide is a pocket reference guide that provides information on thousands of species of wild plants. The app also has support for HERE Maps should you get lost on your hikes or need to mark a spot on the map for reference. While it may not tickle everyone's fancy, Plant Guide makes a nice first impression and if you need help identify plants it is worth a try.
Plant Guide is laid out with main pages that include:
Identification Page: Here is where you can discover the genus of thousands of species of plants through a series of questions (Is it a vine plant? Does it have pine leafs? etc.), access the Arbor Day Foundation website and visit the WhatsThisPlant website where you can upload a photo of a plant for identification.
Directory: An A-Z listing of the plants in the Plant Guides database. The listing will include photos, scientific classifications and descriptive information on the plant.
Useful Pages: This page has information on poisonous plants, on learning leaf margins, and on learning the differences between the various types of compound leafs.
At the bottom of the page you will find control buttons to turn your Windows Phone camera light on and off as well as a control button to view your location on HERE Maps.
In tinkering with Plant Guide for a short while, it comes across as an informative, nicely laid out reference app for Windows Phone 8. I can see it coming in handy while camping or just trying to identify plants to avoid due to allergies or their poisonous character.
For some identifying plants may sound about as fun as watching paint drying but if you spend any time outdoors, it could help you avoid the need for Calamine lotion. Plant Guide is a free, ad-supported Windows Phone 8 app and you can remove the ads with a $.99 in-app purchase.
You can find Plant Guide here in the Windows Phone Store.
Windows Central Newsletter
Get the best of Windows Central in in your inbox, every day!
George is the Reviews Editor at Windows Central, concentrating on Windows 10 PC and Mobile apps. He's been a supporter of the platform since the days of Windows CE and uses his current Windows 10 Mobile phone daily to keep up with life and enjoy a game during down time.
So much excitement for Office and Apple to plants for WP. Lol next week cannot get here soon enough. We need some morale boost for WP.

Also can't wait next week, but anyway I dont get mean. This is quite an interesting app for those spendig a lot of time outdoors, e.g. ME! downloaded it!

Nice. All I need is a fish one now.

Hmmm...I'm not finding Rodney's moms bush in this app.

Ahaha! You should get in touch with the developer!

This app is all about botany?

For medicinal purposes only

Plant Guide dev here. Thanks for the article! If anyone has any questions or comments, feel free to comment here or email me at JudgeDanielApps@outlook.com! :)

would it be possible to add identification via the camera one day?

that would be killer, like the app that identifies animals by thier sound.

@krayziehustler I intend to add the ability to upload to imgur/whatsthisplant subreddit. It will cost money to use the imgur API, though, so I'll probably just make it an IAP that comes with the ad-removal. @simphf I turned a lot of them when I was trying to get the compass to work and forgot to turn them off. Sorry. I can turn them back off with the next update. @KFBradley Once I get more established, I intend to make an option that will let users download information after install. The app would just be too big to have all of that information built into the app.

Can I ask why it needs access to my phone dialer? Among other things.

Yeah, those are remnants from when I was trying to get the compass feature to work. I failed miserably because I'm such a novice programmer, but still plan to return to them after the ID section is complete. I'll take off the unnecessary access requests in the next update.

phone dialer and "other things" is mandatory for the ads in the app. Here is what "Danglingneuron" explained to me in another post (Super Polygon) 2 days ago: Here is what Microsoft's website say about this: Phone Dialer: This capability is required to support "click-to-call" features in ads or on click-through web pages. Media Photo Lib: This capability is required for ad products that allow users to save an offer coupon to the phone's media library for later use. So its just for saving coupon image to your photos folder. By the way, apps can not read stuff from your phone without your permission and send it anywhere. I have not worked with Imaging apps, so I cannot give you a definite answer.

It's too bad this app is mostly just links to online content. It needs offline content to really be useful out in the middle of nowhere.

You're no glamper. Get back to unwashed camp.

Does this app have infomation about plant/trees and regions they grow in? That would be helpful to have.

could use a simple diagram for each choice to help decide.

I could see this being nice to have in some cases, but I'll have to say I'm a little disappointed after I read the headline. Saw Plant* and immediately thought maybe there was some Plants vs Zombies info.

This seems cool. There have been many times that I've wondered..."what is that?" While walking or hiking. I will download and submit feedback directly if I come up with any suggestions.

The survivalist in me says this may be useful. The realist in me weeps for the lack of natural ac/dc sockets in the wild

You can always get some portible chargers. :) http://www.nokia.com/global/products/accessory/dc-19/
Windows Central Newsletter
Thank you for signing up to Windows Central. You will receive a verification email shortly.
There was a problem. Please refresh the page and try again.