Play OMG! Aliens for Windows Phone and blast 8-bit aliens into oblivion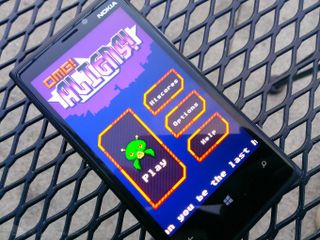 Here's a fun game to check out. It's called OMG! Aliens and is for both Windows Phone 7 and 8 users. Gameplay is similar to most other 'Space Invader' like games and I'm really digging the 8-bit retro feel, both in aesthetics and music. Browsing the Windows Phone Central forums (opens in new tab) is a great place to find all sorts of new apps and games you might not otherwise come across. Lurking in there, I found OMG! Aliens (opens in new tab) and decided to give it a shot. Glad I did.
From the Windows Phone Store: "The wiggly 8-bit aliens clearly have a bad memory. Once in a while they forget that trying to invade Earth is a silly thing to do, and that's exactly the case. Join Doc on his quest to ward hordes of pixellated wannabe conquerors off his planet!" Here are some features of the game you can look forward to:
An action-packed adventure with a retro arcade feel.
Three difficulty modes, including a hardcore one.
Endless random waves put your skills to an ultimate test.
Four stunning super weapons to blast your way through!
Over 30 achievements to unlock!
It's straightforward and not too hard to explain the game. It's just like Space Invaders, but just for Windows Phone. The ability to switch between tilt or touch controls was nice. By default you'll be using tilt to control your gun, but I found touch to be more for me.
The price is set at a reasonable $1.50, but includes a trial so you can check it out before buying. Take my word, at the very least do the trial and see what you think of it. I'm having mindless fun with it right now. You can grab the game right here in the Windows Phone Store or use the QR code below.
Source: Windows Phone Central Forums
Windows Central Newsletter
Get the best of Windows Central in in your inbox, every day!
Aaaaaaaa Haaaaaaaaa!! first comment. . . smile

30 achievements, but not Xbox live? Why on WP then? Sounds more like Android or iOS to me.


You realise getting Xbox LIVE status is freaking hard, right? You can't just add XBL achievements to a game you choose to make, Microsoft has to like your game and it has to pass a bunch of other tests.

It usually takes a bit, before it shows up on your Xbox, some times I find that restarting the console helps, but not always works.

None of these comments make any sense. WTF have you all been sniffing? ;)

I saw this in the forums last night. Nearly bought it. Had it been £0.79, I would have gone for it. Is it any good?

I'm sorry, but ever since I got my WP, I buy a lot of games for my phone. Loads more than ever before. Almost all available Xbox games, I've bought. Will Not buy indie games, so to speak. That's for Android & IOS. That's why WP Has Xbox!

I did the $ame I am a bit of an Achievement junky myself! Love adding to my overall gamers scores any way I can!

Great looking game but difficult to control comfortably on the slippery Lumia 920 that wants to slide out of my hands when holding it vertically with both hands. Should have had a volume control since the OS doesn't. If that is possible. Not the game's fault. WP8 should have had some sort of volume center with separate levels for alerts, ringtones, speaking volume and music playback.

Looks like a fun game, but it seems to need a lot of permissions for a space invaders clone.

Agreed. I was going to try it until I saw it wanted to access my pictures and videos as well as other data it doesn't need to function.

Hey everyone! I'm really glad you liked my game. Thanks for the awesome review, Sam!
We're looking forward to your comments and suggestions and will do our best to implement them in the updates.
As for the set of permissions mentioned by Alphageek_UK, it's most likely due to Bugsense being used in the game to send crash stacktraces automatically.

And where is OMG from the XBox ???? Nokia 920 has Dual core Snapdragon S4 - for such a shit ????
Windows Central Newsletter
Thank you for signing up to Windows Central. You will receive a verification email shortly.
There was a problem. Please refresh the page and try again.