PlayerUnknown's Battlegrounds (PUBG) Xbox One update adds new Western Military crate
PlayerUnknown's Battlegrounds (PUBG) has received an update on Xbox One, adding new cosmetics under the "Western Military Crate."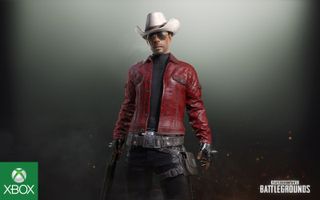 PlayerUnknown's Battlegrounds (PUBG) has received a new update on Xbox One, delivering new features and fixes to the Xbox Game Preview version. The game's twelfth update promises to improve stability and balance on the console while debuting a new cosmetic crate based on a western theme.
The "Western Military Crate" introduces a new pool of randomized gear, including new tops, trousers, boots, and other cosmetic items. Among the most coveted gear in the crate is a black military skirt, white cowboy hat, and faux leather jacket. Drop rates start at 20 percent for standard items, while the skirt sees a drop rate of just 0.0064 percent. Further details on the crate's contents can be seen in our cohesive list of PUBG cosmetic items.
This week's update also delivers a lengthy list of tweaks and fixes, affecting gameplay balancing, user interface stability and other aspects of the game. Changes have also been made to the backbone of vehicle and grass systems, further optimizing for the console.
For a full list of changes, check out the latest update changelog, as provided by Ryan Rigney, Communications Lead for PUBG.
As of tomorrow, Patch #12 will hit live servers. This time around we've got some crucial bug fixes and optimizations for various parts of the game.
Optimization and Stabilization
Partially optimized the vehicle system. The dust effect caused by friction with the ground during driving has especially been optimized, and the vehicle system has been improved in part.
Fixed a problem with voice chat that caused some crashes.
Grass objects in Erangel have been optimized and will continue to be optimized going forward.
Gameplay
Fixed a serious bug that caused vehicles to flip or get airtime for no reason. This includes the three-wheel bike.
Fixed an issue where under certain circumstances the character would be upside down or seated in a strange position when moving seats while riding in vehicles.
Player will receive more damage in a vehicle collision. The heavier the vehicle, the greater the damage inflicted upon the player. Also, players are now more likely to die or be knocked out when colliding with a vehicle running at high speed.
The vehicle passenger will receive more damage when the vehicle crashes into an obstacle like a wall or tree. When crashing into something at high speed on a smaller vehicle, such as a motorcycle, the player will take much more damage.
Fixed issue causing the 4x scope to be excessively reflective.
UI/UX
Fixed issue causing certain UI layouts not being properly aligned.
Fixed issue of buttons bound to the UI(map, inventory etc.) affecting vehicle operation.
Fixed issue of equipment icons not shown properly on the HUD.
Fixed issue of LT, RT scrolling not working in the inventory when using controller preset B.
Fixed issue of excessive acceleration when the stick is tilted more than a certain angle depending on the R stick acceleration setting.
Fixed issue of team member indicators incorrectly showing on the plane
Other Bug Fixes
Removed collision of discarded magazine on the floor after reloading.
Fixed a cosmetic bug that occurred when characters wore certain clothing or shoes.
Fixed issue of fonts breaking up in case of certain languages.
Scheduled fixes for identified issues
When changing the deadzone settings in the lobby, the options screen needs to be opened once again for the settings to be reflected. This issue will be fixed soon.
Cosmetics
Added a new free crate ("Western Military Crate") that can be earned with BP.
What do you think of today's changes? Make sure to drop into the comments with your thoughts.
Complete list of PlayerUnknown's Battlegrounds (PUBG) Xbox One crates and cosmetics
Matt Brown is Windows Central's Senior Editor, Xbox & PC, at Future. Following over seven years of professional consumer technology and gaming coverage, he's focused on the world of Microsoft's gaming efforts. You can follow him on Twitter @mattjbrown.
I wish they added a 60fps crate....at this point I wish they would just add a 30fps crate...

Exactly lol, the frame rate is horrible.

Please..fix the fps first..its getting like fortnight with costumes..

You need to fix the match making glitches, the map rendering, the shooting dynamics, and bring back proximity chat like PC. We like the trash talking it makes it more fun. We love the game hands down, but it needs to be worked on. Nothing pissed off the community more than xbox being put on the back burner so mobile could get going. We've waited and waited so it's time to make good.

Lord...th baiming in this is awful. There needs to be some aim assist...it is good awful trying to hit anything on this mess.

Yeah exactly I was there about worrying about skins and cosmetics and how the game works show worry about the freaking mad how crappy it is when sure all the people worry about the FPS then worry about the cosmetics please

I've been playing this game since day one and in reality I love this game I love for his game there's just something about it but I just don't trust I don't trust the data without most work trying to make this game payable I think they'll make this game playable to anyone who has crappy Internet or doesn't really have the talent they want more people to play it that people actually have talent there won't worry about the numbers I don't think through holes and fasted for Xbox because look at PS for example how tall it registered and everything registers on PC and still they still have a problem with Pc and registration of bullets and Pc I don't think there'll ever make it on Xbox and they'll quit before they have a finished game.
Windows Central Newsletter
Thank you for signing up to Windows Central. You will receive a verification email shortly.
There was a problem. Please refresh the page and try again.