List of PlayerUnknown's Battlegrounds (PUBG) Xbox One crates and cosmetics
Looking to get stylish on the harsh battlefields of PlayerUnknown's Battlegrounds? These are all the crates and their cosmetic contents.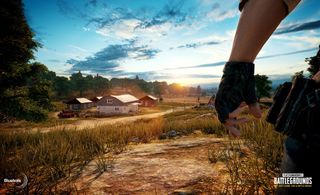 PlayerUnknown's Battlegrounds (PUBG), one of the biggest games of 2017, has made its Xbox One debut following a wave of a success on PC. With tense 1 vs 100 "Battle Royale" gameplay, players will fight to the death in a shrinking area, until a single player emerges victorious. Delivering a majority of content seen on its flagship platform, Xbox One owners gain access to everything needed for the true PUBG experience.
PUBG might not offer an overwhelming among of content, but to make for this, its gameplay is remarkably replayable. Building on its core gameplay loop, the game also features an accompanying progression system. After spending time in-game you'll get the chance to unlock cosmetic items, helping your character stand out on the battlefield.
More: PUBG for Xbox One is unique and intense, but rough around the edges
How PUBG's cosmetics system works
When playing PUBG across any of its modes, after completing a match, players are rewarded with an in-game currency, Battle Points (BP). Various factors affect how much BP is earned per match, including your end-of-match ranking, total kills, and player hits.
In the game's menu, players can redeem BP in exchange for randomized crates. By purchasing a randomized crate, you'll be provided with one random crate type, providing access to an item from the crate's set collection. Multiple crate types are currently offered in-game, with more expected to debut going forward.
The price of crates starts at 700 BP, however, after purchasing each crate, the price raises. Players are also limited to only six crate purchases a week. This price resets on a weekly basis but throttles the number of crates that can be earned over a short period of time. Microsoft has also released a set of limited-time crates to promote the game's Xbox One debut, purchased with real-world money.
List of crates in PUBG for Xbox One
As of launch, two crate types are available with in-game credits in PUBG for Xbox One. Early adopters also had the chance to purchase three limited-time crates, using real-world money.
List of all cosmetic items in PUBG for Xbox One
Wanderer Crate contents
As first seen in PC version of PUBG, the Wanderer Crate is a standard crate purchased using BP. With the purchase of this crate, you'll be getting one randomized item, from the crate's set potential contents. This crate contains items found on the floor around the game's map and one of the game's rarest items, the blue pleated mini-skirt.
Ballistic Mask
Bloody Combat Pants
Blue Hi-top Trainers
Boots (Punk)
Cargo Pants (Beige)
Cargo Pants (Blue)
Cargo Pants (Khaki)
Dirty Tank-top (White)
Floral Shirt
Gas Mask (Full)
Glasses (Punk)
Hotpants (Blue)
Long Sleeved T-shirt (Striped)
Long-sleeved T-shirt (Black)
Long-sleeved T-shirt (Light Blue)
Mandarin Jacket (Blue)
Padded Jacket (Urban)
Pleated Mini-skirt (Blue)
Protective Sunglasses
School Shirt (Open)
School Shoes
Slacks (Blue)
T-shirt (Red)
T-shirt (Striped)
Tank-top (Charcoal)
Working Boots
Survivor Crate contents
The Survivor Crate is another standard crate, obtained using BP. This crate contains one randomized item upon purchase, including combat pants, trench coats, and other cosmetic items. Players also have to chance to obtain the purple pleated mini-skirt, which is the rarest item in this crate.
Baseball Cap
Beanie
Brown Hi-top Trainers
Checkered Shirt (Red)
Checkered Shirt (White)
Combat Pants (Black)
Combat Pants (Blue)
Combat Pants (Camo)
Combat Pants (White)
Fingerless Gloves (Camo)
Fingerless Gloves (Tan)
Grey Boots
Matched Grey Shirt
Mini-skirt (Purple)
Padded Jacket (Beige)
Padded Jacket (Camo)
Padded Jacket (Khaki)
Shirt (White)
Slacks (Purple)
Trench Coat (Black)
Trench Coat (Camel)
Trench Coat (Grey)
Trench Coat (Red)
Vintage Baseball Hat (Black)
Vintage Baseball Hat (White)
Women's Tuxedo Jacket (Purple)
Biker Crate contents
The Biker Crate is the third standard crate available in PUBG, once again obtained using BP. This crate contains cosmetics based around a biker theme, including padded jackets, combat pants, and various other stylized gear. Players also have the chance to obtain a checkered cloth mask in this crate, as its rarest item.
Aviator Goggles
Beanie (Gray)
Biker Pants (Black)
Biker Pants (Gray)
Cloth Mask (Checkered)
Dirty Long-sleeved T-shirt
Floral Shirt (Black)
Floral Shirt (White)
Gas Mask (Half)
Long-sleeved T-shirt (Red)
Padded Jacket (Purple)
Patrol Cap (Brown)
Patrol Cap (Gray)
Polka Dot T-shirt
Princess Power Tank-top
Raglan Shirt
School Shoes (Black)
School Shoes (Brown)
Skinny Jeans (Khaki)
Skinny Jeans (Pink)
Sleeveless Biker Jacket (Black)
Sleeveless Biker Jacket (Brown)
Sleeveless Turtleneck (Gray Striped)
Sleeveless Turtleneck (Red)
Sneakers (Black)
T-shirt (Pink striped)
Western Military Crate contents
Battle Belt
Camo Tank Top (Red)
Cowboy Hat (Brown)
Cowboy Hat (White)
Faux Leather Jacket
Leather Bootcut Pants
Long Sleeved Turtleneck (Black)
Military Boots (Black)
Military Cap (Black)
Military Jacket (Black)
Military Shirt (Gray)
Military Skirt (Black)
Military Trousers (Black)
Polo Shirt (Pink)
Raglan T-shirt (Red/White)
Tank-top (Gray)
Utility Belt (Brown)
Vintage Gas Mask
Vintage Polo Shirt
Desperado Crate contents
Aviator Sunglasses
Baggy Pants (Black)
Baggy Pants (Brown)
Beanie (Brown)
Checkered Jacket
Cloth Mask (Leopard)
Horn-rimmed Glasses (Black)
Horn-rimmed Glasses (Brown)
Leather Boots (Black)
Leather Boots (Brown)
Leather Hoodie (Black)
Leather Hoodie (White)
Long Leather Boots (Brown)
Long-sleeved Leather Shirt
Punk Knuckle Gloves (Black)
Punk Knuckle Gloves (Red)
Sleeveless Turtleneck (Black)
Sleeveless Turtleneck (Gray)
Striped Shirt (Gray)
Striped Tank-top
Training Pants (Light Blue)
Wide Pants (Red)
Fever Crate contents
Checkered Shirt (Coral)
Combat Gloves (Khaki)
Combat Pants (Coral)
Cropped Corset
Denim Bootcut Pants
Floral Retro Jacket
Hi-top Canvas Sneakers (Pink)
Mesh Polo Shirt
Retro Polo Shirt
School Shoes (Beige)
Zest Bootcut Pants
Zest Checkered Skirt
Zest Denim Jacket
Zest Loafers with socks
Zest Retro Jacket
Zest Silk Scarf
Zest Sunglasses
Zest Turtleneck (White)
Aviator Crate contents
Countryside Sneakers
Denim Shirt with Necktie
Desert Shemagh
Feathered Shirt
Fringed Hotpants
Lazy Sunday Sweatpants
Leather "Skyrocket" Jacket
Lightbringer Shirt
Paddy Cap
Pilot Pants
Snake Skin Sneakers
Suede Aviator Cap
Tactical Gloves
Vintage Aviator Goggles
Violent Violet Jacket
Warrior Crate
Green Pattern Balaclava
Green Pattern T-shirt
Green Pattern Pants
Green Pattern Hi-top Trainers
Accessory Crate contents
Green Pattern Cap
Green Pattern Fingerless Gloves
Tracksuit Crate contents
Xbox Tracksuit Top
Xbox Tracksuit Pants
PUBG 5 Pack contents
PUBG 5 Cap
PUBG 5 Cuffed Jeans
PUBG 5 Hi-top Trainers
PUBG 5 Long Sleeved Shirt
Bounty Hunter Set contents
Combat Pants (Grey Camo)
Dirty Tank-top (Grey)
Sunglasses
Worker Jacket
Pre-Order Crate contents
PLAYERUNKNOWN's Bandana
PLAYERUNKNOWN's Trench Coat
PLAYERUNKNOWN's Shirt
PLAYERUNKNOWN's Pants
PLAYERUNKNOWN's Boots
Xbox 1.0 Set contents
Xbox #1.0 Hoodie
Xbox #1.0 Sweatpants
Parachute
Xbox 1.0/99 Set contents
#1.0/99 Pants
#1.0/99 Jacket
#1.0/99 Shirt
#1.0/99 Shoes
Xbox G Suit Set contents
Xbox G Hoodie
Xbox G Sweatpants
Updated September 12, 2018: Updated with the latest PUBG Xbox One crates.
Get the Windows Central Newsletter
All the latest news, reviews, and guides for Windows and Xbox diehards.
Matt Brown was formerly a Windows Central's Senior Editor, Xbox & PC, at Future. Following over seven years of professional consumer technology and gaming coverage, he's focused on the world of Microsoft's gaming efforts. You can follow him on Twitter @mattjbrown.