Plex Cloud lets you ditch your media server for the OneDrive, Dropbox and Google Drive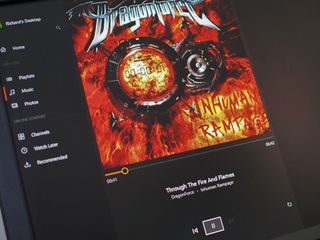 (Image credit: Rich Edmonds / Windows Central)
After a somewhat lengthy beta period, Plex has launched Plex Cloud (opens in new tab) for all of its Plex Pass subscribers. Now, any Plex Pass subscriber can store their media in a cloud account, rather than on their local network, and still access it anywhere through the Plex app.
The big benefit of this is, of course, that you should always be able to access your media content through Plex no matter where you are. That takes the onus off of making sure your PC or media server is always up, running and has a solid internet connection. That's an important distinction for anyone dealing with something like a power outage or even a dodgy internet connection.
Plex Beginners Guide: What it is, how to use it and why you need it
As of right now, Plex Cloud can connect to your OneDrive (personal), Dropbox or Google Drive accounts for streaming. The only potential barrier for anyone considering a move to cloud streaming over running your own server is cost; on top of Plex Pass' usual $4.99 per month charge, you'll also have to add in the cost of your cloud storage plan. And if you have a lot of media to store, that could definitely add up.
Dan Thorp-Lancaster is the former Editor-in-Chief of Windows Central. He began working with Windows Central, Android Central, and iMore as a news writer in 2014 and is obsessed with tech of all sorts. You can follow Dan on Twitter @DthorpL and Instagram @heyitsdtl.
I'm really disappointed they couldn't make it work with Amazon Drive. I had 7TB of media on drives that are starting to fail. I uploaded it all to Amazon Drive in anticipation, and then they cancelled support. No other service offers that much storage for a reasonable price.

I've heard the issue with Amazon is their slower download speeds compared to OneDrive, Google Drive and Dropbox.

Yeah I think that's probably it. When I tried to download my media again I was flabbergasted at how slow it was.

Not sure I understand the benefit of using Plex with OneDrive. If I can access my library from anywhere already with the onedrive app (like on xbox one) or over web browser, what's the advantage of using plex as a middle man?

Plex keeps tracked of what you watched, have to watch, and organizes it very neatly and cleanly.

Off the top of my head people using Roku or FireTv to name a few.

"with OneDrive" being the operative qualifier here.

Media-focused interface and apps on every platform.

Apart from the other media-library functions mentioned here, Plex Cloud will transcode the media for you. So even if it's in a format OneDrive doesn't understand, Plex should be able to.

Nice, I like the sounds of that. No converting necessary. Thanks for the info!

If Microsoft was smart they would have add this same feature to the video app. Similar to what they're doing with groove music and OneDrive. They would have gain a whole lot more of OneDrive or movie subscribes.

THANK YOU. I have been saying this forever. Their video app should work like Plex with your pc and devices. Problem is the idiots they have working on it cant even get it to work decently as a bare bones video player. Unless they fired everyone of them, those clowns would never be able to pull off anything remotely close to what Plex has done. Everything is so short sighted under Nutella. You'd also think that for someone who hasn't shut the hell up about "cloud" since he got here, would actually do something different with it eventually...but no.

Yeah I've filled up 6 TB of HD space on my media server in the past year. 1 Lousy TB of OneDrive storage wont help.

I'm in a similar situation, but think of it as a supplement to the main system. If I'm travelling I can either leave my server on and internet accessible, or push a selection of my library to the cloud. I certainly don't need every movie, show, and video when I'm on the move... and likely the internet speed will suck in the places I usually travel

True but how often do you access all 6TB of content? The OneDrive integration could be useful for when you're going on a trip and want a reliable way to stream your content from anywhere.

Did have all my media on OneDrive when it was 'unlimited' but had to remove it when they capped it again!

Will be great for my music

From Microsoft, Google, and Dropbox's perspective, how legal is this? Plex is intended for the media's owner to stream, but what's stopping someone from creating a dummy account with the intent to share the login credentials with anyone for free or even charging for access?

I still prefer to use my own NAS. It's a vastly cheaper solution in the long term and the things I have on it from streaming I also have backed up on BD discs anyway. But this is definitely good to have. In fact, Plex is pretty much a must have these days and whilst I never bought a Plex Pass (don't need it) I'm more and more considering buying a lifetime one only to repay the great work they do.
Windows Central Newsletter
Thank you for signing up to Windows Central. You will receive a verification email shortly.
There was a problem. Please refresh the page and try again.