Plex updates its Windows Phone app with a bunch of new features and fixes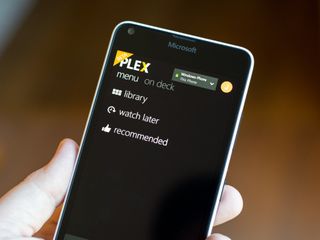 The popular media sharing app Plex has released a new version of its Windows Phone app, and it looks like this is a major update with a bunch of new features and fixes.
This new update brings the version number up to 2.1.1.1. While Plex recently became a universal app for Windows 8.1 and Windows Phone, this particular update is just for the Windows Phone version. Here's what's been added to the app:
(WP) (Camera Upload) Stalled uploads
(WP) (Prefs) Nww "send diagnostics" button in advanced section
(Video) Prompt to apply bandwidth metering when first video is played over metered connection
(Prefs) Moved bandwidth metering preference to media section
(Prefs) Music quality preference defaults to original
(Prefs) Live Tile controls
(WP) (UI) Music libraries are now three columns wide
Here's the list of the app's bug fixes in version 2.1.1.1:
(WP) (Activation) Some users were being asked to reactivate their phone app when it was already purchased
(Sync) Optimized storage usage calculation
(Sync) Deleted sync folder in recycle bin when device has no sync items
(WP) (Music) A number of problems playing music
(WP) (Music) Fixed music player orientation
(WP) (UI) Photo gallery lists now remember scroll position
(WP) (UI) Queue flyout was sometimes stuck under appbar (nown Microsoft bug)
(WP) (UI) Add to playlist dialog wasn't showing existing playlists
(WP) (UI) Multi-select works after going back
(WP) (Prefs) Fixed slider widths
(UI) Managed users are no longer listed as friends
(WP) (UI) Video player now shows advanced media info when preference is enabled
(WP) (UI) Going back to pre-play page no longer jumps to cast pivot when no extras are present
(Live Tile) Use available connection when asking for tile content from a server
A number of user-reported crashes
The Plex app went free earlier this year, but an in-app purchase is still needed if you want to use to some premium features.
Download Plex from the Windows Store
Get the Windows Central Newsletter
All the latest news, reviews, and guides for Windows and Xbox diehards.