Plex updates its Windows Phone app with a bunch of new features and fixes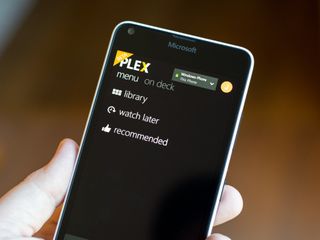 The popular media sharing app Plex has released a new version of its Windows Phone app, and it looks like this is a major update with a bunch of new features and fixes.
This new update brings the version number up to 2.1.1.1. While Plex recently became a universal app for Windows 8.1 and Windows Phone, this particular update is just for the Windows Phone version. Here's what's been added to the app:
(WP) (Camera Upload) Stalled uploads
(WP) (Prefs) Nww "send diagnostics" button in advanced section
(Video) Prompt to apply bandwidth metering when first video is played over metered connection
(Prefs) Moved bandwidth metering preference to media section
(Prefs) Music quality preference defaults to original
(Prefs) Live Tile controls
(WP) (UI) Music libraries are now three columns wide
Here's the list of the app's bug fixes in version 2.1.1.1:
(WP) (Activation) Some users were being asked to reactivate their phone app when it was already purchased
(Sync) Optimized storage usage calculation
(Sync) Deleted sync folder in recycle bin when device has no sync items
(WP) (Music) A number of problems playing music
(WP) (Music) Fixed music player orientation
(WP) (UI) Photo gallery lists now remember scroll position
(WP) (UI) Queue flyout was sometimes stuck under appbar (nown Microsoft bug)
(WP) (UI) Add to playlist dialog wasn't showing existing playlists
(WP) (UI) Multi-select works after going back
(WP) (Prefs) Fixed slider widths
(UI) Managed users are no longer listed as friends
(WP) (UI) Video player now shows advanced media info when preference is enabled
(WP) (UI) Going back to pre-play page no longer jumps to cast pivot when no extras are present
(Live Tile) Use available connection when asking for tile content from a server
A number of user-reported crashes
The Plex app went free earlier this year, but an in-app purchase is still needed if you want to use to some premium features.
Download Plex from the Windows Store
Man, the changelog. Best one ever. *tears rolling down

So many features in a single update. Sounds very interesting!

This update is a downgrade for me. I use Plex heavily for photos. It frequently crashes now when trying to view a photo, and I can no longer pinch to zoom. I've also been patiently waiting for the ability to download a photo locally, but nope...

I use it mainly for videos. Very light use for photos. While it is a nice update, I agree the photo viewing feature seems broken (at least when remotely accessing my server). I can't even load any photo of my picture libraries; I can only see the thumbnails. However, remote video streaming from the same server still works perfectly fine. I'll check if the picture viewing issues are reported at their forum. I'll post something if not.

Best app ever! Support them and buy their plex pass!

Lifetime subscriber for a while now. Totally worth it.

Well here we are again, another update. Shouldn't update usually makes things better? Well not the case with Plex app. I use it mainly for music and I was really pleased with the first beta release but updates after that made the app unusable. It keeps getting worse and worse. So here's the problem: While I browse my music collection using the 'by folder' filter, I can reach until the artist's folder but once I tap it to reveal the songs, the app will crash so playing a track is impossible cause it will crash before I can choose a song.

Ouch! Have you notified them on their short forums?

The new UI update on Roku is also awesome.

Improved and they removed the cost to use it on Roku.

If only it had remote control feature

I don't know WTF is this.
I signed up, there's no medias at all.

The app is just a client, you need to be running the plex media server software on your PC that has all the media.

Wow, they took a page right out of Microsoft's playbook--they introduced a new version of their software and made it worse than before. What in the heck are they thinking?! This new version is still super buggy and slow. They have fixed many things, but it still crashes often. They should have allowed us to keep the old version while they worked on the beta.

+1. Not many issues for most of the use I give to it, but I agree a beta version should be a separate download.

Sao không nghe nhạc được ?

Doesn't play vobs. I'm not converting my entire library because they can't support this format

mine still crashes on the desktop all the time and i cant cast from my miricast and windows phone with plex. Its all becoming fustrating.
Windows Central Newsletter
Thank you for signing up to Windows Central. You will receive a verification email shortly.
There was a problem. Please refresh the page and try again.