Podcast Lounge hits version 1.8, introduces continuous playback and more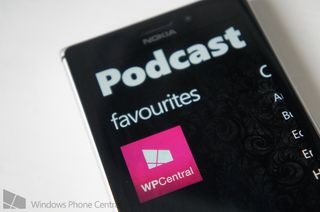 Podcast Lounge is a popular app for Windows Phone, enabling users to check out and enjoy thousands of recorded shows while on the go. We've been covering the app since it appeared on the Windows Phone Store, witnessing the developer publish multiple versions with each introducing new features and functionality. We're now on version 1.8 and this is no minor refresh, so let's jump in and see what's new.
There's a lot here that'll make avid podcast fans real happy. Continuous playback will ensure there's no interference with the experience should there be a newer episode within the same programme (perfect for catching up on favourite shows), as well as a collections section with podcasts from major providers (which will grow in the future as more are added) - even the Mobile Nations is featured here! To join the new collections is a play history section.
Completed podcasts can now be automatically deleted by the app, should the user so wish to have this functionality configured. The favourites pane will now show when new episodes are available (the app will check on start-up and users can force a check using pull-to-refresh). OPML files are supported, though this is exclusive to the Windows Phone 8 version of the app. Apologies, retro fans!
As well as the above, the developer has also included a number of fixes and under-the-hood optimisations, which also focus heavily on hardware with low amounts of memory. That's not a bad update. So what's next on the horizon for Podcast Lounge? We've been informed the team is already working on gPodder import, SkyDrive import and export, as well as addition playlists/digest support and improved playback controls.
You can download Podcast Lounge from the Windows Phone Store for $1.99 (£1.49). A trial is available and the app supports both Window Phone 7 and 8.
Rich Edmonds is Senior Editor of PC hardware at Windows Central, covering everything related to PC components and NAS. He's been involved in technology for more than a decade and knows a thing or two about the magic inside a PC chassis. You can follow him over on Twitter at @RichEdmonds.
Yes! Glad i bought this a while ago. Much needed features especially the auto-delete. Still got to wait for GDR2 to use automatic downloads :(. Now i can mark multiple items as played, but it would be cool if i can mark all previous items as played.

@ Cubeddd - we've been waiting for GDR2 since Christmas. Been a long slog after we flagged the broken API to the WP dev team. Unfortunately we missed the deadline for GDR1, hence this long painful wait for one of the crowning features of our app. :o) Lumia 925 users get a head start as they've already got GDR2 pre-installed.
Regards, Richard (Podcast Lounge Developer)

I look forward to the day I can ditch my podcasts from my overflowing iPod and use my phone. Have you added a scrub bar to the software? That's really useful for podcasts where you need to skip parts. Thanks.

@ mskenny - we've got that in beta but not happy with how it looks just yet. That will be in the next major release.

Does it play bbc radio podcasts?

@ShadowShataan Yes! This new version makes it even easier by carrying the complete BBC podcast catalogue in a separate search-able section.
Regards,
Richard

That's awesome...downloading now! Keep up the great work!

Yes! Yes! Yes! I've been waiting on these features for awhile. Check the full change log. There are about 50 bug fixes and changes!

Auto-delete is a great addition. I really would love to see them just expand the possible actions when selecting multiple episodes. Right now you can only select multiple episodes for download. Would be nice to also have the option to select multiple episodes and then "mark as played" or "delete".

Hey Chris - The new version now allows you to do this BTW. (Select multiple episodes and mark as played).
We're going to be adding filtering (by new, played, downloaded etc.) in a future update - had to pull it from this release due to some late bugs.
Regards, Richard (Developer of Podcast Lounge)

BTW, this is my favorite podcast app on WP8. I've tried maybe seven or eight different ones but came back to this one after a recent update really improved the performance.

You and me both. I tried multiple podcast apps, even the built in MS podcast feature. This app was the best.

Reviews here say its good so I'm going in.

The ability to backup my favorites, etc via SkyDrive (or email) would be nice.

@ seenable - You can export favourties to an email with today's version via the export tab under settings. We're working on SkyDrive upload/download for the next major release.
Regards, Richard (Podcast Lounge Developer)

Hah. Have had a million and one feature requests for this app, since it's got a beautiful foundation. It keeps getting better and better, so kudos to the developers. The headlining feature for me here is the update check on start.

This app and it's feature set puts the native MS solution to shame. I can't use it though, OS limitation inhibiting SD card saving coupled with an L820, 2 gb of 'other' and a Nokia Music subscription (that also can't save offline mixes to the SD card) means I just don't have enough storage to take advantage. I muddle on in frustration with MS podcast solution that can't even cater for auto playing the next episode.

One of the worst things on WP (since they killed the awesome ZUNE and its excellent podcasting abilities) is podcasting I have only found 2 apps that will work for me at all. 'Podcast picker' & 'Podcatcher' but its still a chore to keep up with them.
Its pretty simple for me, I just need it to login to web podcast with password, auto download ones not previously downloaded, go to the last one I was listening to when I open it up, keep up with ones I've not listened to and hopefully delete ones I have. Does this it allow importing password protected web podcasts? and does it handle podcasts without making it a confusing mess?
I would pay quadruple for a quality podcast app!

@NH3MAN - Right now we don't support password-protected podcasts, but it is in our development plan for a future update. Sorry to disappoint. We have got a working concept running, we just need time to implement it into the released version. Regards, Richard (Podcast Lounge developer)_

Thanks for the response. I have checked it out before and in some ways its the best but I know there are many like me that have password protected podcasts not in the store and don't want to deal with iTunes so implementing that feature would surely make it a favorite of many more.

When is a podcast app with variable playback speed coming? I still carry my old Android phone with me everyday for my podcast device

@fredmarkle - this is unfortunately an OS API limitation right now. There are ways to do it, but not without pre-processing the file beforehand which sounds like more trouble than it's worth. If enough people ask Microsoft for it, then I'm certain they will prioritise it on their list. ;)
Richard

@fredmarkle - unfortunately that's an OS/API limitation right now. There are probably ways to do it by pre-processing the file, but that will be slooow on the phone I suspect. If enough people ask for it, then I'm sure Microsoft will take not and reprioritise the capability. ;o) Richard

doesn't WP8 have itnegrated podcast functionality? this app looks nice but what features over the integrated functionality will it give me?

@tvolpe86 - the integrated podcast player is restricted to US users only. From what we hear it's pretty basic but nicely executed. The catalogue is reasonable, however we use multiple libraries to ensure even the most obscure podcasts show up.
Enjoy! Richard

Opml support is huge! I'm just shocked how much they have improved this app. Best on ANY platform.

I currently use Wpodder, but would be open to try something else if a podcast product came along that could save podcasts to the sdcard... now I know a lot of people say that's a restriction of the OS, yet my soundcloud app (audiocloud) has the ability to save to the sdcard indirectly, by way of saving it to your music collection, which is set up to save to your sd. Does anyone know of a podcast product out there that can do this? Until we get the 'other' memory allocation problems fixed on the lumia 810, I'm stuck scrounging for storage space...

Nice update,
They just need to add scrubbing and the ability to play vidcasts with lockscreen on (sound only) so I can still listen to my vidcasts when I have to lock the screen. If they add those two features I would switch back to Podcast Lounge. They definately have the best catalogue and I love the new collections.
Windows Central Newsletter
Get the best of Windows Central in in your inbox, every day!
Thank you for signing up to Windows Central. You will receive a verification email shortly.
There was a problem. Please refresh the page and try again.