PoGo-UWP beta update for Windows 10 Mobile fixes issues with Pokemon and Pokestops disappearing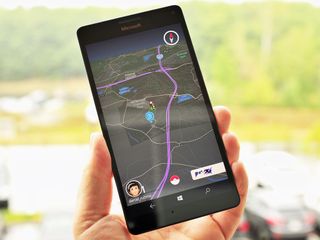 The developer behind the third-party Pokemon Go app PoGo-UWP for Windows 10 Mobile has updated its beta to version 1.0.7. It fixes a couple of issues relating to Pokemon and Pokestops disappearing in the app.
The new version fixes an issue that was reported that Pokestops were disappearing from the map while the person was moving. The other bug that was fixed related to an issue after some people caught a Pokemon. It would then disappear from the map, then it would reappear after a few seconds, and then it will go away again in an endless loop.
PoGo-UWP Full Changelog (since initial public release)
Fixed Pokestop dissappearing while moving
Fixed Pokemon dissappearing issue
Fixed crash on loading
Bug fixes and improvements
Removed perfect shot every time player throws the ball
Changed Pokestop icons to purple on already used Pokestops
Added update notification
Prevented lockscreen while playing
Fixed crash when running on desktop
If you have already downloaded and installed a previous version of PoGo-UWP and want to update to 1.0.7, you will need to uninstall the app from your phone by long-pressing and selecting uninstall from the app list. Then, download the latest files from the link below, and follow the steps in our How To article to install the new version. (You also try to just redeploy the new appx file and overwrite the existing one. You do not need to reinstall the dependencies if you go this route).
Windows Central Newsletter
Get the best of Windows Central in in your inbox, every day!
Just waiting for Google Account sign in, and then I'll be on board!

Yeah, exactly. At first I didn't realize that and installed the game. Nothing shows up. Not a single Pokémon.

Me too. I'm not starting over now that I'm at level 22.

According to Github the Google account sign-in is on the map for release 1.1.0

Will it available in the Store?

Probably not. It is technically stealing a companies IP to put it on another platform. The one saving grave is he isn't charging for it. I don't see this app being in the app store unless Niantic hires this developer to do a true port of the app.

That other wc favorite find em all is stealing IP, selling ads and in Windows Store.

The big difference is Find 'em All is using the PTC and the API to display the realtime location of pokemon. They're basically providing an advanced pawprint system. PoGo is stealing the game itself and trying to port it to another platform. There is a huge difference. Don't get me wrong, I'm still going to install PoGo. I was just answering the question.

TOS is very clear. Not allowed.

I have no doubt that websites like pokevision aren't allowed, but they aren't stealing. They are using the API as it was given to them to do something they said they wouldn't. That is a lie and not stealing. Regardless, the third party maps and PoGo are/were getting more people to play. No one wants to randomly walk around and hope a pokemon appears. They would at least like to know they're going in the right direction (pawprints). Niantic finally posted this morning letting people know they removed the tracking feature while they fix it. Hopefully it's fixed soon.

I just updated the 1.0.3 version with 1.0.7 and it was ok, no need for dependences again or delete the app

Will it be available in store in someday soon or no chance?

Someday, because it is likely that niantic and ms will pull the app down...

Why am i downgraded lol there are plenty of people who wouldn't want to download it by this way even if they know about it. I'm a huge fan of pokemon I really want to play this game but I'm still not sure if I will download it like this. Majority will agree with me

There is little to no chance of seeing this app in the Windows store. Technically PoGo is stealing Niantic's IP, but the developer made PoGo free to lessen their wrath when it comes. Hopefully Niantic hires the developer instead of bringing lawyers into it like other companies have done.

How do you access the Dev features over USB and not WIFI? Is it possible?

You need the dev tools to do so.

Just plug in to USB and pair using same method.

I'm not following you. Device is currently plugged in over USB 3.0 and can see my phone connected. Not sure how to pair though as it will wants me to connect using IP in order to access the app manager.

You can use this: https://visualstudiogallery.msdn.microsoft.com/f05c31d5-bc6e-4186-ad74-0...

Why does this have to be side-loaded?

I think it's because its not actually listed in the store, therefore it has to be side loaded since you can't download it from the store.

Because it isn't listed in the windows app store, and I doubt it ever will be. Unfortunately/fortunately sideloading is our only option.

Is the app stable enough to be installed and enjoyed????

It seems like it, but it is still very early. Features are still missing, and Google account signin hasn't been added yet. It wouldn't hurt to try it out and bookmark the Github URL to check back for updates.

If I overwrite, will it save game progress?

Game progress is server side, not client side.

PTC login down...how to overcome this..???

Just wait. It's no different than waiting for the game's servers to come back. https://ispokemon.online/

And from what i read check if everything is correct if you put something wrong email or password it will say again the same thing since developer has no way to know if the credentials you put are actually correct :P so you get same message even if you add wrong credentials

Maybe I'm out of topic but is it ok if i say "i love the windows community" :)

On an article about one of our developers pulling through for us, expressing love and appreciation for them is never out of place.

Wow!! Launched and updated in a day

I'm getting this error PTC login is down,please try later .....what to do..???

Yeah getting the same, I've uninstalled the oder 1.0.3 and used the previous 2 dependancies when re-installing 1.0.7. Hmmmm suppose we wait for a bit.

The PTC servers are more unstable than the game servers. They will come back ,so hold tight for a bit until they're back. check the server status here: https://ispokemon.online/

Here's a more detailed status: http://ispokemongodownornot.com/

Well this is coming together nicely hope they make the installation process simpler if possible

Probably won't ever be easy, but once you do the initial PTC account setup it's as simple as drag and drop for all future updates. I'm holding off until they add Google signin.

Instead of using wi-fi or USB to transfer the files, couldn't you download the files with Edge and select where you'd like to install them? I'm asking because I left my cable at home, and the work wi-fi won't let my browser located my phone. Plus doing it all from my phone, except the PTC account creation part, would be much easier.

Tried that, but when the phone asks you if you wanna install the app and you hit "install", nothing happens

After everything done, should I turn developer off?????????? Or keep it on?

Developer needs to remain on for the app to run.

Thanks, hope it won't effect the phone.

It shouldn't unless there is bad code in PoGo, but that's part of the risk you accespted when that message box appeared.

The Pokemon Go PTC servers have crashed. FIrst time in days. Think it has anything to do with this program?

I keep getting the same crashing issue as in the previous build.. Keep telling me to sign out and sign back in

v1.0.8 is just released. This development is going fast! https://github.com/ST-Apps/PoGo-UWP/releases/tag/v1.0.8-beta

Ok.. I've just downloaded and installed v1.0.8 and it still crashes on my 950 XL ... Maybe I'm using the wrong dependencies.. Can someone tell me which dependencies to use. Because I be deleting the app to get the latest version.. I would appreciate the help. But I think since this is a side app... How to videos should be posted with every update as well (for those like me who get confused at times).

yeah it also crashes on my phone

Uninstall and use 1.0.7. Should be fine.

V 1.0.8 is also out. Not running on my 1520. V 1.0.7 runs fine but doesn't have the perfect throw bonus seen in 1.0.3.

V1.0.8 is not working on my 950. V1.0.7 worked good. I think updating/installing is easy, just follow the steps. Thanks for your effort!

They re blocking all http://www.theverge.com/2016/8/2/12350198/pokemon-go-app-changes-niantic...

Lumia 1020 - OS-build 14393.5 !!! Now playing v1.0.12 seems much more stable. You want to see the disbelief in the eyes of Android gamers.

Everything has disappeared!!!! Noooooooooooo
Windows Central Newsletter
Thank you for signing up to Windows Central. You will receive a verification email shortly.
There was a problem. Please refresh the page and try again.