Point of View announces three affordable Windows 8 tablets, available this summer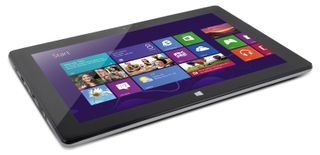 The Dutch company Point of View has announced plans to launch three Windows 8.1 tablets in mid-July, with two 10.1 inch models joining an 8-inch variant. The new affordable tablets will be powered by Intel processors and are able to run the full version of Windows.
Point of View has previously sold a number of Android tablets and phones but this is the first time they have sold tablets that run Microsoft's OS. The Mobii WinTab 100BW 10.1 inch model will have 1GB of RAM and 16GB of internal storage, while the WinTab 100W 10.1 inch version will increase the memory to 2GB and the storage capacity to 32GB. Both models will have a 1280x800 IPS LCD display, along with a microUSB and microHDMI port and a microSD card reader.
Both tablets will have Intel's Atom Z3735 processor inside with a clock speed of 1.83 GHz. There's also a 2 MP camera in the front and back. The tablets themselves are 9.8 millimeters thick and weigh in at 650 grams.
The smaller 8-inch Mobii WinTab 800W will have the same Intel processor that its larger brothers share, along with a display that has a resolution of 1280x800. Inside it has the same exact specs and ports that are featured in the larger WinTab 1000BW. The 800W is 8.75 millimeters thick with a weight of 450 grams.
All three of the new Mobii WinTab tablets come with a one year subscription to Office 365 Personal. The 800W model will sell for 169 euros, while the 1000BW and 1000w versions will have a price tag of 249 and 269 euros, respectively. There's no word if these products will be sold outside the Netherlands.
Thanks to Martino for the tip!
Source: Point of View via TabletMagazine.nl
Any idea about the battery? I am thinking of buying one as soon as available in India. ;)

On their site it is stated that the 8 inch has 4500 mAh, 3.7V or 16.65 wh and the 10 inch 6000 mAh, 3.7V or 22.2 wh

I think it's great to have affordable tablets running WIN8.1

The need 4 Gb of memory minimum though

Yeah, it's think-worthy how it'll do on a 1GB ram device

Y would these need 4gb when it isn't 64bit?

Windows 8 is really fast on the new intel processors.

Without ram, no.
XP was though...

Absolutely not! A lot of customers will buy them and they will be telling stories how useless is Windows 8. It was the same with Windows Vista and it was caused by allowing to install it on notebooks with poor config. I had notebook with Core2Duo, 4GB RAM and GeForce8600 and it was working without any issue. My friend had notebook with Celeron, integrated graphics and 1GB RAM and he was blameing Microsoft for lack of performance. Then he bought better config with Windows 7 and was repeting myth, that 7 is faster than Vista. It isn't only hardware has evolved. Microsoft shouldn't allov to install Windows 8 on devices without touch screen 2GB RAM or 64GB SSD.

You can't compare that with this. Newer Intel Atom doing fine when running windows 8

Be prepared, with cheaper price comes shitter products. Eg Android tablets

LOL... Don't know about Point of View but this is pretty much the case at least here...

I also worried about it too. Hope at least it's not that shitty as many Android tablets within those price range.
Just give us decent build, good UX, decent battery life, and consistent performance. I think it wouldn't be that demanding for cheaper price.

OSA is shit. Different from the Android AAA carriers use, which is optimized and overall more stable and smooth. Ex android user here.

Since they using Windows 8 not RT it would be all right. 2GB ram + New Intel Atom Done Fine for windows 8.

Windows 8.1 works just fine on this low-budget tablets with those specs. Android needs more CPU power, so that's why Android most times is crappy in the low-budget market.

I'm still waiting for surface mini to be launched rather than buying other windows tablets

I'm with you there.....
Taxi

Point of view = POV? :'D lmao

Yes... That's exactly what it means, even in porn (if that's why you were laughing)

I know that it means the same in porn too... It's just a bit funny, in my view... But okay, don't laugh and just continue living your sad life huh

I think POV is Graphic Card Vendor ._. I used to have POV GTX 560 at my PC

It's good to have the power or the POV chip when watching POV!


Sounds good! I'd like to see windows 8 tablets made available here in Qatar. This does not mean that there are no windows 8 tablets available. This only means there are very few to choose from.

Great !!! New OEMs joining Windows... Bye bye droids... :P

But how will win 8 work on 16 gb internal storage? What will be the user storage 2 gb?

Yeah. On a dell 32gb. Your lucky to ever have 10 free. Have to zero videos and apps.

Can you save apps and games onto micro SD with these or has that not been added to Windows 8.1 yet?

I'll pass. Need that surface 3 in my life! I'll sacrifice affordability for performance any day!

That naming scheme is so confusing. I was like, a 800w laptop??

I used to have pov's graphics card way back in 2006 for my pc n its still working on my dad's pc.... Good quality product Just as there football...

+1 for slipping in a World Cup shout out!

Is it so hard to put an normal usb port in a tablet??
Windows Central Newsletter
Get the best of Windows Central in in your inbox, every day!
Thank you for signing up to Windows Central. You will receive a verification email shortly.
There was a problem. Please refresh the page and try again.