Poll: Are you getting an Xbox One S?
Are you buying, or are you saving your money for something with a bit more sting in its tail?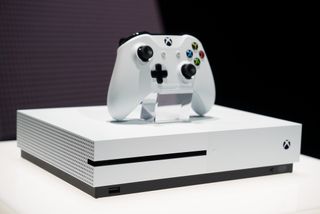 During the #XboxE3 event on Monday, Microsoft made the bold step of announcing not just one, but two new pieces of console hardware. On one hand we have the Xbox One S, a slimmed down and slightly upgraded version of the original console. On the other we have the absurdly impressive sounding Project Scorpio, promising native 4K gaming and VR support.
For some that poses a genuine dilemma. Do you drop $299 (or more) on the Xbox One S this year or do you hold off until the holiday season in 2017 and pool all your cash into Project Scorpio. For others it's a case of, do I replace my existing console with the sexier, slimmer Xbox One S with its internal power supply.
The Xbox One S won't be with us until August, but pre-orders are open right now so we're interested to see what the community is thinking. So, drop us a vote in the poll below and let us know your thoughts in the comments!
Richard Devine is an Editor at Windows Central. A former Project Manager and long-term tech addict, he joined Mobile Nations in 2011 and has been found on Android Central and iMore as well as Windows Central. Currently you'll find him covering all manner of PC hardware and gaming, and you can follow him on Twitter and Instagram.
No, but I'll probably consider getting another lower-priced Xbox One original for my upstairs TV.

yeah, I'll probably do the same... not sure yet

This is kind of appealing mostly because for me streaming on Xbox One isn't near as good as my Steam Link over the same network (unfortunately) - Otherwise I would take a laptop upstairs and stream it

Do you have a router capable of ac wifi? I have a dlink 868l using ac 5.0 ghz band and the streaming is great.

I won't rush to buy the One S, as I'd like to see if they have any quality issues early on. As much as I like MS and their products, so many of them seem to suffer from quality issues. I've had Surfaces with flaking finish and stability problems, console and peripheral failures, and even my Band 2 tearing in 2 months. At least the customer service is fairly good.

Man you're hard on things. None of my surface devices are broken or chipping SP1, SP3, or SP4. I also purchased my band 1 and 2 on day one and have had no issues yet. Good luck as you seem to have bad luck with equipment.
Posted via Windows Central app for Windows 10!
Proudly rocking my Lumia 1520!

I baby my stuff, too. I usually eBay my old items as I upgrade, so I like to have things in great condition to get more money for them.

My Surface Pro 3 has held up very well. But my Band 2 hasn't faired so well. But according to the poll most people will purchase a Scorpio. These are probably the same people who complain everything is expensive or cost too much. :)

Yeah I was considering trading in my Xbox one for a scorpi, but I think I'll dig the extra TV out and add it to one of the upstairs rooms. I'm still not keen on having a TV in the bedroom.

I'll just go back to PC gaming. If the current gen consoles didn't launch with such appalling specs for the time we wouldn't be in this situation.

Well, depending on your point of view, if you are investing in "Xbox" you are actually just investing in "Windows" and the MS UWP Store. To be honest, either you want to be a part of MS's UWP platform or you don't. Xbox is being folded into Windows/UWP Store, Sony's competition on hardware is Dell, Lenovo, Hp, Alienware, etc. now.

So that's like saying if you upgraded your gaming pc since the launch of XB1 and PS4 to accommodate current games you must have had a ***** pc. Also you expected both the consoles to have launched with 4k blu ray and VR capability prior to the technology being readily available.

Almost every generation of consoles gets a revision, so I'm not sure what you're going on about.

How about the S model AND Scorpio? I'll wait for the cheaper S model, trade my current XB1 and just transfer my 5TB external drive. Next year do the same with Scorpio.

I would do this if I had a 4K TV, it's good idea for those that do. But as I don't I may upgrade my GPU in PC for the time being and still get to play the big exclusives wherever I want. Then buy Scorpio and a 4K TV next year. So many options, there's something for everyone. Most of the games I want are actually on the Play Everywhere thing so I'm flooded with options which is great. If my current Xbox One breaks and can't be repaired/replaced I'll go out and buy the S

I think that's exactly what I'm gonna do. I just got a vizio 4k p65-c1 and the xbox already looks sweet, one s should just be even more better.

Yes, waiting for the $299 model. A UHD Blu-ray player for $299 is a steal (cheapest player alone is $400 right now). Never mind the 4K support by the Xbox one, I'll be all over it. Project Scorpio does not release till holiday 2017 time frame, so by next years E3, we should know everything about it, titles, pricing how it will all work. So I will wait till then to deside on when or if I am going to get one or not. Price is going to be the big deal on this one. Under $600, maybe a day one buy but, $1000+, I will wait till the first price drop.

If Scorpio was $600 it would be a no-brainer. Unfortunately, looking at the cost of the components, I expect this thing to be (close to) in line with the i7 Surface.

To say I am baffled why people would wait for the Scorpio is an understatement. You can get a graphics card similar to what the Scorpio will be pushing for about 200. MS doesn't care if they sell Scorpios, they would rather people upgraded their PCs... as future consoles will be coming from Lenovo, HP, Dell, Alienware, etc.... they are called PCs. I'm completely confused as to what people think is going on... very strange. MS moves Xbox into Windows.... Xbox users keep asking for consoles. lol MS doesn't care about the HW, they just want people using the store.... of course, if they can sell something at a premium like they do the surface, maybe they will keep doing it for a bit. -signed Completely Baffled

If there's a trade in where I get X amount of dollars towards the purchase of the new model, otherwise, I'll wait for Scorpio. I have 4 xb1's currently and would like to upgrade at least one of them but again must get some sort of trade-in fair market value.

You'll never get as good a deal in trade-in dollars as you would if you sold it yourself via eBay or Craigslist.

If you believe in the MS UWP Store strategy, you should be putting money into your PC.

No, never, I'll stick to PS

I don't know why people down vote honesty. I too will be going the Playstation VR route next rotation. Posted from my Note 5/Lumia 950XL

You're surprised that people on a Microsoft fan site would downvote someone saying they'd rather buy a competitor's products? Okay...

Yeah, fanboys are a joke.

Are you going to get the Neo for this? I would if I was buying a PS4 as I'd be getting it for the VR. I'm going to wait it out as I'm not in a rush for VR *quite* yet but if I can get a headset that works on both Scorpio and PC next year that would be tempting and feel less closed. For those who really want VR I think the Neo will be great for them,

Yeah, I don't think people are really listening to MS. A simple way to describe is this..... Xbox is going away.... if you are a Xbox user.... we're moving you over to Windows and MS UWP Store going forward. Why wouldn't people just start by getting a new graphics card for their PC if they believed in this appoarch? MS doesn't care about the hardware, they care about the Store.

Most people who own consoles don't want to hook up a PC to their living room TV, especially when there's not a UI for a controller.

This is true, I'm the same and I don't have my main PC anywhere near the TV, it's in my office upstairs and my Xbox One and Steam Link are hooked up to the main TV. I hope Microsoft continue to improve their streaming, and let Windows 10 games stream to other PC's in the future. When I play from my PC to the Steam Link downstairs the performance is amazing, no noticeable loss in visual quality and full 60FPS, which Xbox streaming just doesn't seem to be able to do for me (across the same wired network) I'll probably always own a PC and an Xbox for as long as Microsoft make the hardware - Most of the games I'm looking forwards to are Xbox Play Anywhere titles so I feel really happy and catered for right now.

Darkness, what is a PC and what is a console? To MS Windows is the console and is independent from the hardware at this point. Eventually, there will be just Windows. I'm not saying you should like this or not, but at the end of the day, MS has given the Xbox division its marching orders i.e. you are being consumed by Windows and the MS UWP Store. A new Xbox console exists whenever you buy a new PC or upgrade your existing one... that is their strategy. Sure, they might come out with hardware at a premium but at the end of the day they want to convert you into a MS Store user.... the choice is yours. If you believe in MS's concept, not sure why one would not focus on their PC... but that is the console. Alienware is already putting out Xbox consoles better than Scorpio, they are called PCs....MS is attempting to save some of the Xbox users by getting them into the MS Store. What the form factor is, is irrelevant to MS.... you want to buy a lapto from Dell, cool. You want to buy a desktop from Lenovo, cool. I'm not saying I am buying it.... but that is what is going to happen and is already happening.... Xbox is effectively gone and what will remain is Windows 10 / MS UWP Store which is basically independent from the hardware.

Reason = Kneejerk reaction to a perceived Sony troll comment. The article was clearly questioning whether XB owners, not PS owners, would get an XB S. Apparently, the OP is a bit too daft to understand the premise of the article or was clearly trolling...like killrazzy does in many XB articles. Personally, I'd go with too daft for the OP and killrazzy gets a combination of both.

Actually, the article clearly stated that it likely isn't for current Xbox owners but rather people without X1's (they cited 360 owners, but it could also include ps3/4 owners, or anyone else like Wii owners), so the OP wasn't totally out of line with their comment although they could have done without posting it, which is why I didn't; I just second his opinion.

You've proved your more daft than I could of imagined. Congrats.

Actually the article was asking a general question, are you getting an xbox one S, they didn't ask whether people will " upgrade" to an xbox one S. Learn to read.

We're on an XB/ Windows website. Nothing in the article mentioned anything about PS. Anyone with a stitch of common sense can conclude the article isn't targeting PS fanboys.

This is the only time I deal with GameStop. Will trading up, and trading up again to Scorpio.

WOW, you do like waisting money.

I'm baffled as well. I don't think they understand that MS is trying to get out of the console business. LOL

I think I'll pick up the S. Heading off to college, and need a new Xbox since my brother used the one at home. Can't wait for August!

Probably not. Sony seem to have better exclusive games. And most of my friends seem to favour the PlayStation 4. My first priority for a new console though is the Nintendo NX. Posted via the Windows Central App for Android

What games does Sony have that are better than the exclusive games Xbox has?

Personally I am stoked for the Xbox lineup, one of the best set of exclusives outside of Nintendo (and they take time a bit too much so the hype for their consoles has tended to fizzle out) That Spider-Man PS4 game looks gorgeous from the few videos I've seen but I'm not *that* desperate for a game that might just turn out similar to the last few Spiderman games.

Sony is only one competitor of MS's in storefront, as you actually have Steam, Orgins, etc.... and on the fully application side companies like Adobe, Autodesk, etc. In my opinion, MS has exited the console market or is in the process of doing so.... Xbox is or soon will be just Windows and MS UWP Store. Of course, that takes time so additional hardware is being developed to get Xbox user to buy into the MS Store... eventually it will be just one version of windows or close to it. Eventually you'll just be gaming on your PC although there is nothing stopping one like Dell, or HP from producing a box that sits next to the TV.

I don't think Microsoft is intentionally trying to exit the console market, but possibly see consoles not existing forever, UWP is their way of solidifying their future in the gaming market when/if that time comes.

Look at poddies comment below and my response to it if you care. It's a matter of personal taste, but I don't really need more gears and halo. Posted via the Windows Central App for Android

Name the games please /s Posted via the Windows Central App for Android

God of War, Spider-Man, and that one with the woman who hacks machine animals look amazing to me. Uncharted and SFV already out. It's tough... I love Gears, but other than that, not much in the way of exciting exclusives on Xbox. But I HATE the PS4 controller. Their exclusives are incredible though.

Someone did it for me. There's also Detroit: become human which looks very interesting the FFVII remake and bloodborne which is already out. You're right about controllers though lol. Although at least Sony's charges through micro USB instead of gouging you for a proprietary battery and cable... Posted via the Windows Central App for Android

Xbox One controllers charge via micro USB too. No special cable needed, though you do need the battery. And I prefer the OS (though I wish it was zippier). I just wish they would up their game on exclusives... looking at that God of War preview.. OMG. It's so amazing.

Do they? That's not such a big deal then as I'd be fine running it wired with no batteries. They should have built in batteries though! Yeah, i don't own either console and don't have a bias, Sony just showed more interesting games. Posted via the Windows Central App for Android

I suspect you still have to have batteries inside.I actually prefer the fact that you can use standard AA bateries with the Xbox controllers if you want. Don't have to source any kind of special battery when it wears out. In fact, there's really not a thing I dislike about the Xbox controllers... they're just incredible.

Cant forget Grand Turismo and Uncharted. Uncharted 4 was a damn masterpiece in gameplay, visuals, voice acting and storytelling

If I didn't just buy an elite I would buy one but y'know. I'm definitely buying a Scorpio depending on price

+xb1 elite if they had it in black & an updated elite controller sure

I probably won't due to not owning a 4K TV right now, so I'd get little benefit other than the fuzzy feeling of having something new and cosmetically slightly nicer. Would be cool to have an Xbox One for testing apps on though (My current one could be used for that if I bought an S) Definitely interested in Scorpio though, if I get it December 2017 I'll get a 4K TV at the same time.

Planning your own Christmas presents a year and a half in advance? =)

Yep =D forget Xmas 2016 I'm going to go all out next year lol

Well, you've had 2016 figured for a year now =D

No 4k TV, no point in replacing your current XBox. And if you hate the white as much as I do, well...hopefully they'll come out with a black S eventually.

I have an Xbox One and the Xbox One S doesn't bring enough to the table to warrant replacing it. Once Scorpio comes out, I'll move my original One to my office and keep Scorpio in the living room.

Xbox One S is enough for me. I don't have 4K TV or VR. I just need to play the exclusive titles.

This could be a good reason for some to buy a newer GPU (if the rest of their specs are up to scratch) that gives better than Xbox performance in the meantime, as most of the exclusives are going to be Play Everywhere, then when Scorpio comes out jump on that and the games still work everywhere.

I think i'll keep the One that I have now, I like voice recognition, and the trade for a new one and the Kinect adapter doesn't work in my country, we never get those deals ...

Where is the deal available? UK?

Not sure, they said that the deal will be available when the One S came, but those deals only work on the US

I wish they'd put some microphones in the S, but they might be poorly positioned for the wide array of homes if this happened anyway. Maybe allow a USB Microphone array to be used in the future

I might im up in the air but my $ is on Project Scorpio.

I would get the 500GB version, but being available only in December I'll just wait for the Scorpio. I would have bought it in August though, too bad.

I'm kind of feeling the same way. I have an external drive, so the storage is unnecessary. If I could buy at $299 and use it for 1.5 years that's a lot more appealing. Only a year seems like more of a waste. Also, my wife would never approve of the white box where I currently have the one situated... black blends in.

I wıll buy original model if its discounts.

No, not when I currently have one and the benefits of this are marginal in every area.

You should put one more answer in the poll : "Waiting for the Black Xbox One S"

Definitely! I support Microsoft and that means most if not all of their services and devices. They have the best gaming console and will continue to be.

Well, MS is folding their console business into Windows/MS UWP Store, not sure I even consider it a traditional home console. (A defnitition which can be argued both ways) Basicallly, you are now or soon will be a PC user of their MS UWP Store.... your console in the future will come from Dell, Lenovo, HP, etc. with Windows on it.

I was thinking about purchasing another Xbox One after E3, but after the announcement of OTA DVR being put "on hold" I will not be purchasing another one in the forseeable future. BTW, User Voice for OTA DVR is now 2,800 votes compared to the 2,000-2,100 before the announcement. https://xbox.uservoice.com/forums/251610-oneguide-live-tv/suggestions/6029911-xbox-one-dvr-functionality-with-digital-tv-tuner

That should tell you why it was cancelled. 2800 votes (Esp when people can vote up to three times per topic) is very few... for such a large feature (dev wise), the market is very small. Just like Media Center. Not saying it wouldn't be a great feature, just that a very small percentage of people would use it.

It is sitting at 104 (not including Backwards Compatibility) on the user voice. If it gets another 75 votes, it be in the top 100. This includes Completed items, In-process items and all the people asking for more free stuff with their Gold account. You CANNOT vote 3 times. You can only vote 1 time per item. I'd bet a lot of people don't even know the user voice exists.

I would agree with you that most people probably don't know about User Voice. But I would argue that barely cracking the top 100 requests again shows that it's probably not worth it for them. I don't think people appreciate the complexities of implementing a dvr feature. You have to record things on time every time. Even if someone is playing a very intensive game. So shared resources could well be an issue. Have to have logic about what gets automatically deleted and when when thte drive is full. Interface for the User to specify priorities for things to be deleted. Interface for the user to scedule recordings. Full scheduling logic that can detect conflicts and alert the user when they exist and provide options on what to do about it. Do you allow multiple programs to record at once? Even more complicated. And it has to be BULLETPROOF. People get MAD when their show doesn't record. Any bugs will cause fire to rain down on them like nobody's business. They would basically have to recreate everything that a consumer dvr does, with similar levels of reliability for anyone to be satisfied. And all for a very small percentage of the userbase that actually would use it (this is of course an assumption, but I believe it to be accurate). I just don't see the return on investment. Maybe you would pick up a few extra console sales from people wanting to use it this way. But will those people buy a lot of games? They don't make any money on the hardware.

Breaking the top 100 our of 11,000 (once again not including BC) should be on their radar. It's in the top 1%. I thought they decieded to not sell at a loss when they started selling Xbox One's? They would be bringing in $ for every console. It's not just making money on games and consoles, they have accessories and services (Gold, Groove, etc) they can be making money on if they get people onto the Xbox platform, and that's the big point. Sharing the Xbox One resources shouldn't be much of an issue. The tuner uses USB 2.0 and you need an external drive for storage. USB 2.0 runs at 480 Mbit/s maximum. It doesn't take much processing power to take care of running multiple recordings in the background. Yes, it must be bulletproof, but having WMC in their pocket, they have all they need to troubleshoot all the situations you mentioned.

I certainly agree it's doable. But, like I said, I think the complexity of what is required to make it work and make it work well is far beyond the benefit they will get. I just don't feel like there are that many people that want to use an OTA antenna to record basic programs. I think things like backwards compatibility, interface and party improvements and such get them a lot more bang for the buck.

I have 2 perfectly good xbox ones. No reason to upgrade until i get a 4k tv. I prefer black, and the size of the current ones is not an issue for me as it fits nicely in the entertainment console.

Nope, until they create a platform that will allow all their games to be played on Windows 10 or an Xbox, I won't buy an Xbox

Are you talking Win32? I have no intention of supporting the MS UWP Store, which is really what this about, so yeah, I'm generally with you.

Yes/no. Just any game that can be published through the Windows 10 store on PC or Xbox. Presumably, Microsoft was going this approach eventually but trying to get rid of disks. I just can't buy hardware for game exclusives.

I see. Yeah, I mean my take is I can't support the UWP store. I have no problems with Windows per se, but I see competition as the only reason to run Windows. I don't think the majority of these people understand that the traditional Xbox console is basically going away and is being replaced by Windows and MS UWP Store. There are some positives people can get from that, but than there is the other side. Basically they are attempting to converst console users into console PC gamers... I guess I don't get why a person that wants a console would like this and why a person who is traditionally a PC gamer would like this.

As a PC gamer, this would be the best thing for both PC and console gamers.What makes console gaming appealing? A refined and specific experience that can be repeated over and over. You can plug the box in, give your credentials to get games you own online, or plug in a disk and get your game going. Updates are automatic and there is little configuration required. Also, the 10-foot experience of a living room is perfected. You can sit down, pick up the controllers, throw one to a friend and play together. However, you're limited to the hardware they provide and the software that is available through that platform. As a PC gamer, it's not about having the best graphics, or being some 1337 hacker. It's about being able to play the first game I ever bought: Half-Life. My father still plays Warcraft II on Windows 10. Warcraft II is a DOS-based game released in 1995. The backwards compatibility of Windows is absolutely amazing and they deserve a lot of credit for it. I also loved to play Halo! I played it on PC, Xbox, and Xbox 360. Eventually they shut down the Xbox Live servers for the original Xbox, then they shut down Xbox Live support for Halo 2 on the 360. I'm not here to complain that they need to support everything for forever, but an ecosystem like that fundamentally requires a constant flow of $$ from end users. The only way to play those games online now are to set up custom VPN tunnels that put peoples' Xbox's VLANs that allow them to play LAN games with each other to workaround the loss of Xbox live. Consoles are also subject to requiring the necessity for backwards comparability being developed post-launch and per game. Not every game is guarantee to get it. I used to play PC and console, but I had to get off that wagon and not purchase an Xbox One. Now, to be fair, I have to admit that PC has many of the same problems. Battlefield 1942 and Battlefield 2 cannot be played online through official servers since they were all shutdown. However, I can still download the dedicated server software and host my own games for friends if I wish. If I wish to play multiplayer with BF3 or BF4, I must use a public sever which can be loaded with cheaters, or I have to rent a server from the game developer. But, I look forward to a bright future where I can buy Halo 5 on PC and play with my console brothers. Perhaps they will have to offer server filters that allow console players to only play with console players, or PC with PC-only, or a mix. Having auto-aim available on console, but not PC would be a major problem. But we can cross that bridge when we get there. This bright future is me buying Halo 5 or 6 thought the Windows Store and playing it on my PC. Then I later decide I want to play split screen in my living room with friends, so I buy an Xbox One and I can play the same game there. Also, I heavily invested in Xbox 360 units to use their Media Center + Media Center Extender ecosystem. It was fantastic!! Then they decided to not support it on the Xbox One and promised a DVR feature to be developed later on. Just last week, they all but canceled the project! Just another reason why being in a locked-down device is not a good choice for me.

Nope. If I ever Join the console gaming world it would be with project scorpio. Ill stick with my PC until then.

Technicallly, I think they are turrning your PC into a console which is hardware independent, but that is just my definition of things.

Nah, ill wait for the better one next year.

Would pre-order if they offered it in black.

I was planning on buying at least one until they post poned OTA DVR. Was really looking to replace my HTPC running windows 8.1

Soon as the 500gb is released I'll be trading or selling my current Xbox for it

No dont think I would spend money on XOS .....

No, I recently got an Xbox One

2TB internal drive is incentive enough but the S console will need to be available in black for me to bite.

Yes.. As soon as full black version becomes available.

I currently do not own a 4k TV, let alone one capable of HDR; therefore it makes no sense to think I can lay down $1800 for a new TV with said features and then another $800 for the Scorpio (lowest it could possibly sell for) and $400 for a new soundbar that is 4k video pass-through. Instead I plan to upgrade to an X1S first to relegate my X1 to the bedroom as a dedicated game streamer (to play on my surface 3 without hogging the family TV). Then I will eventually upgrade to a cheap vanilla 4k TV and Soundbar. In two years or so HDR will be standard on all TVs and I'll pick one of those up and move the other one upstairs. In the third year I'll buy a Scorpio (which should now be ~$400) and move the X1S upstairs to the bedroom as well. Will I be on the bleeding edge? No, but I have two kids now and just can't justify the high cost/high risk of "keeping up".

I would buy one just to play UHD discs... if they bitstream the immersive audio tracks instead of converting to PCM like the current Xbox One's Blu-ray player does. If not, it's a severely gimped UHD player. Can't seem to get them to answer that question yet.

No, I already have an Xbox One. I'm not even sure I'll get the Scorpio at this point if Microsoft continues to release their games on Windows 10.

Going forward, more or less Xbox will be consumed by Windows 10 and the UWP store. MS would rather you buy their products on your PC. Windows 10 PC is their console.

As long as there is a black version. The white just won't fit in with my entertainment system.

Don't have a 4K TV. The upgrade benefits without one are negligible. We likely won't be getting a new TV until at least when Scorpio comes out anyway, unless our current TV and/or current Xbox One breaks.

No because the price is not justified for those who already have the original One. I actually want the 4K video capabilities but at those prices I'd rather wait for the PS4K.
And I say that instead of the Scorpio because the Scorpio will be way too expensive for someone like me to whom gaming is merely a hobby and nothing I do daily. I don't build gaming PCs anymore so buying the Scorpio wouldn't be justifiable either. Posted via the Windows Central App for Android

I'm not a gamer but Iam getting one for myself and one for my brother. He has Sony Xbr 65X850C and I have Xbr 65X930D and we were both planning on buying 2 of the Samsung 4k Blu-ray player which costs $400 a piece but has less capabilities compared to the XB1 S.

All I want is that new controller and I'll be happy Posted via the Windows Central App for Android

I have a day one addition, Xbox the Blue Ray player disc reader is acting weird. It doesn't always except the disks. I'll be getting the new Xbox, but the one that launches in December.

I hope i'll find some good offer on the xbox one now!

I don't see the point at the moment. The Scorpio is on my radar though.

Not a console gamer, so I won't be buying the console itself... but BT Xbox controllers? Might buy a whole fleet of those!

I properly wont get anything with the Xbox name on before there hopefully is a high performances / low power Xbox-TV-box. One that can suck from my NAS and stream from internet services.

I use my Xbox One every day on my regular FullHD tv. Since I don't need a second xbox I would consider buying one if I get a 4K tv, something I wasn't planning to do anytime soon but may happen sooner with the availability of the new xbox. Chances are though, that my first investment in new tech, rather than a 4K screen, will be a VR setup. I might actually consider buying my first ever Playstation instead of waiting for the Scorpio. Most likely is that I'll spend my money on a GTX 1080 and whatever PC VR headset.

Nah, for me there's no need to upgrade nor will I gain from it. If I chose to trade in my current console for a new one, then I'll still have to pay what, at least £200? I don't have a 4K TV, so that new feature isn't of use, certainly not anytime soon. The slim design is nice and attractive but not worth £200. The extra storage is also appealing but I'm doing just fine with 500GB, no need at the moment, and when I do need more space, a suitable external drive will be 10% of the cost. Logically thinking, it's not a good buying decision for me at least. If it was a big jump up (and I'm actually glad it isn't) then I'd definitely consider it, but any gains I'd get from an S are certainly not worth it.

Il be waiting for August for perfomance reviews the S model. I dont have 4K TV so far so I need that first then the Scorpio. But so many good games upcoming its really hard to save some maney. Also I have to admit the Sony annaunced some great grames so I waiting the NEO aswell. If I buy the S I dont buy the next year the Scorpio. I wont buy console every year thats not gonna happen. I think the best option is waiting.

It was so obvious that Sony refused to mention the Neo at their conference. They saw Scorpios' specs and decided not too. Lol. A company exec already confirmed it days before.

I find it funny that you think its funny. Sony is perplexed as to why MS is announcing hardware 18 months, but I am not. MS doesn't care if they sell anymore consoles, they just want as many Xbox user into the MS UWP Store as possible, if they can convert 10 million users over they might be happy. Its not really that hard to figure out.... Xbox is gone, replaced with Windows and MS UWP Store. What hardware you decide to buy is not relevant to MS anymore... you want to buy a dell go for it. Xbox is no longer a hardware platform, although MS might sell hardware from time to time. Windows 10 with the Store is the Xbox going forward.

I'll wait for the Scorpio though.

I would if they had dvr function Posted via the Windows Central App for Android

Not sure. It depends if they offer decent trade in for my launch XBO to put towards the $299 model. If so, then yes, i'll likely upgrade to get the 4k video playback, UHD bluray player, and slimmer profile.

Who is "they", if you mean MS I don't know why they would care if you upgrade, all they are going to care about is you staying in MS eco-system. They would actually lose money by you buying the scorpio, they would rather you bought a PC or upgraded your existing one.

I have an Xbox One with a 3TB external drive attached to it, I don't need another Xbox One any time soon.

This is what I was waiting for. I don't really care for the one that's coming next year. I already have a beastly PC, Xbox is for none FPS games.

I would consider the Xbox One S if there were graphics improvements more than just HDR graphics. I don't need the additional controller range, or IR blaster (since I already have the Kinect), and while I use my Xbox One for everything media at home, I don't own a 4K TV yet, so I'm fine with my Day One Edition for now. Quite excited about Scorpio though.

Nope I'm happy with my one :)

Might consider one for the 4K Blu-Ray support since my current Blu-Ray doesn't have that upscaling
Windows Central Newsletter
Get the best of Windows Central in in your inbox, every day!