Poll: What was your favorite Surface Event device announcement?
Microsoft just wrapped up its huge Surface event, with some hugely unexpected revelations.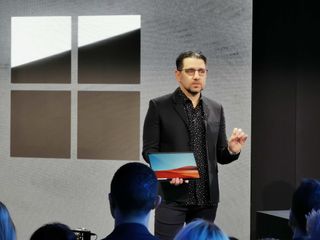 (Image credit: Windows Central)
At today's big Surface event, Microsoft unveiled the expected Surface Laptop 3 with AMD graphics support, the Surface Pro X with a unique ARM chip co-developed with Microsoft, and the long-rumored Surface Centaurus, now known as Surface Neo. Unexpectedly, though, Microsoft also unveiled the Surface Duo, effectively a next-generation Android phone, in partnership with Google. Microsoft also showed off some of the features of Windows 10X for folding Windows devices, along with Surface Earbuds, a partnership with Adobe, and a new "slim" Surface Pen.
Related: Everything Microsoft announced at the Oct 2 Surface Event
If you were able to catch the stream, we'd like to hear from you, what was your favorite announcement from the show? Vote in our poll, hit the comments, let us know!
Note: You may need to disable adblockers to see the poll!
Jez Corden is a Senior Editor for Windows Central, focusing primarily on all things Xbox and gaming. Jez is known for breaking exclusive news and analysis as relates to the Microsoft ecosystem while being powered by caffeine. Follow on Twitter @JezCorden and listen to his Xbox Two podcast, all about, you guessed it, Xbox!
Agreed. Time to order a battery for my Pixel 2, since it is going to have to last another year.

CX1, I concur duo for me also... still holding out hope that Android is being emulated in a sandbox. If it's not then that's a whole can of malware being introduced into the Windows ecosystem and it will completely sour the duo for me. Especially when you know how vulnerable Android is... to exploits. Additionally if it's running on an Intel SOC there is also the additional risk of x86 / x64 based malware as well.

no. it is android. pure android. windows is dead on phones. you should know this by now.

If they made it a Windows 10 device with an integrated Android runtime that can run UWP, Android and Win32 apps, it would be one hell of a killer device

I totally agree with you,,,

It shouldn't be a phone. It should be the small version of the Neo.

No new Surface Book?!?! Whack!!

I was blown away by Neo, but Duo made me forget to breath for a minute...

When I saw it on screen at work, I wanted to scream YES. All I could do was say "OMG they did it" silently (we have many snowflakes in my immediate area).

Duo. As soon as I heard the phone rang, I said out loud, "they did not!"

Right? My wife came to make sure I was okay since jumping and yelling are not in my usual routine.

How in the nine hells did they keep Duo a secret?!? My fellow Windows Phone people, we can finally come home. Also that "one more thing" here: https://youtu.be/dmaioTs0NH8?t=5077

So many good tributes here. From the moment you hear a ringtone to a mix-up of "Good Feeling" from past adds. Loved the way this got pulled off.

Not me, it is still running Android and Google will still be pilfering and sharing everything about you and most apps on the playstore will still be spyware.

@mythos13 Most likely emulated in a sandbox the Surface Team aren't stupid.

it is not emulated. It is android. pure android by GOOGLE. the surface team is not stupid as you say, they would never use windows on a phone.

Remember the Microsoft strategy: Embrace. Extend. Extinguish. This is the embrace stage.

remember android is open source they dont have to put all the google hooks in, look what huawei is doing, look what edge edv is doing.

@Royal Tippets. They also kept hololens a secret so there is precedent.

Why should we be "coming home" with the Duo? It's an Android phone; I'm using one already, unfortunately...

When she put the Duo to her ear and said 'hello,' I just about cried.

I would have voted "Duo" if I knew the answer to whether it runs... both... MS Store and Play Store apps.

I loved the Neo and will probably get in line for that, but I was truly surprised by Duo. I wonder how long before they also offer it running Windows Core plus CShell? I'll even make a prediction - corporate presenters will storm the queue to buy those Earbuds that auto-generate text and translate in real time. Look for those to sell out and go into back order quickly. It was a really comprehensive product roll out from MS.

windows core is not something you'll get on a device ever. There is windows 10 and 10X for dual screens. That's it.

I'm excited for Duo too (although I'm sure most of us won't be able to afford it) but I can't help but Wonder what would have happened if they could have done this a few years sooner.

I literally wept watching that Surface Duo ad 😭😭😭 I need it!!!

I wish Duo/Neo were coming out this year. By late next year, who knows what else will be in the market. Still, they were my highlights of the show.

I think I'll be interested in the Neo when the 2nd generation comes out and I see developers supporting it. The hinge is kinda disappointing though. I'm definitely not buying anything that's 1st generation from Microsoft. The Duo is just a me too Android phone so nothing new here other than it's made by Microsoft. This one will have a chance to survive since Android already has huge developer support. Wish it didn't come with a visible hinge. Definitely buying the 2020 iPhone to give this Duo device some time to mature. Surface Earbuds may be cool if the software is what it is made up to be, but aesthetically they are huge and ugly. Everything else was pretty disappointing especially the Pro 7.

what developers will support it exactly? windows phone devs? Who would ever make software for a dual screen niche tablet from microsoft? Unless these dual screen devices take the world by storm like 2-in-1s did, asking devs to follow windows down another rat hole given prior history is a huge stretch.

I know that's why I said I will wait for the 2nd generation. If the developer support is not there by then, it's a no go for me. Trust me I have been burned by Microsoft more than once. The hardware is always great. It is the execution of the software that always disappoints. Given their history, the OS for the Neo is going to be a huge buggy mess.

I was most excited about the Surface Earbuds, but at this size... I'm definitely buying the AirPods. Who wants to talk around with satellite dished sticking out of their ears?

Yea they are pretty ugly. And if you are an iPhone user like myself, it seems it will have very limited functionality. I get that's not Microsoft's fault, would sure be nice if Apple would partner with them to make it work better.

Make what work better? It's only just announced not even used yet
There are also a lot of other brands that have far better experience and products in market that they can partner with if they needed to.

Surface Pro X most definitely. The Neo and Duo piqued my interest too.

I voted for the Duo because none of the leakers found it.

Surface Pro X obviously with Surface Laptop AMD edition and Surface Neo a close second and third.

I liked a LOT the Duo, but I really wanted some earbuds.

Duo! Tears was coming out of my eyes when the Duo appeared in the video. I will be getting both the Neo and the Duo. I am hoping that the Neo have enough memory and ssd storage to replace my stationary laptop. Folded, the 13 inch Neo can fit on my purse.

Well, I would have picked Duo, if only it didn't run Android!
So, Neo FTW! :D

I agree with you... ANDROID on Duo... not great!

Toss up among the Pro X, Duo, and Neo. All really neat devices. None sway me from the ecosystem I'm in now though. I think the Duo would have been a much more niche device if it was still running an OS from Microsoft they could control totally and really take reins of the hardware involved. I think Windows Phone 10 might have evolved into some beautiful thing with this, but knowing it's Android, it'll be at the mercy of fragmented updates if it does get any, and after a year because it's Microsoft it will just be left in the dust. This is where Microsoft I think really needs to appeal. The customer service. I find it really hard now to invest in their ecosystem knowing that the foundation of customer service when you have issues is very hollow. I've been through it and I thought they were making strides when they started opening up stores, but after experiencing it, it really left me with a sour taste on how long it took to get a simple exchange done compared to how it is with other companies. This is really stellar hardware, and I love the ideas here and how it will push the market forward, but I'm at that point I just want things to work and integrate, not worry about future updates, and I just want to be productive. These certainly have the potential, hopefully Microsoft carries it forward.

The Surface Duo. That was awesome. Even if it's running Android (I would prefer it ran Android apps on Windows 10x, but even so): 1. We often talk around here about the best Android phone for Windows users. Well, seems a near certainty one coming out of Redmond will take that spot. 2. Innovative hinge without that silly plastic bendy screen that Samsung has on the Fold. That makes this the most attractive and innovative handset on the market. My chief questions and concerns with the Duo: 1. 5.6" for each individual screen is smallish (not tiny and great for putting in a pocket, but smaller than a standard screen) -- will Android apps be able to run across both screens? And if so, will that look OK, or is the hinge big enough to make it look bad (thinking especially about Android games). 2. How thick will the folded phone be? The advantage of 5.6" for putting in a pocket is significant, but if it gets much thicker than current phones when folded, that could cancel out that benefit. 3. Will there be a keyboard and pen that work with it, like with the Neo? 4. If developers create Windows software that works with the Neo and takes advantage of the dual screens and adjusting secondary screen when using the keyboard, will it also run on the Duo, or will the Duo ONLY run Android apps? If only Android apps, seems it would be unlikely to get much support for its dual screens (unless there's an easy way to cross compile for Neo running Windows and Duo running Android). For the form factor to really take off, seems that developer support would be important, which also means MS shouldn't double the effort to create by keeping them separate.

I think the criticisms of MS on abandoning hardware have merit, but also miss the pattern to what MS has abandoned. It seems that everything that has been initiated under Nadella has been brought to market thoughtfully and with a long runway to succeed. The hardware that has been abandoned were all things that he and Panos didn't like. I'm not saying that to give credit to Nadella for cutting products -- on the contrary, I think many of them could have succeeded with effort, and Nadella's moves just erased MS' goodwill with many of its fans. However, given the history of the past several years, I don't think there's any reason to be afraid for Microsoft's commitment to any of the new products introduced today. These all appear to fit into a larger, long-term plan of Nadella's in a way that the cancelled products did not.

The Surface Pro X with the SQ1 processor and new chipset is most intriguing.

Pro X, with some distance down to the earbuds. Neo is too big to be of interest. Pro 7 is a nice upgrade, but hey... Duo running Android is the biggest disappointment in a looong time.

Surface Laptop 3 all metal, removable parts, and in black.

Wish I can flash WCOS (Neo) into Duo.

Out of all devices I found the Surface pro 7 most interesting. As I own a pro 5 today I think it is interesing to follow what the roadmap of Surface pro will be in 5 years. Based on past experience with Surface pro I think the 5th generation of the "refresh" will likely be the sweet spot. I think the Pro X and dual screen devices left me a bit disappoint and lackluster. The hardware is gorgeous (except the scandalously overpriced and ergonomic dysfunctional stylus). The state of software and OS UI has me worried for these devices, be it consumer or business customers.
Windows Central Newsletter
Get the best of Windows Central in in your inbox, every day!
Thank you for signing up to Windows Central. You will receive a verification email shortly.
There was a problem. Please refresh the page and try again.