Pool Live Tour Review - Rack 'em up on your Windows Phone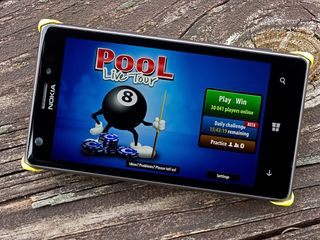 Pool Live Tour is a popular multi-player game over on Facebook and is now available on our Windows Phone. As you would guess, the game is an online multi-player billiards game that has you competing against your Facebook friends (or random Facebook members) to see who the best pool shark is.
Along with the online games, Pool Live Tour also has a daily challenge to tackle and practice games. Graphics are nice, gaming mechanics simple and overall, Pool Live Tour is an attractive billiards game for Windows Phone.
Simple Layout
Pool Live Tour's main menu is simply laid out with options to play a game online, try your hand at the daily challenge and play a practice game. Online and the daily challenge require you to log into the game with a Facebook account. If you don't care for Facebook, the practice games are available which has two gaming modes that include a single game where you face off against the computer and a two-player game that is played over Bluetooth.
The game has four pool halls to visit, each with a different billiards game to tackle. Each pool hall is progressively unlocked as you advance in player lever and include:
Moe's Pub Rack and Roll Bar for an International Game of International Billiards
Slick Willies Pool Hall for a game of American Billiards
Chateau Billiard for a game of Geewa
Manhattan Sky Loft for an American Billiards match
Nine Ball Palace for a game of Nine Ball
Each pool hall has an aim assist mode or you can play without for added challenge. If you aren't exactly sure on the rules of play, just tap the 'rule' tab that sits below your play choices.
The daily challenges are for bragging points and an easy way to earn some extra coins. The game includes challenges such as clearing the table as quickly as possible.
As you play and win games, you'll earn coins and gold. Each game requires an entry fee of coins and you can use either gold or coins to purchase new pool cues in the game's store. There are over fifty cues to choose from that vary in design and abilities. If you are in a hurry and want to increase your coin and gold counts, in-app purchases are available for both that range from $1.99 to $49.99.
Game Play
Regardless of your gaming mode, Pool Live Tour's game play is consistent. You play from an overhead view of the table with your cue resting on either side of the table. Across the top of the screen you will find access to your cue collection (and store), player stats and a settings menu where you can mute the sounds or give up the game.
Shots are lined up by touch controls. Tap and hold the screen and your cue will line up behind the cue ball. Slide your finger around the screen to line up your shot and slide back to set your shot's power. When everything is lined up just right, release the screen to take your shot.
You will be inclined to tap/hold the screen behind the cue ball but there isn't always room to line things up to your liking. Luckily, you can set up your shot by tapping anywhere on the table to give yourself more elbowroom. If you don't like how a shot is lining up, slide your finger off the table to start over. Just keep in mind that you have a minute to take your shot.
Online, multi-player games are fun but if one player walks off to get a snack it could take forever for them to complete their turn. I like the minute time limit in that it keeps the flow of the online games moving at a nice clip. Game pace does have a casual pace but it doesn't take an eternity to complete a game.
As far as finding an opponent to play, Pool Live Tour boasts 2.5 million players and I don't think it took longer than a few seconds to pair me up with an opponent.
There is a chat feature with the online games to allow you to instant message with your opponent from a selection of short phrased (e.g. good shot, oops, etc.). It may not be an open chat feature but does the job of congratulating your opponent on a nice shot or acknowledging you just screwed up your own shot. At the conclusion of your game you can either challenge your opponent to a rematch, find another player to challenge or return to the main menu.
Pool Live Tour does have gaming achievements (192 of them) and the more you win, you can level up which opens up additional pool halls and makes available more advanced pool cues in the store.
Overall Impression
Generally, in real life or with video games I suck at billiards. It's not that I don't like the game, I just never got the hang of it. However, regardless of my billiards handicap, I found Pool Live Tour to be an addictive Windows Phone game that is rather entertaining to play.
I would have liked to have seen a registration option independent of Facebook but it is what it is. On the plus side, it does open up the option to play games online through the Facebook if you want to jump to a larger screen.
The only performance issues I found in playing Pool Live Tour is that it really eats up your battery and the back of my Windows Phone (Nokia Lumia 925) kept getting warm after a few minutes of play. Nothing that would melt your phone but the warmth was noticeable.
Overall, Pool Live Tour is a fun Windows Phone game to kill the time with. Games aren't too terribly long and you can probably knock one out in about five to ten minutes. Hopefully my billiard skills will improve and I can give my opponents a run for their money.
Pool Live Tour - Windows Phone 8 - Free - Store Link
Windows Central Newsletter
Get the best of Windows Central in your inbox, every day!
George is the Reviews Editor at Windows Central, concentrating on Windows 10 PC and Mobile apps. He's been a supporter of the platform since the days of Windows CE and uses his current Windows 10 Mobile phone daily to keep up with life and enjoy a game during down time.
miniclip 8 ball pool is way better than this... Waiting for that to come to wp

Me too...it's way more cool!!

Same here.
I've mailed miniclip for 8 ball pool ;-)

Joining you guys right now...! Love for Lumia :P

Just like Candy Crush and the like of Farmhouse Saga, Miniclip 8 ball pool probably won't come anytime soon. I mean where is Plants vs Zombies 2?

Most played game on my Wp ;-)

I don't do Facebook so not for me.

Another pool game is there on wp. And the ball graphics are greater than any other pool game. I don't know the name of the game but

It's called international snooker. Fantastic game, only snooker. Nothing beats that game

You've been clicking on links haven't you :D

I think you need to modify that wireless charging cover and inject it inside your 925... Best thing I ever done with mine! ;)

I would love to take the challenges.. But it won't allow me to log into Facebook.

I hate the controls on this. Unintuitive. Try tapping the cue ball for control and placement whilst taking a shot? Madness! Whereas Miniclip nailed the controls for touch. Maybe someone can make a decent clone?

You can aim with one hand, and the other hand if you tap the screen it lets you adjust the direction you want to hit it. Alot easier after I figured this out.

I cant play over Bluetooth.. Any help? Using 720 with 8.1.. And the game is installed in a class 10 card!!

Game is good but the controls could have been better. Atleast someone is trying unlike miniclip, they are not even trying.

The controls are a bit confusing to play with
We want Miniclip's Pool