POPWings working on a digital rolodex for your Windows Phone (iOS need not apply)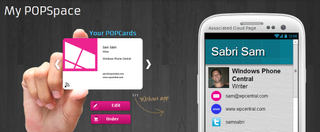 If your job doesn't require you to put pants on or venture past the front porch, odds are you won't be needing to read about business cards. For those of you who still climb the corporate ladder and shave more than twice a month, POPWings is making a Windows Phone app to get a handle on your business cards.
PopWings is a company based in France that makes two products: The POPCard and the POPapp. POPCards are basically NFC-enabled business cards that allows users to embed whatever contact information they want – like name, cellphone, social network info, etc – into a physical card.
POPapp is the application that receives all the data from an NFC enabled card and stores the contact info. It's like a virtual rolodex that is a little more sophisticated than a contact list. For example, when you add contact info to the app, you'll be able to later sort cards by meeting place, date, etc. Check out their promo video below:
The solution POPWings is suggesting with both their physical cards and apps should appeal to anyone who regular attends business meetings or conferences. The sheer number of business cards you get at an event like CES will make you want an app like this.
Good news then! The team currently has an Android app and according to their homepage are working on making an app for Windows Phone 8! No news on a release date, but we'll reach out to them and find out. Maybe even get a sneak peak of the app!
Sounds like an app Dan and Jay would find useful at Mobile World Congress.
Source: POPWings, Via: Twitter
Thanks for the tip Jon D!
Get the Windows Central Newsletter
All the latest news, reviews, and guides for Windows and Xbox diehards.