POPWings working on a digital rolodex for your Windows Phone (iOS need not apply)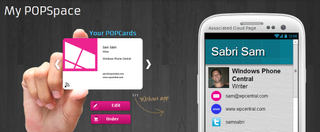 If your job doesn't require you to put pants on or venture past the front porch, odds are you won't be needing to read about business cards. For those of you who still climb the corporate ladder and shave more than twice a month, POPWings is making a Windows Phone app to get a handle on your business cards.
PopWings is a company based in France that makes two products: The POPCard and the POPapp. POPCards are basically NFC-enabled business cards that allows users to embed whatever contact information they want – like name, cellphone, social network info, etc – into a physical card.
POPapp is the application that receives all the data from an NFC enabled card and stores the contact info. It's like a virtual rolodex that is a little more sophisticated than a contact list. For example, when you add contact info to the app, you'll be able to later sort cards by meeting place, date, etc. Check out their promo video below:
The solution POPWings is suggesting with both their physical cards and apps should appeal to anyone who regular attends business meetings or conferences. The sheer number of business cards you get at an event like CES will make you want an app like this.
Good news then! The team currently has an Android app and according to their homepage are working on making an app for Windows Phone 8! No news on a release date, but we'll reach out to them and find out. Maybe even get a sneak peak of the app!
Sounds like an app Dan and Jay would find useful at Mobile World Congress.
Source: POPWings, Via: Twitter
Thanks for the tip Jon D!
Windows Central Newsletter
Get the best of Windows Central in in your inbox, every day!
Awesome idea. Gonna be entertaining to try to share with the iPhone crowd...

NFC doesn't exist until Apple invents it.

I'm considering checking out the moo card version and namebump.com's cards as well.

Yup, I just checked out the Moo site earlier and couldn't find an ETA for their NFC cards. I've been wanting to get some for us for a while.

MOO actually sent me a free test NFC card, works really great and you can't even feel it in there unless you know where it is

Will be neat when it arrives at windows phone. I'll use it.

Has anyone noticed that Pop wings has a very "Metroish" looking website??

Ohhhhhhhhhhh yes..... and they ar not the only one.... I've noticed quite a few, seems the design is catching on. It is super clean after all

Hopefully somehow this helps to increase awareness about WP. I don't know how, but I hope somehow it can. Lol

Thanks for the "Metroish" comment!
We're working hard to provide a beautiful experience to our end-users! Please get in touch with us if you have any feedbacks/questions/suggestions :) POPWIngs CM

Yeah, the site looks so close to what MS, and Nokia are doing today I figured the designers had to be influenced by the Metro DL. Maybe you guys can feature WP devices on your website when showcasing your apps. I think Nokia has some WP templates to do this with.

I'll def use this when I upgrade to the Ativ S

Great idea to use with my PC business I'll have to have cards made up with it in them.

Oh yes, I'm looking forward to this! Get a business card with an NFC chip in it

Isn't this a bit of a security risk. People can pull your phone number and address off your wallet while you are trying to grab that pole in a metro or a bus.

The idea of someone tapping their phone off of my ass makes me laugh. But yeah, I can see this being a problem.

I smiled when I realized that no, I don't have to venture beyond my front porch for work. I can't remember the last time I shaved (enough to fit in at the office I mean)

Just noticed that this app already appears to be avaiable in the French store http://www.windowsphone.com/fr-fr/store/app/popwings/ - I assume this is the official one; if so maybe the English version is not far behind?

You are right . We are just about to publish the english version so taht it is ready for Mobile Wold Congress . Any one there can pop to see us on gemalto or NXP booth and make their PopCard on tghe stand .

Our Editor in Chief Daniel Rubino will be at MWC, as will our developer Jay Bennett.
Windows Central Newsletter
Thank you for signing up to Windows Central. You will receive a verification email shortly.
There was a problem. Please refresh the page and try again.