PowerPoint's new Designer and Morph tools help you easily create beautiful presentations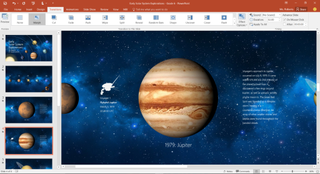 Microsoft has introduced a couple of new tools to PowerPoint to help you spruce up your presentations. These tools help automate the creation of presentations, helping you create engaging, highly-polished slides.
Designer is all about creating professional-looking slides quickly. Drop in your image, and Designer will give you a number of options for how your slide should look. Designer analyzes your image and selects from the more than 12,000 available layout blueprints to give you options that fit the image style. From Microsoft:
Morph is a new transition that helps you create cinematic motion between your slides. With Morph, slides seamlessly flow into one another:
Both Designer and Morph are exclusive to Office 365 users, and will be rolling out to them over the coming weeks, starting with PowerPoint 2016 users on Windows desktop and Windows Mobile.
Source: Microsoft (opens in new tab)
Morph looks interesting! And i have Office 365 :)

yea that was pretty nice.

What a blast! I don't have to make so many animations with that transition then, and I very like this one. Excellent!

Man why'd it have to be exclusive to Office 365...? They seem like such powerful tools, non-Office 365 users should also have access to these Posted via the Windows Central App

Because they want to sell more subscriptions.

exactly, and there should be exclusive features so that users are compelled to get Office 365

Well, maybe that's right...
But then Office 365 may not be for everyone so paying that much for a subscription and not being able to use full advantage of all features offered with it would not work out great.
Such a feature should probably be implemented within the normal Office too Posted via the Windows Central App

Yeah, and also there are business and other institutions that use regular Office. Not all want or needs Office 365, we know its benefits, but that doesn't apply to anybody especially in productive environment. This feature is a must for Powerpoint and this helps everybody. Exclusivity will just give sour perception to other users who are not into subscription and just gives opportunity to competitors.

Office 365 works on all Windows, Android, and Apple devices so there wouldn't really be any sour perception @aXross

That may be so, but piracy of standalone office apps is higher and easier than office 365 as well. Office 365 isn't that expensive and most even very small businesses also provide it for their employees

There are low cost packages available to non-profit and small organizations for as low as $4/month per user.

Re: Siddharth Shekhar,
The selling price point for Office 365 isn't intended to be for people who need and use all the software included. It is a great price, as a package, taking all the features into account, even if you only use one or two applications. You can always just buy one, alone, out right, for the same or more money.

The issue with it for me is the subscription... I prefer to use stuff by paying once and continue with it without hassle.
Even though I love software from Microsoft, I seriously don't find it worth it because so much that is offered with the subscription is not of use for my requirements. Posted via the Windows Central App

Why only to Office 365? Microsoft is so good at messing things up.

Maybe because MS is a company and need's to make money?

More reasons to switch to Office 365

https://www.youtube.com/watch?v=FeUolRLacCw Here's a nice little tutorial.

I hope they bring this to powerpoint mobile soon as well, so you can use this on your windows phone with continuum as well.

yep it's coming, have patience

Morph's gonna kill prezi, i love it

Microsoft already made a Prezi killer - Sway

Sway isn't a prezi killer at all. Its just another good service which I see still to be improved. Microsoft has very good chance to get artist use sway or powerpoints with surface and other hybrid devices.

Will this be integrated in the standalone Powerpoint instead of just the Office 365? I hope it will be.

Awesome!!! This would help alot for alot of people to make nice looking presentations. How I wished this was released when I'm still at school for school projects.

So, this one works like a zoom of the slide? Or is there something different?

Go the online store www.Microsoftkeystores.com . You even don't need to spend a lot of time but only need to place the order and finish the payment in several minutes. The product key will be sent to you via email in short time. Very efficient!

Just wanted to recommend http://www.MicrosoftStoreinc.com
I have helped people "who cannot afford" computing, refurbish old systems donated by schools and http://www.MicrosoftStoreinc.com has really enabled me to give these people good software that would normally be out of their reach ( I don't charge for my service,) just thought I would pass the word on
Windows Central Newsletter
Get the best of Windows Central in in your inbox, every day!
Thank you for signing up to Windows Central. You will receive a verification email shortly.
There was a problem. Please refresh the page and try again.