Premiere Google Voice Client MetroTalk gets coveted new features in update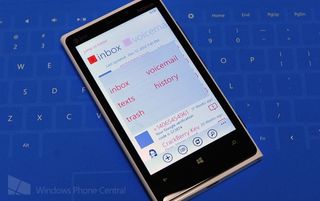 Nothing puts a smile on our faces faster than seeing notifications that there are app updates in the Windows Phone Store. So you can imagine how stoked we were when we saw that 15 apps had an update ready. One of them was MetroTalk, which just got the pump to version 3.1. What's new and improved? Quite a bit actually.
Back in December MetroTalk got a big update that gave it some Windows Phone 8 specific features. You had things like fast resume, multi-sized tiles, and text-to-speech just to name a few. Go check that article out right here, we also have a video of MetroTalk in action. That was version 3.0, but 3.1 brings a lot of new features and updates. Check it:
New: Voice commands (requires configuration)
New: People hub integration (requires configuration, limited functionality; see instructions)
New: Speech-to-text
New: Pinned contact tiles now support profile photos and call/text visual indicators
New: Pause, copy and forward options for voicemails
New: Action-links are now supported for voicemails and in Quick Reply
New: Ability to hide Google contacts from autocomplete searches
New: Can now select items in folders by tapping on the left-edge
Update: Overhauled contacts handling should now result in faster operation on some devices
Update: Enhanced contact search now supports multiple partial string matching (e.g. ""met supp"" for ""MetroTalk Support"")
Update: Can now permanently hide the ""No more data"" notification by tapping it
Bug: Entries are now properly removed when deleted from trash
Bug: The add recipient button in Call/Text now properly supports multiple recipients
Bug: Offline calling now works as intended on WP8
Bug: Loading additional pages now always retrieves the correct page
Bug: Working in a folder other than the inbox now updates correctly the folder, tile, and lock screen unread counters
Holy cow. That's a lot of new features. If you're looking for a Google Voice client on Windows Phone you need MetroTalk. It's been the standard since it first came out and with updates like this it's hard to see how anything but an official Google Voice app could usurp it.
You can grab MetroTalk from the Windows Phone Store for free (ad supported) or paid ($1.99),.
Get the Windows Central Newsletter
All the latest news, reviews, and guides for Windows and Xbox diehards.