Premiere Google Voice Client MetroTalk gets coveted new features in update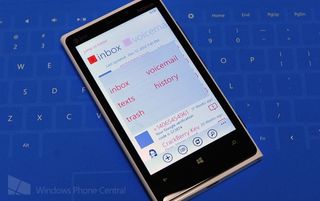 Nothing puts a smile on our faces faster than seeing notifications that there are app updates in the Windows Phone Store. So you can imagine how stoked we were when we saw that 15 apps had an update ready. One of them was MetroTalk, which just got the pump to version 3.1. What's new and improved? Quite a bit actually.
Back in December MetroTalk got a big update that gave it some Windows Phone 8 specific features. You had things like fast resume, multi-sized tiles, and text-to-speech just to name a few. Go check that article out right here, we also have a video of MetroTalk in action. That was version 3.0, but 3.1 brings a lot of new features and updates. Check it:
New: Voice commands (requires configuration)
New: People hub integration (requires configuration, limited functionality; see instructions)
New: Speech-to-text
New: Pinned contact tiles now support profile photos and call/text visual indicators
New: Pause, copy and forward options for voicemails
New: Action-links are now supported for voicemails and in Quick Reply
New: Ability to hide Google contacts from autocomplete searches
New: Can now select items in folders by tapping on the left-edge
Update: Overhauled contacts handling should now result in faster operation on some devices
Update: Enhanced contact search now supports multiple partial string matching (e.g. ""met supp"" for ""MetroTalk Support"")
Update: Can now permanently hide the ""No more data"" notification by tapping it
Bug: Entries are now properly removed when deleted from trash
Bug: The add recipient button in Call/Text now properly supports multiple recipients
Bug: Offline calling now works as intended on WP8
Bug: Loading additional pages now always retrieves the correct page
Bug: Working in a folder other than the inbox now updates correctly the folder, tile, and lock screen unread counters
Holy cow. That's a lot of new features. If you're looking for a Google Voice client on Windows Phone you need MetroTalk. It's been the standard since it first came out and with updates like this it's hard to see how anything but an official Google Voice app could usurp it.
You can grab MetroTalk from the Windows Phone Store for free (ad supported) or paid ($1.99),.
Holy crap. These guys are grinding it out.

My marketplace shows version 2.5 still...im on 7.5

Dev here. First, let me apologize for not following up on my previous promise, for releasing a WP7 version right after 3.0 was released. What happened is that I decided to go forward with 3.1, and then integrate the feautures from both releases to version 2.6 for WP7 devices. It is easier to do this process only once, than having to port each of 3.0 and 3.1 individually to 2.6.

Rest assured that no more features will be added to the WP8 version, before 2.6 is out. You should also keep in mind though, that only a subset of these features will be ported over. This is simply an issue of the WP7 vs WP8 API. For example, voice commands or contact store integration, are impossible for devs to implement on WP7. All non WP8-specific features though, are coming to WP7 soon.

Why can't more devs be like you? You frickin get it while other devs just make excuses.

Let me extend a thank you from myself; I'm beginning to feel as if the entire Windows Phone universe is abandoning Windows Phone 7.x users including this website; I understand WP8 is using the NT kernel whereas WP7 is CE but c'mon, I realize they're different but please remember there are our fair share still on the older devices that once were promised the WP8 upgrade and weren't. Show us some love please! Like this developer; thank you!!!

I depend on google voice, and metroktalk just nails it for me. I came from android and this app comes awfully close to the native android experience. you can get around the lack native dialer and messaging hub integration now by using the voice commands...so I think they've done as much as they can do with the wp8 sdk to give you the best google voice experience on windows phone. definitely fork over the $2, more than worth it even if your an occasional gvoice user.

This is why I do not care if Google makes apps for Windows Phone. The devs on Windows are much more capable of making apps then Google ever will be, and without all of the spying and snooping.

Will the features of the Windows Phone 8 version make its way to Windows Phone 7?

Please see my reply above.

Hopefully they can add shadow calling as a feature in the next update. It's the one feature I miss from GoVoice.

Paid app is $1.49, not $1.99!

Is this app better than GoVoice?

Yes! :)

Full disclosure: I'm the developer.

For your confidence I will spend the buck fifty. Thank you, if you are right. If not...

If there is anything you are not happy with, feel free to contact me! The email address is in settings -> about.

Hands down. And no, I'm not the developer.

Will this ever work in the UK?

The original Google Voice service, for which MetroTalk was designed, is not available I believe outside of North America. Often people confuse Google Voice, with Google's service for placing calls over VoIP. That functionality is actually implemented as part of the Google Talk service. If it sounds confusing, it's because it is, and Google interchangeably using the names of these two services, doesn't help either. Basically, unless you have a working number assigned to your account, when logging in http://www.google.com/voice, you cannot currently use MetroTalk. We hope to support this in the future, but as it essentially means integrating Google Talk as well into the app, it is not a straightforward task.

Needs more VOIP (via my GV #)... and cowbell. Maybe make a dialer like the native one and messaging more like the native messaging and history more like the native history and voicemail more like the native vvm... and I think you get the point. But outstanding work, keep it up.

Yeah ... wanting a WP8 device now ... Laser ...

Congrats to the developer! I just submitted a 5-start glowing review on the marketplace - because this app deserves it. I use this app daily (because I don't want to pay ATT for texting) and it works smoothly. I love the notifications and with the new features, this app is even better. I've used GVoice before but I this is hands down the better option.
Now if only you'd port this to Windows RT (for my Surface)! (wink wink!)

I think I can guess which one the review is! Thank you for the support :) Point taken about WinRT too ;)

Just a quick question please... I am about to purchase a Nokia 928 and , in order to have visual voice mail, Verizon te lls me I need to subscribe to their monthly service.

I also use google voice, and used to use an app on my Note II which allowed for visual email, without the need of a Verizon subscription.

Is Metro Talk providing the same service, i.e., if I install Metro Talk, can I just bypass tghe need to subscribe to Verizon Visual voice mail service?

Thank you in advance!
Windows Central Newsletter
Thank you for signing up to Windows Central. You will receive a verification email shortly.
There was a problem. Please refresh the page and try again.