Need a Google Voice client for Windows Phone 8? MetroTalk has you covered.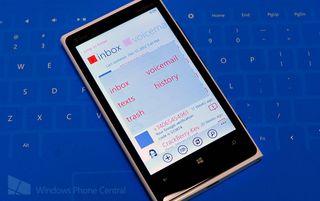 Nearly three weeks ago we gave you a sneak peek at the upcoming version 3.0 update for MetroTalk--the dedicated Google Voice app. That update is now live and joins all the other new Windows Phone 8 optimized apps to hit the Store.
The new version has brought with it numerous fixes and various new features, many of which are optimized for Windows Phone 8 users. Over the last few weeks, we've had no issues with the app and it's been running like a champ on our Lumia 920. In short, if you use Google Voice and you're on Windows Phone, you need this.
With MetroTalk, you can finally use every feature for Google Voice, including outgoing calls with your GV number, sending SMS messages, visual voicemail, etc. all wrapped in a Metro-tastic UI with quick performance.
MetroTalk version 3.0 changes:
New: Fast resume
New: Multi-size tile support
New: Lock-screen unread counter
New: Text-to-speech
New: Added ability to auto-dial a contact directly from the start screen (a new pin-to-start menu has been introduced in Call/Text)
New: Additional folder pages can now be downloaded using a scroll-up gesture
New: Option for enabling private mode, which hides any sender or content info for new notifications
New: Option to disable vibrating on new messages
Update: Added new icon for the Call/Text secondary tile
Update: The account PIN is now hidden in settings
Bug fix: Secondary tiles are working now on WP8
All in all version 3.0 is a solid update and it should make those who rely on Google Voice quite pleased (especially since Google is evidently passing on official app support).
Google Voice (not to be confused with the chat service Google Talk), re-routes multiple phones to your mobile, allowing a "one-number to rule them all" scenario. In short, you can pick your free Google Voice number (mine's a DC number, natch) and then set it up so if someone calls it, it can ring your cell phone, office, landline, etc all at once. There's no limits and you can even set it up on a schedule e.g. cell phone just on the weekend, block certain numbers, etc.
The other benefits to Google Voice are free SMS and visual voicemail (with transcription). Using the service you can text all you want (uses data) and with visual voicemail, you can just read the message, or play it back in whichever order. All for free.
MetroTalk comes in two versions for Windows Phone 8: free (but ad supported) or pay ($1.49). Both versions have the same features, but the developer encourages you to purchase the app if you use it often. We did.
We consider MetroTalk to be the best in its class and highly recommend it
Daniel Rubino is the Executive Editor of Windows Central, head reviewer, podcast co-host, and analyst. He has been covering Microsoft here since 2007, back when this site was called WMExperts (and later Windows Phone Central). His interests include Windows, Microsoft Surface, laptops, next-gen computing, and arguing with people on the internet.
This is probably the most used app on my phone. Its a great app, with an awesome dev. $1.50 is a no brainer.

The ONLY reason I have been hesitant to switch to Windows Phone. Thank god there is a stable 3rd Party Google Voice app since I use this feature 100% of the time. ANy issues in terms of calls in/out or delayed texts in/out?? Response greatly appreciated....

Dev here. Regarding messaging, I believe you will be satisfied. Assuming you have a decent connection on your phone, sending should be quick, and push notifications have been fairly reliable for a while now. We did hit some server capacity issues recently at peak times, but now that capacity has been doubled. For calling, I don't know if it's been clear, but currently the app does not support VoIP. That means that outgoing calls can still be placed from your GV number, but through the cellular network.

Is VoIP something we can expect in the future, or is this another limitation of Windows Phone?

Didn't know VoIP worked on phones? I have android ICS on Motoroal Droid RAZOR and it uses celular all the time for out/inbound calls.....

I also didn't know VoIP worked on WP8 but it looks like this is a core feature of the OS...
http://msdn.microsoft.com/en-us/library/windowsphone/develop/jj206983
I'm not sure if there are any current apps that support this but I'm hoping they will in the future.

There are several GV apps on Android which can use your 3G/4G/WiFI connection to place phone calls.

As a fellow Windows Phone Developer/Designer, I love that great apps like this are out there! We really appreciate your hard work and continued support!!
I will fire up my old dev phone (Samsung Focus S) and take this app for a spin before I get a Lumia 920... I'm tired of my lagDroid and can't wait to pitch it out the window. My App: "Car-Pal+" ** TOP 5 App Design Winner, international competition for the Windows Phone - December, 2011 ** http://www.windowsphone.com/en-us/store/app/car-pal/cf7c98f3-7ea5-4bdf-8...

Any plans to have voice support to make free (for North America only but still...) voice calls from your GV client? Same way you can do in on PC via Gmail site?

Awesome! This is the first app I looked/bought when I switched to WP8. Great news about the updates!

How is this better than GoVoice? Anyone?
GoVoice sets up notifications with one click. This seems to require some expertise that not everyone may have.

I'm a big fan of GoVoice but as of now, MetroTalk has had much more active development, ergo more features and integration. Regarding setting up notifications, I *think* I just used the same setup that I had with GoVoice. It's not very hard and a one time thing. Every device now that I install MetroTalk on, I just "enable" push and it works with no re-setup.

I am going to give it a shot on your recommendation. Hopefully it won't disappoint because GoVoice has been working flawlessly for me. I wish the built-in Visual voicemail was better. It doesnt even let you play voicemail through speakerphone.

I don't use Google Voice, but I'm buying this just to support the developer. Good developers producing great apps should be supported and promoted, and this definitely fits both. :)

Isn't it with a free "subscription", not "transcription"?

No, transcription is correct. Your voicemail is transcribed so you can read it (instead of listening to it). It's kind of neat. There's no subscription to Google Voice, it's 100% free (except for making int'l calls).

Yay update!! Seriously google voice saves me $20/month from ATT for unlimited msg. Buy this app!!

How do you that? I mean I have ATT but I call people from other carriers. The thing is you only fet unlimited call to any carrier only if you get the $20 unlimited text. Let me know how you do that because that would certainly help...

Basiclly you text just using this app. People will see it coming from your Google Voice phone number and you receive them nearly instant too. The secret is, Google Voice for SMS is data driven, not based on cellular. Google doesn't charge your at all for SMS. So in theory, if you just give out your Google Voice number and use this app, you get "free" SMS.

Is it just me or does the live tile (at least when using the smallest tile) not update to show the number of unchecked messages? I get the push notification, but no count on the tile... Just the app icon. Hoping I just missed a setting somewhere..

Are you sure you have the main app tile pinned to the screen, and not one of the folders? Unfortunately only the primary tile gets updated. You could also try disabling/enabling push notifications and see if it helps. Other than that, and if you are already successfully receiving toasts, then technically there is no reason for the tile not to get updated as well.

Figured it out... You were right though, I technically had a "folder" pinned... Even though that folder was the main inbox. I needed to swipe right and actually pin the app from the app list instead of pinning from inside the application.
Working like a charm now! Great app!

very good GV client. Use it all the time, and i just got the update today. Highly recommend too.

Will the WP7.5 version be updated beyond V2.5? ...I'd pay again just to get rid of the haptic feedback:)

It will be. I am planning to bring all the non-WP8 futures, to WP7.5 as well. Just give me a couple of more weeks please :)

Thank You for the reply - now THIS is committed Dev! ...he actually answers our questions!

this is an awesome app but i was really really hoping for them to add speech to text feature..? they added text to speech.. please someone explain.. why not speech to text? is it coming in future?

Well.. if you could see the beta version that I am currently using... :)

I maintain, when dev's comment on release articles, I'm MUCH more inclined to buy the app. You have my 1.49 and if you decide to make a Windows 8 app, you can get another 1.49 too.

although i don't use google voice but i must say thanks to the developer for his support and another thanks for metrotube developers

...and WP7.5 users are stuck with another dead-end app. Fragmen-tastic!

False, the developer chimed in above and said an update is coming for WP7.x users too.

after lauching MetroTalk it takes me straight to the "account" screen where it asks me to "sign in". If I click "sign in" it only tells me "missing username and/or password". Please help! thanks!

Can somebody help me!!!i've been trying to use MetroTalk for placing calls through google voice, but after i register and im about to place the call, when i hit the call button a message appears saying that I should visit Google Voice website for adding a number, but I cant find a place on Google Voice website of where should I enter my phone number...im going crazy with it cause i need to use my google voice for placing international calls!!!if somebody can help me find my way out will be more than appreciated!!!

Lack of GV support is the ONLY reason I've not jumped over to Windows Phone. I have ported my main business phone number over to GV and it's worked for me brilliantly on Android. If I get this app, will my Google Voice number ring the Windows phone on INCOMING calls? Otherwise, it's useless to me as that's my main number.

How long does it take to Enable the T9 contact syncing? It's been going for ~15 minutes and has not completed yet...thanks
Windows Central Newsletter
Get the best of Windows Central in in your inbox, every day!
Thank you for signing up to Windows Central. You will receive a verification email shortly.
There was a problem. Please refresh the page and try again.