Prime World: Defenders - Defending the Windows realm with towers and magic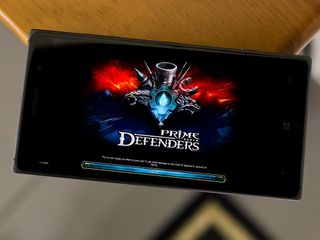 Prime World: Defenders is a relatively new tower defense game in the Windows Phone Store that offers a slight fantasy gaming feel. The Windows Phone game combines the traditional elements of a tower defense game with a touch of magic to help you defend various locations within your Kingdom from invading monsters.
Prime World: Defenders has over twenty-six towers, plenty of upgrades and thirteen types of spells to unlock. Graphics are nicely drawn up (just a little on the tiny side) and game play has its fair share of challenges. Available for low-memory Windows Phones and Windows 8 devices, Prime World: Defenders is a nice addition to the tower defense genre of games and a entertaining time consumer.
When you first launch Prime World: Defenders, the game will send you directly to a tutorial gaming level. The primary goal is to defend your location from an invading army by placing defensive towers along the invading force's path. Let too many monster make it across the screen and you will fail the level.
Tiny dialog screens will walk you through the tutorial and covers placing defensive towers and using your magic nicely. The only downside to the tutorial is that the dialog messages are extremely hard to read, especially with the Windows Phone version (smaller screen and all).
Once you complete the tutorial, Prime World: Defenders will send you to the gaming map, which lays out the twenty-three missions of the game. Each mission will include a number of invasion waves that you have to defend against that concludes with a boss that has to be defeated.
There is a traditional main menu for Prime World: Defenders that will appear after you finish the tutorial, exit the game and return to the game. It is a roundabout way of doing things but the main menu has options to jump into game play, view the game's leaderboard, view your achievements (the non-Xbox style), access the game's settings and view the game's encyclopedia. The encyclopedia offers information on the thirty-six types of invading monsters, the twenty-six towers and your storyline progress.
The levels of play are available from the map screen that will highlight your experience level, cards (towers) collected, silver count and star count across the top of the screen. Down the right side of the screen is a Home button to return to the main menu, a button to access the game's settings and to access your game talents (more on this in a second).
There are picture storyboards that will appear before each mission to illustrate the game's backstory on how you must defeat the evil forces and restore order to the kingdom. You can tap forward through these storyboards to get to game play quicker.
The gaming screen for Prime World: Defenders has your health points and prime points (resources used to place new towers or upgrade existing units) in the upper left corner of the screen. The invasion stats (wave/number of units) are in the top center and pause, speed switch, settings and level information button can be found in the upper right corner. Settings cover sound, music and narration levels.
The game screen can be zoomed, rotated and viewed at an angle through a series of touch gestures.
At the bottom center you will find you selection of defensive towers and magic spells. To bring a tower into play, tap/hold on the unit icon and the available placement locations will be highlighted for you to drag the unit to. You can tap on an individual unit to review its abilities or sell it. You cannot upgrade a tower unit during game play but can upgrade its effectiveness through the Talents menu (more on this in a second).
Game play is your typical tower defense action. You place your towers to inflict as much damage before the enemies reach the end of the path. Towers range from straightforward explosive canons to canons that will slow down your enemy to canons that will poison your enemy. Monsters also vary in size, strength and speed. As you dispatch monsters, you will earn prime points that will be needed to add more towers to the battle or upgrade those already in play.
Along with your towers, you can call upon magic spells to inflict wide spread damage to your enemy when your towers are being overwhelmed by the monsters. You also have gaming speed controls that will let you speed through an attack wave or wave off the pause that occurs between attack waves.
At the conclusion of each level, you will have the opportunity to unlock new spells and tower styles to use during game play. You will also earn gaming currency that can be used to increase your talents at using magic and tower. Just tap the talent button located in the bottom right corner of the map screen to increase a spell or tower's damage, lowering the cost for towers, add the ability to combine towers and more. Talents will cost you a bit of gaming cash and gives the game a slight RPG aspect.
As with many tower defense games, any resources you have accumulated during game play will not carry over to the next level. However, some levels begin with a few towers already in play. It is a nice touch and helps Prime World: Defenders stand out a little more from your run of the mill tower defense games.
Overall Impression
Prime World: Defenders is an entertaining tower defense game for both Windows Phone and Windows 8 devices. Graphics are well done, the game has plenty of tower and monster styles and game play offers plenty of challenges. I also like how the Talent menu and other features offers a slight RPG feel to the game.
The only complaint I have with Prime World is the small text size. While my eyes are showing their age, I imagine younger gamers will have trouble ready the small fonts.
One quick observation on the Windows 8 version of Prime World is that game progress does not transfer between Windows 8 and Windows Phone devices (which is a shame). I also found playing the Windows 8 version a little more enjoyable in that the larger screen pulls out a lot more detail from the graphics. In that respect, Prime World: Defenders is an ideal game for tablets.
Overall, if you are searching for a fun tower defense game for your Windows Phone, Prime World: Defenders is well worth checking out. At last check, the game is pulling down a 4.5 star rating in the Windows Phone Store. The Windows Store has the game rated at 4.3 stars. We think both ratings are spot on.
If you try Prime World: Defender, let us know in the comments below what you think of the game.
Get the Windows Central Newsletter
All the latest news, reviews, and guides for Windows and Xbox diehards.
George is the Reviews Editor at Windows Central, concentrating on Windows 10 PC and Mobile apps. He's been a supporter of the platform since the days of Windows CE and uses his current Windows 10 Mobile phone daily to keep up with life and enjoy a game during down time.