Prince of Persia: Redemption gameplay leaks, was failed pitch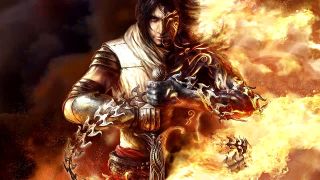 (Image credit: Ubisoft)
What you need to know
Prince of Persia is an iconic third-person franchise from Ubisoft.
We haven't gotten a new game since 2010's Prince of Persia: The Forgotten Sands.
Prince of Persia: Redemption was a failed pitch that occurred eight years ago.
The gameplay looks bombastic, but it's quite linear.
Prince of Persia is one of the most iconic video game franchises of all time, and we haven't seen a new entry since Prince of Persia: The Forgotten Sands that came out in 2010. However, it turns out that Ubisoft Montreal pitched a new game, Prince of Persia: Redemption, to the higher-ups some eight years ago. Unfortunately, it was rejected, but the video of that pitch was finally posted to YouTube.
Prince of Persia: Redemption seems like it has the same overall aesthetic as Prince of Persia: The Forgotten Sands, but with a possibly different main character. It also seems like it takes place in the same city. However, there's some challenging combat involved, particularly when it comes to bosses and mini-bosses. The video gives you a good taste of the gameplay.
Prince of Persia: Redemption looks spectacular, but with the move towards open-world games, it seems a little dated. In order to revive the franchise, I think Ubisoft needs to take Prince of Persia the Assassin's Creed route and open it up. The ability to explore ancient Persia and take part in a grounded story — maybe with some mysticism — would be amazing.
Recently, Ubisoft registered the domain of Prince of Persia 6. This could mean that a new game is in the works, separate from the failed Prince of Persia: Redemption. Hopefully, Ubisoft will announce a new project soon because it's been way too long. It's one of the most valuable franchises the company is just sitting on.
Asher Madan handles gaming news for Windows Central. Before joining Windows Central in 2017, Asher worked for a number of different gaming outlets. He has a background in medical science and is passionate about all forms of entertainment, cooking, and antiquing.
Looks like it was designed for the iPad.

Most definitely looks like a mobile game. I couldn't even finish watching the video

Hey I know, You need to play the original Prince of Persia. ;)

A 2012 iPad? This was certainly a game aimed at the 360 or PS3.

I enjoyed the Forgotten Sands but I'd like to see a new Prince of Persia fill the action-adventure void of Assassin's Creed now that is more RPG focused.

Love the video. Too bad i cant play it. Looks really good.

This looks awesome! Ubisoft made a bad decision on that one.

Ars Technical got a lot more information, including a reason we haven't seen new PoP games. It seems Jordan Mechner, who created the franchise, still have some rights and, thus, Ubisoft must give him part of the profits.

Yeah... that 100% looks like a mobile game. Oh, and no to open world. Every game doesn't have to be open world, it'd be nice to just play a good game with a good story, without having to piss fart around by running for 15 minutes to get to the next story beat.

For sure. I still love a good platformer or linear game. Open worlds can be good too, but 90% of the interactions are with repetitive npc's.

Yeah, I definitely enjoy open world games, I just like some variety and it feels like EVERYTHING is going open world, and I just don't have time for that. Not everything has to be open world with RPG elements.

This looks more like Assassin's Creed than Assassin's Creed.

The original mix of the supernatural sands of time, beautiful ancient lost cities, lore as well as wonderful witty characters were my feavourite elements of the series. Since "Prince of Persia 4" (the one that mixes things up with an evil god and the balance of it all) and after an amazing 3-game storyline, that sort of took a backseat and the game mechanics were the main focus. Then Forgotten Sands arrived, and maybe, that was a nail in the coffin for the franchise, though not the final one. If they choose to revive this, I hope they return to PoPs roots of great character wit and development along with fantastic ancient worlds to explore. I liked how the last two were heavily themed around the main character's development and how "the sands of time" had begun to affect him. I see much potential in this franchise yet. If nothing else, it could be a great nostalgia trip of beautiful remakes, that could help revigorate the franchise and help pave the way for a true successor to the Prince of Persia series.
Windows Central Newsletter
Thank you for signing up to Windows Central. You will receive a verification email shortly.
There was a problem. Please refresh the page and try again.