ProShot creators offer a peek at what's in store for the Windows 10 camera app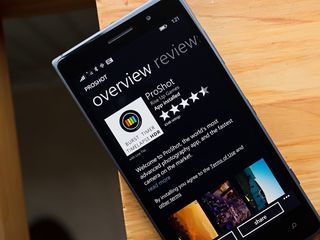 The developers behind the popular third-party Windows Phone camera app ProShot have posted a list of the features that will be included in the upcoming Windows 10 version of the app.
The list of features was accompanied by a video that demonstrated some of those new features, including Light Painting, which will allow users to do some visual effects with light in a photo. Here's the list of features that will be in the Windows 10 version of ProShot:
Auto, Program, Manual, and two fully configurable Custom modes
Full manual control over exposure, ISO, shutter speed and white balance
Normal, Bracket, Timelapse, and Video modes all with full manual controls, even during video recording
Light Painting (bulb) mode with Live Preview, and two submodes (Light Trail, Light Add)
Up to 4K Video
Live audio levels during video capture
Customizable video size, FPS and bitrate
Exposure bracketing
ISO priority and Shutter priority modes using the Auto ISO / Auto shutter settings
Manual focus assist
Full resolution image capture
Quick access to 16:9, 4:3, and 1:1 shooting modes
Front-facing camera with full manual controls, support for video
Zoom with just one finger
Real-time ISO and shutter info
Battery meter
Grid overlay
Horizon Level
Quick access to OIS, GPS and UI sounds
Quick reset button
Runs on any Windows 10 device with a camera, including phone, tablet, laptop, PC, and Windows 10 potato (launch TBA)
Not all of the Windows Phone ProShot features were included in the Windows 10 version. That includes filters, although if users demand it, the ProShot developers may find a way to bring it back. While the app is close to being launched, there is no specific release date. The developer state "there are still a few logistics on our end that need taking care of" before they can launch the new ProShot app.
I can't wait until this comes out. Even if I have to buy it again, I am all for supporting this dev and app.

Yea, it's an amazing camera app

You wouldn't have to buy again if you already paid for it.

The dev confirmed a while back that you will have to buy it again, this isn't an upgrade it's a new app made specifically for Windows 10.

Oh, that was unexpected. But its a GREAT app nevertheless. :)

Only if you're unwilling to support the devs. I'll happily toss down a few more bucks to support RUG.

Agreed. Great dev and a great app.

Windows 8(.1) and 10 share the same purchases. As long as the dev publishes the package under the same store listing all purchases remain the same, independent wether it's 8.1, 10, or an upgrade from 8 to 10. If he is requiring to make people pay again, then he will make a new app listing for the Windows 10 version and thus it will be a deliberate choice to make people pay a second time. I bought ProShot, but making people pay twice is not nice, it's just a dick move to rake in the cash.

You paid for software that was written from scratch for Windows Phone 8/8.1. This is entirely new software, not upgraded existing code. The developer deserves something for all the extra work that has gone into this. You think it's a "dick move" to rake in the cash, I say it's being a jerk to expect him to work for free. He has life expenses just like the rest of us, and I for one don't expect him to work for free. If he decides to charge for it again, I'll buy a copy for me AND a copy for my wife. "those who work deserve their pay" Luke 10:7 NLT


I have no problen on buying the new version, but I need to have personalized filters to take professional photos with my Lumia 950, and this feature will not be included in the new version. I hope that they will include it, and then I will buy it for sure.

ProShot was written for Windows Phone 8.0, and I provided two full years of steady, substantial, and free updates. Then the camera API was changed completely for Windows Phone 8.1. I started working on that to make it another free upgrade, then W10 was annoucned with yet another camera API. I had to scrap all my work on 8.1 to focus on 10. Instead of cobbling together new and old APIs to make the old ProShot work on 10, I thought it best to rewrite the whole thing. The new ProShot is 100% new code, built exclusively for Windows 10 (not a port). It is future-proof, easier to maintain and expand, much faster, more stable and can now do lots of other things like Light Painting and video. Apps are expensive to make, they require significant time and financial investment to properly execute a vision. Offering ProShot as a new app for Windows 10 ensures that I can hopefully make some of that money back, so I can once again offer two solid years of free updates, upgrades, and new features. Hope that clears things up!

I hope they bump this topic when it releases so I remember to get it.

will it be able to leverage the picture quality like lumia camera app, the new windows 10 camera app sukks, i can clearly see the difference on two identical lumia 640s running 8.1 and a 10 !

I can tell you that I can see a difference using ProShot written for 8.0 and Windows Camera on 10, and there is a really big difference on pic quality. Windows Camera does a lot of compression that creates all sorts of lost pixels when using it. ProShot is slow on 10, but it was written for 8. Looking forward to the new version. Hey, RiseUpGames, is there a way we can sign up for email notification for when the new app releases?

I know that. But creating a W10 app does not require you to create a new app listing but adding the W10 appxupload package next to the W8 package. I develop all my apps (Nest, Discogs, ..) for free without limitations but give the option for users to donate. This way everyone can use the app even if they cant afford it. I spent months creating both the W8 and W10 version of my Nest (N10) app yet I dont charge a cent. I think donations are a way more user-friendly way than charging twice the money for the same app.

Exactly, what if all devs start charging for windows 10 app. Since he came out with that idea of charging for windows 10 app, I think twice before I purchase an app.
However he does have a point, one cannot support an app for a lifetime. MS needs to define the life cycle of an app.
The reason I worry about donation is some app ask to donate at first then they start adding ads, a few add here and there. Anyway I donate because I'm please with the work or like the concept.

I do not add ads to my apps, if you donate or not you always get the full 100% experience. I dont want to exlcude anyone. That's why I think it's unfair to charge again for an app you already purchased. There will always be new versions of Windows, do you need to charge again for every new version of Windows? Imagine if you had to pay again for Age Of Empires 1 every time a new version of Windows is released.

Do you not understand that the app you purchased on Windows Phone 8 works fine on Windows 10 Mobile? Age of Empires wasn't compatible with new versions of Windows than its original release so your argument really makes no sense. Think of the new ProShot app as Age of Empires 2, pretty sure no one had a problem buying that game and didn't ***** and moan about not getting it free when they already paid for the original.

AoE1 still works fine, that's one of the strengths of Windows, backwards compatibility. AoE 2 is a NEW game. This is not a new app, it's the same app but rewritten with new features. Did I start charging people when I released the W10 version of my Nest app? No, I remade it from scratch for free. It has thousands of users, I couldve charged people for it and made thousands, instead I released it for free with a whole load of new features (Insteon, Philips Hue, geofences Windows Hello, ..). I lose money on making all these apps. For example a Reddit user asked for a Discogs app, so I made it, free. Im not doing it for the money, I do it for the love of Windows and the community. I want to help close the app gap because after years of teaching myself and investing hundreds I now am capable of helping the ecosystem. That's why I dont appreciate the double charging of the same app, it's just for the money. It's perfectly possible to release the app for free to anyone who already bought the W8 version, but instead the dev requires those people to pay up again and that's what grinds my gears. Can you imagine if every dev would require to pay again for a W10 update? The already small W10 store would suffer immensely. This is not the way to help the ecosystem, it's a burden. I fully appreciate the dev's work, I know how hard it is to create/upgrade an app, but this is simply not the way to help the already suffering store.

I somehow agree with what you said too.. Oh man..
Maybe, the ProShot dev can reduce the price a bit ? Create a 'balance' ?

The difference is that that Age Of Empires 1 will still be the same game. He is making a new app, see the difference?

IT'S NOT THE SAME APP.
READ. It's his app and his choice. If you don't think it's worth it then don't buy it.

You sir are a fantastic developer - I purchased the first app, and I will gladly purchase this new one. Keep up the good work.

I agree with you awesome dev !
I take my words back. Its AMAZING that you are working on this all over again ☺

You have a right to be paid for your hard work.

You're not entitled to all future releases of software. That's like saying that because you bought adobe photoshop 7 you should get adobe photoshop 8 for free. In order to make this app available he has to work. Say you worked for paypal and you coded their windows 8 app. You got paid for it and all was good. Then they put you on the task of making paypal for windows 10. So you go through all the tedious work and then your boss says. Btw you wont be getting paid for this because you already made it for windows 8.

Any news of a panorama coming back?

Not sure but I imagine the dev will find a way to add it if enough people want it.

It is coming back to windows camera app.

What, #inthecomingmonths ?

Panorama is a bit of a tricky thing to implement properly (I know Apple spent a year of R&D working on theirs for iOS). I'm open to giving it a shot but I have a few other things I want to add to ProShot first

Hey there RUP - Thanks for ProShot. Since the deprecation of Lumia Camera the Win10 default camera app disappoints. One question: Will you by chance make your app able to replace the default camera so it can be activated via the camera button? I cannot seem to select it as the default camera app for the existing version, hoping the WIn10 version fixes that. Thanks!

I think that's something microsoft has to allow (selecting third party software as default programs) and I'm not sure if they do that as it currently is now with W10M

In W10M if you go to All Settings / Devices / Default Camera there is a drop down under "Choose a default camera app". The only option there currently is "Camera" which is the MS default. Ideally ProShot could add itself to this list.

Unforutnately Microsoft still isn't allowing third party apps to be set to defualt. I've been in talks with them about it :(

I'll see if there is a spot on UserVoice or Feedback to upvote for this, because we really need to be able to make choices.

I started one back in the day, it was one of the top requests (20K+ votes). Last year WP uservoice got taken down and it disappeared :( Microsoft is definitely aware that we want this, they just aren't able to grant third party apps access because of security issues.

I am looking for good panorama app tried Cycloramic - not impressed at all.... very poor results...

Seems powerful with an elegant UI.

The painting function got me

First I have heard of this too.

Just a joke cause pretty much anything can run Windows 10 ;) https://twitter.com/RiseUpGames/status/731519808383029248

The app that I need right now!

I have usef it previously but now it seems complete.

Hope they'll add 60fps/120fps

Currently there's support for up to 60fps (you can see the option in the video), hoping to add 120 / 240 / slow mo in time for launch.

Why do no cameras have panoramic?? I don't get it

Panorama is a bit of a tricky thing to implement properly (I know Apple spent a year of R&D working on theirs for iOS). I'm trying to focus on other stuff for ProShot first before looking into it

Dont care much about panorama... but no filters... Im really sad about this! I hope you reconsider it!

Yes. Panorama please! This is the kind of camera app I would have expected to come standard with a Lumia.

It did and then windows CAMERAAA happened

They should add slow motion too, quality sucks in the default camera and there's no sound!

I just read that Microsoft allows devlopers to put the HDR features into their camera apps, it would be nice if they did that. I actually own the app, I just do not always use it. I like that some of the controls are a little easier to find and I really could have used that on my trip to Disneyland.

Finally, the UWP version is coming. The current version (WP8 app) simply doesn't work on W10 Mobile. It keeps on crashing on startup every time. Anyhow, according to MSPoweruser, it will be available on the both stores by 15th July.

I'll definitely buy it. Don't need filters, there are a million good apps for that already.

Can be set as Default Camera?

I'd like to see this as well.

There's option to choose which app will be the default camera app at phone settings

Unforutnately Microsoft still isn't allowing third party apps to be set to defualt. I've been in talks, it's a security issue :(

If not, could you add a shortcut of Proshot in Action centre? I am launching my camera through action centre in my Lumia 640XL and I will happily replace that with Proshot.

That would be cool, but Microsoft hasn't opened the Action Center up to developers yet :/

I will buy again I hope he adds the panoramic.

Looks great - very well thought out. Can't wait to try it. I wonder in what formats it will save. JPEG High and Low Res? RAW?

I asked them via twitter if the app would save in dng (raw). Will post here if they respond.

Still trying to figure that one out. There is an option to get "uncompressed" data off the image sensor, but every time I tried it crashed or returned 0 bytes. Defintely try to squeeze every ouce of quality out of the hardware

Best camera app going, wish I could launch from button

Light painting with live preview sounds amazing. I have always wondered why this wasn't a thing on digital cameras.

Thank you for the write up John! ProShot's journey to Windows 10 has been a long and crazy one, but it's just about ready. Hope you like it!

Audio levels! That's awesome. I hope external mics are recognized. The Win10 stock app doesn't work the 950. I have to use my 1020 for video.

I have the app bought but I don't use it because it starts so slow on my Lumia 930 ...

looking forward to this version and don't mind paying again. This dev deserves our support. Been using ProShot already a few years and love it... great Job again RiseUp!

Hello. I bought pro shot for windows phone 8.1 a while ago and it would heat my phone so much so I really hope this version doesn't have that problem.

Looks like all in one app...except panorama and gesture/sound for selfies. Is it going to be listed under default camera app list under phone settings?

I really like how you are personally responding to questions here. Kudos to you and your team for that! What I've seen is amazing. Two items, I personally would like to see to make it my default go to app is in- camera filters (I use Sophie lens HD just for that feature) and the much requested panorama feature. Oh and please can you make an obvious animation or something that indicates a picture has been taken? So many times when I ask someone to take a picture they can't tell if one had been taken or not because there is no obvious indicator like ios. So I usually have the volume cranked up just so they can hear the "shutter" sound. Thanks! And keep up the great work.

App is still going through some polish, the shutter animation will be added for the final release :)

One more thing while I have your attention. Is it possible to shoot in different aspect ratios? For instance I have not found an app where I can shoot in Facebook banner format. Tons of square for Instagram but today I have to resize and crop in post just to make it the Facebook banner dimensions. It would be great to shoot with that already chosen in the camera app so I can frame the shot correctly. Anyways thanks for your ear and dedication to a fine app.

16:9, 4:3 and 1:1 are the aspect ratios avaialble at launch. I'm considering adding either 21:9 or 3:2 -- the UI really only has enough room for 1 more option

This looks AMAZING! The ultimate camera app and I can't wait! Hopefully we can get slo-mo and filters eventually, that would make it even better!

Take time to work on Panorama mode Good Sir. You are of good tough competition to the rest of camera app makers.

Waiting to purchase again... Good job RUD...

I didnt use this. I am always use inbuilt rear camera and Camera 360 for selfie. It provide great picture clarity and filters.

If you are into manual controls then you will like this better than the in-built camera app. I just found it recently and have used it multiple times. I switch between Camera and this Proshot Camera app depending on the situation and scenes.

@Riseupgames...
Hey my friend thanks for all of your work in the Windows Mobile circle.
Proshot has always been the best in my book.
Very exciting to see that Proshot will be reborn for the OS.


Does/Will the new "Proshot" for 10m support remote shutter,cable or Bluetooth?

What is W10 Potato? OK. it says "to ba announced later..."

Just a joke cause pretty much anything can run Windows 10 ;) https://twitter.com/RiseUpGames/status/731519808383029248

He's back! Always loved this app on Windows Phone. One picture at a time -- LG V10

Looks awesome. I only want RAW and to be able to set this app as def.

I'm glad this will finally run on my W10 potato. That was the thing I looked forward to most about the Windows 10 version.

I supported the dev from the beginning. Looking forwards to W10m version. Please support htc m8 as well.

Bought the WP 8.1 version, as well as the iOS version. Releasing this app is more than enough for me to update my Lumia 1020 to Windows 10.

I'll be grabbing the app again. I love the light painting. Another wish list item to go with it would be Time Lapse option (and of course, panorama)
Windows Central Newsletter
Get the best of Windows Central in in your inbox, every day!
Thank you for signing up to Windows Central. You will receive a verification email shortly.
There was a problem. Please refresh the page and try again.