ProShot rewritten for Windows 10 PC and Mobile is now available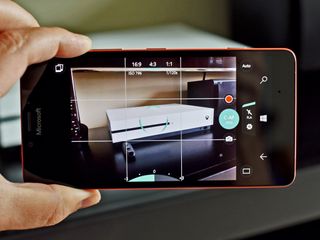 For those who enjoy a more pro experience with their Windows camera for phones or PC you can now try out the all-new ProShot rewritten for Windows 10.
ProShot by Rise Up Games is one of the few dedicated camera apps that rivals Microsoft's on camera app and in some ways surpasses it. Initially launched for Windows Phone 8.1 the app has been reworked for Windows 10 PC and Mobile and with it comes many new improvements and features.
Here is what is new:
ProShot for Windows 10
It's a completely new app, 100% new code
Video support added with full manual control. Can also select resolution, frame rate and bit rate, and view audio input levels in real-time
Can save uncompressed TIFF, pulled directly from RAW sensor output
Light Painting mode (temporarily broken due to OS bug, Microsoft says fix is on the way)
New UI, new design, runs at 60fps
Real-time ISO and shutter info
Real-time filters are gone (but user can still tweak image settings)
I've been using the app for a few days now and have to say it is impressive. The UI is the real winner here making things very easy to find and change with just a few taps. The auto-focus reticle is also very well done with fast speeds and an excellent visual indicator.
Features include shooting modes e.g. time-lapse, single, Light Painting, and video. There are also camera modes like Manual, Programmed Automatic, Auto, Custom 1, and Custom 2.
The real winner here is for those who like to shoot in RAW and output to uncompressed TIFF, which is ideal for people who like to post-edit on a PC using advanced image editing software. On some phones e.g. Lumia 950 you can also pick RAW from the sensor and choose your output like TIFF or JPG.
Overall, ProShot is very well done and now can be run on your Surface or any Windows 10 PC with a connected camera expanding its usefulness. Some features like Light Painting and Bracketing are "in" the app but not functional due to a bug in Windows. However, once Microsoft fixes that bug those features should turn on in ProShot through an update.
Watch the video above posted by Rise Up Games who created the app to get a full tour or read the full manual to learn more about specific features. You can find our full review of this updated app here for more information.
Unfortunately, Microsoft still does not allow third-party apps to become the default camera so users will have to launch the app manually to use it.
ProShot is regularly $3.99 but is temporarily just $1.99 for the first 24-hours. An optional in-app purchase for 99 cents unlocks HDR mode (HDR and Auto-HDR). You need to be using Windows 10 build 14393 or higher aka the Anniversary Update.
Finally, the old ProShot for Windows Phone will be renamed "ProShot Classic", and it will remain in the Store for those who can't upgrade to Windows 10 Mobile.
Note: If you do not see the new version in the Store just yet, give it some time. It may take a few hours for it to propagate to all of Microsoft's servers, but the link below is the correct one.
Read our full review of the new ProShot app for a deeper dive into how it all works.
Download ProShot from the Windows Store (opens in new tab)
Windows Central Newsletter
Get the best of Windows Central in in your inbox, every day!
Daniel Rubino is the Editor-in-chief of Windows Central, head reviewer, podcast co-host, and analyst. He has been covering Microsoft since 2007 when this site was called WMExperts (and later Windows Phone Central). His interests include Windows, laptops, next-gen computing, and for some reason, watches. Before all this tech stuff, he worked on a Ph.D. in linguistics, watched people sleep (for medical purposes!), and ran the projectors at movie theaters because it was fun.
Looks legit i will definitely give a look!

I will too, because I'm really hoping we finally have a W10 camera app that supports Dolby 5.1 audio on video recordings again. Since MS are STILL fannying around trying to get the built in camera app back to the functionality it had in WP8 this app could be the solution with any luck.

Perfect Flicker is launched today as well!

? What is perfect flicker?

No option to download it. The page just opens up. Running the latest release preview build.

Same here, all I get is the Store page and no option to download. I really hope that I don't have to pay for it again.

Yes you'll have to. The guy put in a lot of work for this new app.

Not really a problem, I liked ProShot so I'll pay for it again

It will take a while to replicate around the store globally. It is a completely re-written app, so won't be a free update.

The app is written free with in-app purchases

It's not free, its a paid app.

App is still stuck in certification right now. I hit the publish button for global distribution and... yeah. Going to have to talk to Microsoft in the morning when things open up (about 6 hours)

When it's available I know that I'll be getting it ;D

Edit: Looks like it passed cert! Should be rolling out in a few hours now. Fingers crossed.

Shut up already and take my money.

Good to hear, I'm looking forward to seeing what improvements this new version has over the old one

Great to see! I'll be buying this on 3 accounts today, ProShot is my all time favourite app!

You guys do a great job for the platform. I know your struggle for the past few weeks with the store issues to publish your app! But then, finally good to see it in the store.

Not sure if the ProShot listed on MS Canada store is the current W10 one.....nothing indicating W10 anyway.

HDR is listed as free, even the app is that right?

Thank you mate for such an awesome app. Cud i plz hav the app id? I want to set it as default camera

Apps sometime take time to spread everywhere. So, try again later.

Awesome.. Definitely gonna buy this

Nice, the reason I haven't downloaded this is because it wasn't a Windows 10 app. Guess it's time to download it :)

The old one works on windows 10 im using it

Does it support slow motion videos?

Great! Been looking forward to this as the old W8 app caused too many problems with W10 for me. Hope it lives up to expectations, especially as the W10 camera app has improved recently quite a lot...

Not available to download in store.

It's still rolling out around the world. The process takes up to 16h, but usually no more than 4-6. Please check back in a bit :)

It's there, I just get "ProShot is not currently available."

Hi all! I'm the developer of ProShot. The app is stuck in certification right now -- it was supposed to be published midnight PST. Have to talk to Microsoft in the morning. I'm trying the best I can :(

Cool, thanks for such great support for W10 M....

Happy to wait, loved your app on winph8.1 and glad to see its back for win10m. Thanks for the support. When MS finally allows it, this will be my default camera app.

Looks like it passed cert! Should be rolling out in a few hours now. Fingers crossed.

Will there be a trial version to check out the new features before buying?

Eagerly waiting for the publication of the app.

It was best camera app.......waiting.....now...

Ahhhh.... I miss the days when you could pick a default camera and navigation app. Oh, well.

Is old license for WP8 app valid for new app?

Yes, it is. I use it with my old WP8 licence (including HDR).

Shame the filters have been removed. Guess I'll continue with the old app for when I take shots in black and white.

Taking shots in black and white is not prefered. You will never be able to go back to colors. There is no reason to take photos directly in black and white. It's 10 times better to convert it after.

I beg to differ. Sometimes I specifically want to take shots in black and white. The live view filters in the old app were perfect for seeing how the image would come out so I could then adjust settings as necessary.

True, live filter gives better control on how you want your pictures to come out

Your avatar cracks me up.

Not available to download in the store

READ THE COMMENTS. The app was stuck in certification so it wasn't available to download in the Store, despite what was stated in the article!!!

I could download it. That too for free. So, I thought I would donate.

I really like the look of the app. Nice UI and nice features. But I'm an amateur and don't use the camera that often. I just want good looking pics without much trouble. Is ProShot better than the default app in my situation by using "auto"?

One of the best apps in the store!

Is the TIFF output only for phones that can take RAW images(950,1520...) or for other phones as well (730)?

It works at times on a 640XL, so it's definitely possible on other devices, just doesn't work 100% due to an OS bug. Works flawlessly on the 950

Lumia Camera info on store does states that 640/xl can take dng, will this be available for 730 by Proshot or is the capture mode set by OS and not the app?

ProShot will let any device shoot RAW and save to TIFF. There's a message in-app asking that you take 5 test shots first to make sure they're not blank. On some devices the photos come out blank, and that is due to an OS bug. I will be notifying people on the camera team about it.

That's a relief, thanks for the heads up

That's a relief, thanks for the heads up

light painting can't be used on my current build 14905 that sucks... hopefully gets updates to work

Don't worry.. MS will fix it soon..!!!

looks very good, will buy it

But there is a setting for choosing the default camera app. Does this not work with 3rd party apps? If yes, what's the point of it?!

Use the feedback app.... I already requested this via the app.

That setting is broken in the OS

Blimey Dan. Heavy night???? ;-)

Shown not available for me ☹

Nah I'm happy with windows camera.

Ok.. move on..!! It would have been better if you don't comment then. There are so many including me tweeting the developers asking them on the new app for months... so we're happy to see it.

Still not available in my part of the world

Bring out the popcorn, let's all watch people write "not available" :P

Welcome back Daniel, we ( Hopefully not only me) miss your articles.

Proshot currently not available in windows store Posted via the Windows Central App for Android

Hi all, it's showing on my end that ProShot should now be available for download worldwide :)

Hi, I managed to install the app without having to pay for it (which I would gladly do). I had bought the old version too. Just wanted to let you know that.

I've been seeing reports of that. I'm going to have to contact Microsoft in the morning (in the US), cause that sounds like a glitch in the store. An unfortunate one at that, because it took about a year to build this app and food to keep me alive isn't free :/

I hope the situation resolves soon.

I will wait to install until I see that this has been resolved. I want to make sure you get paid for your efforts.

Is there a donation option in the app?

Proshot was the first app I purchased when I got my Lumia 720 4 years ago.... So out of curiosity, I did download the app using the store bug since it wasn't available in India (and still isn't available). But have uninstalled it and am waiting for the app to be available for purchase :-) I'm sure, the windows community here will not let you down!!

A whole year? Is it because you're the only person working on it? Or do apps just take long to develop in general? Posted via the Windows Central App for Android

Not available in US still. Waiting patiently.

Downloading option not showing in india

Same here, everything else shows except the install button

Still not available Lumia 950XL Germany. At least the rename of the old app, which I bought long time ago, is now visible in the store but I can't find the new one with the search and when opening it from the link it tells currently not available

Nice! But does it have built in panorama? Or slow motion videos?

I want that interface on my Sony a7RII (Sony needs to provide a high end touch screen equipped a7RIII) and all of my cameras! It looks so easy to use and futuristic.
The new ProShot UI reminds me of the HUD from Metroid Prime and similar futuristic games.

I am a huge fan of Metroid Prime and the UI is inspired by it and Gundam anime :)

Wow! That's extremely awesome and great to know. I will definitely buy the app and IAP and I hope for the best of success for you in the future. Thank you for your support for the Windows ecosystem and keep up the great work!

Hello, the first proshot would heat my phone (Lumia 950 XL) so hot it would freeze so I haven't played with the app since. Now that this is built for Windows 10 I'll give it another chance.

S U P E R app !!! It s the best camera app of all mobile OSs, in my humble opinioni, this new versione ia another masterpiece, George n.1 (Microsoft should buy It).

I remember using nokia smartcam, it had a lot of filters, then the windows cam replaced it but i cant find any filter like those on the app, can help me anyone on that? Had a lot of cool filters.

That's the best app for photos, I'm glad we are having more options for W10.

Guys, in what regions does this app availible right now?

I not got a download link it says unavailable. L950 RS2 build 14905.1000

That's sick! Getting it now!

The old version was updated (renamed Classic) hours ago, but the new W10 version still report unavailable in the NL store.

Hats off to the Developer.

I can't download it. Latest non-insider on my 950

App currently not available, US

These apps are the result of years of hard work, dedication and passion by the developer. Do you want it for free?

What is wrong with you? Do you work for free? Or let me guess, you live in your moms basement.

Same here, I wonder if the problem is at Microsoft's end

Still not able to purchase here either.

Does it take better snaps than lumia cam or just improvises on UI?

It is 8pm PST, and app is still not available.

Available now for download. I'm testing it now, UI is nice, the phone(950xl) gets very hot indeed, as with the 8.1 app, some problems with shutter priority with auto iso. etc... with give it a good longtest....

Crashes frequently when trying to acces the gear and systematically when trying to purchase the HDR option. 950XL. Nevertheless, once these bugs ironed out, I like the app.

Well, it seems to have issues on the 930 running 14393.103 as all I get is "Error processing filter" whenever I try to take a picture no matter what is selected in settings.

Still not available for me. Sigh

Saw the "up,up,down,down..." Nintendo style cheat... but really? Don't understand how some folks get a kick out of cheating a developer, artist, or service just to thwart paying a $1.99 or $3.99? Just look at the "about..." page in the app "Special thanks to Mom, Dad, Grandma, & Grandpa," so his entire family is supporting his dreams and development of apps, pushing him on and who knows... probably a little financial support. And you want to feel smart by not paying for a product that took a lot of time for him to develop, sorry... I just don't get it. Great photo app, great UI, developed from scratch specifically for WP10. I applied RiseUpGames! Thank you for supporting WP10!

Yep. I suggest those who can't afford $1.99 after having bought an entire smartphone should try crowd sourcing or ask for a tax rebate. Most smartphones take decent photos with their built-in app, so what's the problem?

Agree, I've found a few bugs that affect functionality of some of the settings. I'm happy to wait while they're ironed out as it'll be such a great UI when polished..

I will definitely buy it, after I updated my laptop to Windows 10, that is. :P Still attached to Windows 8.1.
Windows Central Newsletter
Thank you for signing up to Windows Central. You will receive a verification email shortly.
There was a problem. Please refresh the page and try again.