ProShot for Windows Phone 8 updated to improve performance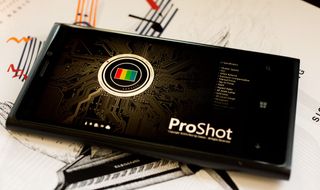 ProShot is a popular photography app for our Windows Phone 8 devices that offers you more control over your camera. An update was pushed out this morning that mainly deals with performance enhancements.
The version 2.6.5 update boosts overall performance of ProShot, Live tile improvements/fixes, manual focus enhancements, along with other various bug fixes and tweaks. Full resolution HD browsing was also added to improve how your photos look from your Windows Phone.
There is also mention in the change log that says "EXIF is back" but we aren't sure what this means. The EXIF information is still embedded in the image file and we couldn't find a way to view the EXIF information from within the app. Maybe an EXIF related bug was squished.
For those using a Nokia Windows Phone 8 device, the manual white balance option was removed because this feature is not supported by the phone's hardware. ProShot is still not currently compatible with the Samsung ATIV S.
If you're looking for more control over your Windows Phone 8 camera, ProShot is definitely worth considering. There is a trial version available for ProShot with the full version running $1.99. You can find it all here (opens in new tab) in the Windows Phone Store.
Update: Apparently when contrast and saturation options were added in a previous update, the image's EXIF data was removed when the photo was saved. The 2.6.5 update corrects this issue. - Thanks, Sean, for the tip!
George is the Reviews Editor at Windows Central, concentrating on Windows 10 PC and Mobile apps. He's been a supporter of the platform since the days of Windows CE and uses his current Windows 10 Mobile phone daily to keep up with life and enjoy a game during down time.
Its nice as it is. Wow. More??

This is an awesome app! Just bought an iStabilizer tripod+smartphone mount yesterday and took my Lumia 920 out for a spin last night. Got some awesome low-light results!
https://skydrive.live.com/redir?resid=2D5B842E2667B4AA!918&authkey=!AIf6...
Thanks to the dev for constantly supporting this app.

Live in SD or just visiting?
Which mount did you buy or is it all a set?

Live in SD :). It's one complete set. http://www.amazon.com/iStabilizer-Flex-Smartphone-Flexible-Tripod/dp/B00... I feel the Lumia could use a bigger mount, so I'm gonna grab the iStabilizer Mount XL and hook it to my tripod. http://www.amazon.com/iStabilizer-ISTTP02-iSabilizer-Mount-XL/dp/B00AY1Q... Will grab it from Fry's tonight.

Thanks for sharing that link. The website says the GripTight mount can be used with phones between 2.1 and 2.8 inches wide. The Lumia is 2.79 inches wide. I'm afraid I'll have a hard time getting it to mount, just like I'm having with my current mount. Have you used the GripTight mount with a Lumia 920? If you have, how's your experience with it?
Edit: looks like the post I replied to, was deleted? It had a link to http://joby.com/smartphones

I have a Lumia 920 with a gel case and it works fine. Even with the case, I have about 4mm of room before fully extending the mount. The tension seems just right. You'll need to mount the camera about 5mm off-center so the mounting arms don't touch the power button, but that hasn't been an issue at all. I love having a tripod and mount on my keychain. When I'm away from home, it's easy to take group photos because I always have my tripod, and ProShot provides "self-timer" mode (with a multi-shot option)!

Thanks again. Just picked up the Joby GripTight Mount instead if the iStabilizer Mount XL.

That's the second post of mine on this article that's been deleted. I'll send an email to an admin.

One thing I mentioned (in my delete post): You'll need a 5/8 inch keyring to put the GripTight Micro Stand on your key chain. A 3/4 inch keyring might work too. You can find them in most hardware stores for 25 cents or less. The more common 1/2 inch and 1 inch sizes don't seem to work, unless you use one of those thin flimsy keyrings.

WTF bro that photos are captured with a Lumia 920? I have one, well i have to learn some tricks. Thank you

Still can't update. Error

In the previous version, no EXIF data was being saved (e.g. camera model, ISO, date taken, etc.), so I sent the developer an email and he replied the same day with the following: "Thank you for contacting us. I am very sorry that the EXIF is missing from images. When we added Contrast / Saturation options to ProShot, we lost the EXIF and Microsoft's APIs have made it extremely difficult to recover them. I am focusing 100% of my efforts in order to get this data back." Less than two weeks later, we have a fix, plus new features. Outstanding customer service!

Thanks for the information. I looked at pics taken through ProShot a few weeks ago with one taken after this update and had EXIF info with both. Could not figure out what was going on.

I think it was v2.5 where the EXIF went away. You may have been running v2.4 :) The jpeg spec is so confusing....sorry it took so long.

I'm curious, why doesn't it work on the Ativ S?

It actually does work with the ATIV S, but the hardware does not support manual focus (a huge draw for ProShot), and setting the exposure compensation and shutter speeds often resulted in really buggy behavior. Rather than implement a watered-down version of ProShot (which would really defeat the purpose of the app), I am hoping that Samsung will realease a firmware update to address these issues. It's been about a month or two since I got my hands on a Samsung device for testing, so the situation may be different now than it was then. After buying a Lumia 920 and an HTC 8X I didn't have enough money at the time to also buy an ATIV S, but I hope to get my hands on one again in the next few weeks to see if anything else can be done.

I bought it a bit back when it was on sale but I don't use it. Its too slow. The stock camera is much faster. When I take a pic with ProShot I have to wait and sometimes wait and wait before I can take another pic. The layout is awesome. That I love and wish the stock camera utilized.

I guess I can't type the phrase 'L u m i a 9 2 0' without spaces, or my post gets flagged as spam. :(

Ugh. My other post got deleted. Have you tried the latest version? Just now, I took 3 shots with ProShot and 3 shots with the native camera app and they captured and saved the images at about the same speed.

The older versions of ProShot were a little on the slow side, I do agree. Please check out the newest version 2.6.5, it has improved the speed quite a bit. There is still even more that can be done with regards to speed, but for the moment it's in Microsoft's hands. It's an API bug that they have acknowledged, have fixed internally, but have not said when the update will go live.

This app is the most primordial or in this case MUST HAVE on Lumia 920, I'm photographer and I really love it!

Great stuff, just wonderful!
http://www.3akarat-makkah.com/

Why cant I see the update? Anyone with the same problem?

So professional & more functions than Clever Camera!!

Good app, but notice after few minutes using the app my L920 heats up very fast..Please fix this problem

send the feedback to the developers.. it's under >about >contact us
Windows Central Newsletter
Get the best of Windows Central in in your inbox, every day!
Thank you for signing up to Windows Central. You will receive a verification email shortly.
There was a problem. Please refresh the page and try again.