Indulged brings Flickr to life on Windows Phone 8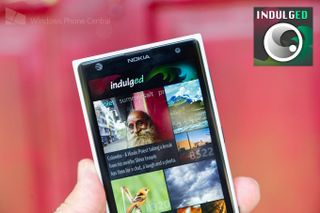 Being the OS in third place means Windows Phone is slowly gaining major apps from big brands and companies. If those apps aren't "officially" on Windows Phone the development community steps up and produces solid third-party offerings. And often those third-party apps are equal or better than the official apps.
Flickr is one of those apps where the official offering is lagging behind what the community deserves from an app. So join me in welcoming Indulged to the Windows Phone platform. It's a brand new app for us that is poised to be an excellent way to experience Flickr on Windows Phone. Let's check it out.
Windows Phone is no stranger to great Flickr apps from indie devs. Pixl comes to mind as a great choice. Indulged is brand new to Windows Phone. The app currently sits at version 1.0 and was released a little over a week and a half. We missed the initial announcement of availability from the developer in our Forums. So what's can you do with Indulged?
Powerful photo editor with more than 20 filters and effects
Manage Flickr groups and photo sets
Subscribe to recommended stream and favorite stream
Manage your contacts and view their profiles and photos
Browse EXIF, tags and comments for photos
Posting comments
Search for photos and groups
What initially drew us into Indulged was the beautiful UI. You're not supposed to judge a book by its covers, but we're all guilty of it from time to time. Thankfully, Indulged sports a fairly nice looking UI that we're digging. It's not bad for version 1.0 and we're excited to see it refined and improved over time based on community feedback.
As far as features go, Indulged does what you'd expect out of a Flickr client. Browsing is pretty fun and quick. You can also upload images and edit them with over 20 filters and effects. Powered by the Nokia Imaging SDK (so no Windows Phone 7.x version).
Indulge is brand new, but there are more features planned for the next update. Here's what the developer has in mind for upcoming versions of Indulged:
Live tile
Lens
Scene choose in camera
Filter preview
Ability to remove photo from set
Download Indulged and try it out. It's free with no ads. And of course leave feedback below for the developer. It's an app with a lot of potential that can be better with some good community interaction. Grab it in the Windows Phone Store. You can also use the QR code below or swipe to the right to get it.
Get the Windows Central Newsletter
All the latest news, reviews, and guides for Windows and Xbox diehards.