Add some protection to your Nokia Lumia 920 with 3D printed cases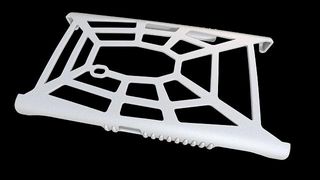 Should you not be familiar with Gibbage Cases, it's a home grown venture that utilises 3D printing to produce protective cases for mobile devices. We previously looked at the HTC 8X Windows Phone, but now Kevin "Gibbage" Miller has returned to our community forum with a sequel - for the Lumia 920. The above is the current design that's being produced as we speak, but Miller is looking out for someone to test the product in every day life.
We previously reviewed the cases for HTC 8X (with an awesome personalised version just for us), so we'll be interested in getting our paws on the new designs to fit our Lumia 920s and add that extra layer of protection - not that the Nokia Windows Phone can't survive some serious damage. Once the current design has been confirmed to fit perfectly, Miller will be looking for more design ideas, as well as volunteers to test the products.
You can check out the case design, fire out your suggestions, throw your hand up high for the test run, and view updates over on our forum.
Rich Edmonds is a word conjurer at Windows Central, covering everything related to Windows, gaming, and hardware. He's been involved in technology for more than a decade and knows a thing or two about the magic inside a device chassis. You can follow him over on Twitter at @RichEdmonds.
I will definitely give the case a try, I have a Lumia 920

i have a lumia 920 and i would LOVE to try this case!!! it really looks great!! Please please please


I would like to test a case! Pretty please!

Same here I would to test one on my cyan Lumia

Looks little ugly but I know it's strong and protective

I would definitely would love to try one.

Not bad...spider man. I'd give it a go and its white like my phone.

Just curious, what material is the case made of?

I'm wondering the same thing. The 3d printer we have makes hard plastic parts. Seems like the case would just scratch up the phone.

The printers I use uses a soft nylon that's very strong and flexable. I have had one on my 8x for 3 months and no scratches. 3 concrete drops and no phone dmg. I also put the case on and off many many times

I wouldn't mind trying one on my Black Nokia Lumia 920.

oh man I want to see a review for this first before I get one.

Would love to try one and might possibly make a video about it too :)

You don't have to twist my arm, I'll test it for you.

I would be very happy to test one on my white nl 920

I recently dented my 920 and I've been wanting to test one, I actually was going to get an 8x because those cases are so awesome

Yeah, I have to test this out. I would like something that will protect my phone but show it off at the same time. My red Lumia 920 is the best looking device ever made, IMO.. I'd be honored to give one of these cases a test run, and would give my honest opinion about its looks, and performance.

Its a quick temp design, the same first design I did with the 8x. There will be many more to choose from once its done testing!

I would love to try it out.. Been looking for a case which isn't ugly and did like your 8x designs.. In California though..

Please please please! Since none of us can get a grey Lumia 920 how bout a grey case cover my black Lumia? Save me from buying a Bodygaurdz!

Other colors would be a plus.

Sorry. Due to the limitations of the material, I can only offer it in white as a "paint your own" option. The dye's used in the coloring process by the 3D printers will stain your phone, and im not willing to risk someone's $600 as a test on the 920.

The one I bought for my 8x broke pretty easily, wouldn't recommend it.

Did you buy the Alumide? I have a lot of warnings all over my web page and Shapeways that said that Alumide is very brittle and for cosmetic purposes ONLY. The white nylon is amazingly strong. I have since removed the Alumide option.

I did buy alumide but it was when they were very first for sale, right before you pulled them down for a bit. There were no warnings then.

Pretty cool looking! I'd be up for a test run. ;)

Love to try one on my cyan 920

I like the looks of the case. I'll test it out, gladly.

Have you found a tester yet for the case? Any idea when you planning on making them available for purchase?

If everything goes well on the prototype, 2-3 weeks before sales start. Keep an eye on the 920 forums here at WPCentral and I will post updates there.

Hello! My name is Mike! I represent Archicgi 3d rendering company.
Thanks for yours post, I really like it and want to know can I publish it at our site archicgi.com?
Windows Central Newsletter
Get the best of Windows Central in in your inbox, every day!
Thank you for signing up to Windows Central. You will receive a verification email shortly.
There was a problem. Please refresh the page and try again.