PSA: Chrome Browser scam alert in Windows Phone Marketplace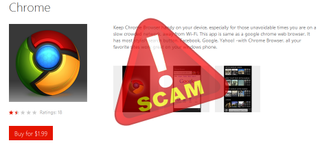 We saw this before with a fake Spotify app that was being sold on the Windows Phone Marketplace and now we're seeing it again. Scam artist Manikandan S is selling for $1.99 (with no trial) "Chrome" which he flat out claims "is same as a google chrome web browser":
Clearly, this is not the same and both violates Google's copyright and is false advertising. Rather, it's just IE9 with a not-so-fancy wrapper around it. What's worse is the plethora of negative reviews which we could only take as an indication of numerous purchases.
Hopefully Microsoft will respond by yanking this app ASAP like the fake Spotify, but in the meantime, consider this a warning.
Source: Windows Phone Marketplace; Thanks, q21701, for the tip!
Daniel Rubino is the Editor-in-chief of Windows Central, head reviewer, podcast co-host, and analyst. He has been here covering Microsoft since 2007 when this site was called WMExperts (and later Windows Phone Central). His interests include Windows, Microsoft Surface, laptops, next-gen computing, and for some reason, watches. Before all this tech stuff, he worked on a Ph.D. in linguistics and ran the projectors at movie theaters, which has done absolutely nothing for his career.
wonder if this guy can get prosecuted...

We should use the power of the internets to track this sob down and spam him. I hate shits like this guy, and it burns me up to think, no matter what, he's made himself enough money from this scam.

MS protects me, an adult with a credit card and a cellular contract, from Imagewind but doesn't from a real threat. Great!

The irony is not lost on us either...

They do better than google does

No they don't, because Google doesn't censor what I can use my phone for. Good or bad I prefer freedom.

and then you get these apps that steal your personal information, blow up your bill and then slow your phone down. if you like that then android is right up your alley and you should not be posting here

I have owned a Focus since day one. If I wanted an iPhone I would have purchased one. This has happened many a time, bs fraudulent or plainly illegal apps. Wanting no censorship is a little different than that. But thanks for your opinion.

Using the term "censorship" to describe what these corporations do or don't do with their respective "stores" is a misuse of the word. I am a librarian who manages my local library. We don't buy every book or ebook that is published. Does that make us censors? I don't believe so. Microsoft is clearly not doing a good enough job as a selector. It has nothing to do with censorship. This issue appears to have more to do with quantity (no. of apps in the catalog) vs. quality than anything else.


I was able to submit a message to zune by trying to make a review without buying and following the steps.

And yet wpcentral provides a download app link on their mobile app. Lmao!

Well, we should source it for other news outlets. If you read this article and you still want to buy the app, well you certianly deserve to be ripped off, no?

Funny how his apps get through, yet @carbonwp has been denied 4 times.

Agreed! - I'm still waiting for a great twitter app. It's amazing that stuff like this gets through, but unique, solid apps like CarbonWP get denied over and over again.

I've been waiting for CarbonWP. Any reason why it's being denied?

Some of it was regional e.g. they submitted it to China and other places where Twitter is not allowed/blocked. Honestly, I'm only 1/2 concerned about Carbon. Clearly other Twitter devs don't have the problems they are having which leads me to believe they are not reading the submissions directions close enough and/or have parts of their app not coded properly. Microsoft may be to blame here but lets not take respsobility off of the devs either.

I cant wait until the fake firefox app gets here!

Scam "artists" can't even seem to get their scams right; Chrome changed their logo almost a year ago, and this app uses the old one: http://googlesystem.blogspot.com/2011/03/new-chrome-logo.html

Saw this in the marketplace last night, I questioned it right away with Chrome being a google thing and google not really liking to release anything for WP7, then upon reading the comments my suspicions were confirmed, things a faker, a mother faker!

There's a host of "Facebook" that are the exact same problem. Claiming they're facebook, they cost money, and the first page is a wrapper, then it just uses the mobile version of facebook. That crap annoys me.

There should be a policy to hold any profits in escrow for the first 2 months or so of an app landing in the marketplace so crooks like this can't just dump a fake app up on the marketplace, make some money, and have it pulled down.

I thought I'd seen the last of this type of stuff when I left Android for WP. How does an app like CarbonWP keep getting rejected, but junk like this sails through?

All simple RSS readers claiming to be official apps should be deleted. There're so many of them in the marketplace it's annoying.

Looks quite nice, does it have a trial?

Well, if we read the article, it states "no trial" which is why it's a scam. If you can try a fake app and you still buy it after a trial, than that's not really scamming people ;-)

Seriously how is this stuff getting through!

And there isn't a way to report apps on the market place? This freakin dev have a bunch of apps published and nobody cares?! WTH.

Yes there should be a way we can "file a complaint" against an app or dev you can do the same kind of thing on the 360 for lame ass cheaters, so it shouldn't be to hard for Microsoft to give us one for the marketplace so idiots like the guy who published this will get taken down way faster

Thanks for bringing this to our attention, as before with fake Spotify app. I'm wondering if we forward this to Microsoft, if they would revoke this developer's marketplace posting privileges. It would appear for the better in this case.

God... MS should hire smarter people for apps certification. They have rejected apps of mine because having a Skydrive image on a button that actually uses the official API, according to them due to "copyright". Now explain me how did this app make it?!!
Windows Central Newsletter
Thank you for signing up to Windows Central. You will receive a verification email shortly.
There was a problem. Please refresh the page and try again.